Flora (2017) – Film Review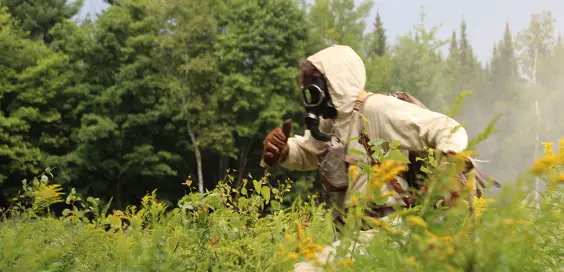 Director: Sasha Louis Vokovic
Cast: Sari Mercer, Teresa Marie Doran, Miles G. Jackson
by Gregory Fishwick
Flora, director Sasha Vokovic's feature debut sees six botanists venture into uncharted woodland on a scientific expedition in the Spring of 1929. The nature of their task may well be lost on audience members. Any explanation offered on pretty much anything throughout the film's 104-min running time is so bogged down in scientific detail as to remain completely vague and downright uninteresting to anyone outside of the white coat world.
Needless to say, it all goes wrong and they end up fighting for their life against some kind of deadly plant-based bacteria. It's a bit like if Alan Titchmarsh had made a horror film.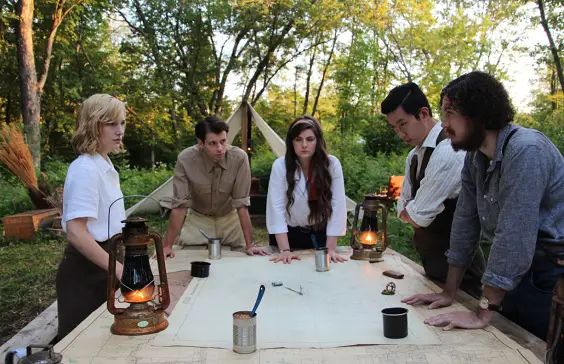 Every aspect of this piece revolves around "the hook": "The premise involves six youngsters venturing into the woods only to find themselves facing certain death – except this one's set in 1929!" "It's a "monster in the woods" film – except in this one the monsters are unseen germs!" "And in this one – when the monster appears, nothing actually happens!"
But none of these "twists" serve as genre subversion, like the film's blurb seems to think, more like overt attempts to disguise desperately dull and tired material.
"The odd moment of technical flourish"
The period setting merely extends to the cast donning costumes that could have come from their local theatre's wardrobe department and the obvious use of 1920's tunes on the soundtrack. There's nothing real, vital or authentic about it and it certainly doesn't come close to representing any "golden age of exploration". The characters are Ivy League-ers, so perhaps fittingly the actors resemble recent drama school graduates. All in all, the whole venture has the feel of an amateur dramatic theatre group's jolly jaunt into the great outdoors.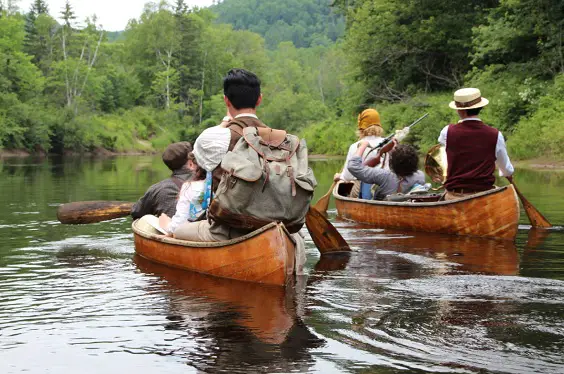 There's the odd moment of technical flourish such as a nice aerial shot of the expedition's camp and a vaguely impressive 360 degree pivot. What's more, Vokovic is obviously intelligent and knows their subject, is possibly even passionate about it, though it certainly doesn't come across on screen. It's all very high-minded but also plain boring. Gardeners the world over might find it riveting but for everyone else, it will most likely just be a chilly, creaky and pedantic walk in the woods.
4/10