Clerks III (2022) Film Review
Director: Kevin Smith
Cast: Brian O'Halloran, Jeff Anderson, Vincent Pereira
Certificate: 15
By Roger Crow
Decades ago, writer/director Kevin Smith burst onto the indie film making scene with Clerks. That black and white comedy set largely in a convenience store was a fun slice of life set in a world of slackers and dope heads, and turned Jay and Silent Bob into cult stars. Jason Mewes's Jay was the potty mouthed stoner while Smith was the mute sidekick.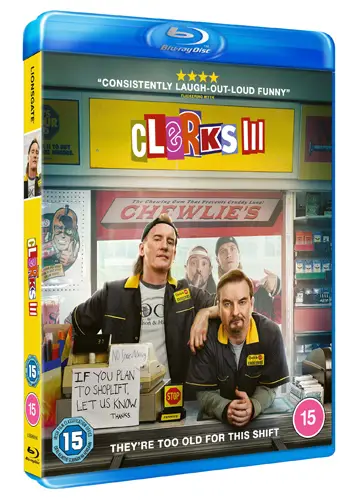 It was a little film about nothing, and fans couldn't get enough of it.
"Colourful characters"
Smith started turning out similar cult movies like Mallrats, Chasing Amy, and the excellent Dogma, some of which helped turn his mate Ben Affleck into a major Hollywood star.
Years after a not bad animated Clerks series, eventually a live action Clerks II arrived in 2006, and apart from an excellent dance routine set to an old Jacksons' classic and the always wonderful Rosario Dawson, I can't recall a thing about it. A little like Jay and Silent Bob Strike Back (2001), which despite some nice flourishes, and a fun turn from Mark Hamill, felt like a sloppy mess.
Now, Smith's third chapter in his shop trilogy is also hit and miss, despite the inevitable section addressing Randal's heart attack, mirroring Smith's own similar brush with mortality a few years ago.
Once on the road to recovery, guess what? The recovering Randal decides to make a film set in a shop and featuring the colourful characters who populate said establishment. How very meta, and mildly amusing, despite more filthy dialogue that seemed right with film one, but just feels icky by this outing. It's not big or clever, but obviously fans expect Smith to come up with the goods, even if everything just feels meh.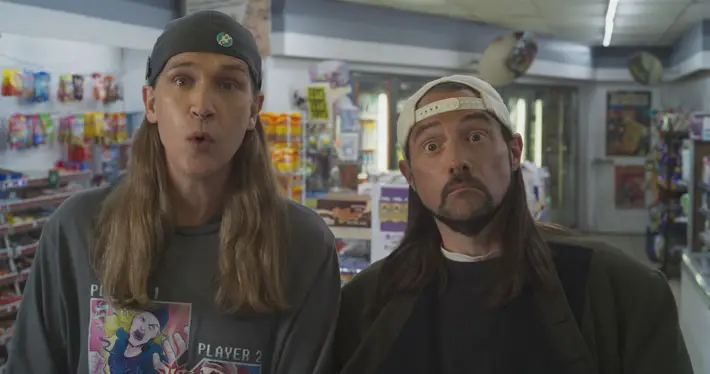 "Moving scenes"
On the plus side there's a terrific turn from Amy Sedaris as the doctor who saves the sick hero's life, and Rosario Dawson lights up a graveyard scene. Inevitably there's also a cameo appearance from Ben Affleck.
There are moving scenes, proving that Kevin can still deliver the odd sucker punch when required, and a definite sense of this being the final chapter.
Obviously hardcore Smith fans will love it, but for this lapsed fan it's a half-hour sketch which inevitably lacks the freshness of the original.
Clerks III is on digital now and Blu-ray and DVD 26 December