The Owl at the Window by Carl Gorham – Book Review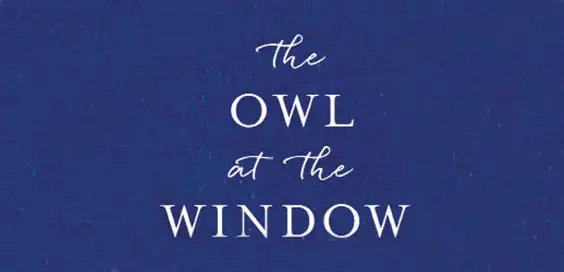 By Barney Bardsley
The literature of grief is a fertile and growing canon. As we become more willing, in western culture, to overcome death's taboo, the more we find writers who can express the pain of bereavement for us, help us understand its labyrinthine process, and take us forward – out of death, back into life.
Some of this writing is dark and searing: Helen Macdonald's glorious H is for Hawk, on the death of her father; Joan Didion's The Year of Magical Thinking, on the "insanity" of grief she experienced in the year following her husband's fatal heart attack. Some of it is imaginative, funny and fierce, such as Max Porter's recent charming fiction, Grief is the Thing with Feathers. Other writers still, take a simpler and more direct approach. Carl Gorham's The Owl at the Window is one such example.
Gorham is a comedy writer by profession, and he has a consequent lightness of touch that makes his memoir on the death of his wife both straightforward to read and emotionally accessible – although the story he tells is far from easy. A sequence of flashbacks to his childhood and young adulthood are wrapped around present-day scenes of his wife's funeral and his consequent bereavement, to make a touching collage of love, life and early death.
"Candid about his own exhaustion and bewilderment"
With clarity and compassion Gorham describes the story of his marriage, from a first meeting at university, to the final, wrenching farewell in a Hong Kong hospital, where husband, wife and young daughter have gone on the holiday of a lifetime – only for it to end with Vikki's sudden collapse and death, riddled with the cancer she has been fighting for many years. She is only in her early forties and she leaves a six year old daughter behind her.
How does one make sense of events like these? How does one pick up the pieces and move through it all? As Gorham explains, these are unanswerable questions. Just as the question 'Why?' can never find a solution. He is candid about his own exhaustion and bewilderment, as he copes with his grief, and that of his small daughter, from day to day, in the aftermath of their loss. Sometimes the enormity of his experiences outweighs his capacity to describe them – and this will always be a problem for writers who look at death.
Its depth, its enormity, has no adequate words. Still, the understatements which charge some of his descriptions are touching in themselves. Grief is utterly exhausting – and here is how Gorham relates it: "Since Vikki died, I've felt tired pretty much all the time. But then I remember how often I felt tired in the years before, ever since she was diagnosed. Am I going to be tired for the rest of my life? At the moment it feels that way."
"Shows how badly we humans need to make contact with our lost"
Certain scenes stand out in this book, for their symbolic power, their candour. The description of Vikki's collapse in Hong Kong is terrifying, even to read at one remove. The poignancy of Gorham's daughter finding her own way to express loss – chiefly through the construction of a Cardboard Mummy, made out of two boxes, that gets carried round with them in the car, on shopping trips, even to school – is heartbreakingly conveyed.
The appearance of a beautiful snowy owl, banging against their window, which Gorham takes to be a sign from his lost wife – some kind of contact from beyond – shows how badly we humans need to make contact with our lost: how everything becomes charged with a strange and deeper meaning, at a time when everyday reality, love and routine, seems lost for ever.
Happily, Gorham's book ends on an optimistic note. He does come through his grief. He and his daughter do make a life together, without wife and mother, although she remains an invisible, yet very present force in their lives. And he goes on to meet someone else, to tentatively believe that there might be another chance in this life to be happy. And yes, there is always another chance. Books like this – full of dark, but full of sweetness too – will help us to believe so.
'The Owl At The Window' by Carl Gorham, published  by Coronet is out now
Barney Bardsley has written two memoirs on grief and bereavement: 'A Handful of Earth' (John Murray) and 'Old Dog' (Simon and Schuster).