Jamie Vardy: From Nowhere – Review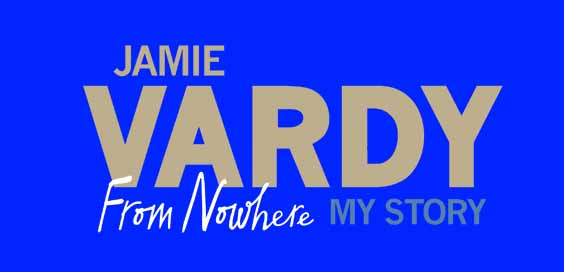 By Sarah Morgan
'Jamie Vardy's having a party!'
It's a phrase we heard repeatedly last year as Leicester City shocked the footballing world by becoming Premier League champions, despite being one of the favourites for relegation at the start of the season.
Those of us who haven't followed the Sheffield-born England striker's career that closely find out exactly why it became famous thanks to this autobiography, which charts his rise to fame. Rags-to-riches tends to be an over-used phrase, but in this case, it fits very well indeed.
For Sheffield Wednesday fans, Vardy is the one that got away, a local lad who grew up in the shadow of Hillsborough and dreamed of wearing the club's famous blue and white stripes while banging in goals in front of the Kop just like his hero, David Hirst.
"Takes us into Vardy's world"
However, as he reveals here, it wasn't to be. It's been claimed that Vardy was released by the Owls after coming through their junior ranks because he wasn't big enough to make the grade. But after reading this, it seems clear that Wednesday, who were going through a torrid time financially, had simply decided to cut back their academy teams, and Vardy – along with future England rugby union star Danny Care, who was also on their books – was collateral damage.
The knockback, although devastating at the time, doesn't seem to have done Vardy much harm. In fact, the years out of the professional game may even have done him some good – at least he should be more grateful for what he now has.
His autobiography is, in truth, rather thin. I'm not an avid reader of sporting biographies, but as a football fan, I expected a little more from this.
Okay, so it takes us into Vardy's world, but it's one that seems rather empty. Instead, it appears to exist to explain away his misdemeanours and show us that, despite a bad boy image, he's merely a little rough around the edges and is just like the rest of us really.
"Peppered with anecdotes"
What it does show is the bizarre world of these young men who are plucked from obscurity, often with little education and no thought of the future, and given wealth beyond their wildest dreams – and then have no idea how to spend their money or time.
Vardy's book is peppered with anecdotes involving sitting around playing video games, drinking alcohol (usually vodka flavoured with Skittles), playing pranks on his team-mates (some of whom don't appreciate it, but he does it anyway) and eating food you wouldn't expect a professional sportsman to consume.
Perhaps the one thing we can learn from it is that players could use a little training in how to live, as well as how to score goals.
There should also be an extra chapter added at the end telling readers the story of this season, which has seen Leicester struggle to match the heights of their title win, play in the Champions League for the first time while flirting with relegation and sack Claudio Ranieri, the man who brought them so much unexpected success.
If the Owls are promoted to the Premier League via the play-offs, allowing Vardy to return to Hillsborough as an opponent, you can bet the words 'Vardy is a Wednesdayite' will reverberate around the old ground – and that may just be his proudest moment yet.
'Jamie Vardy: From Nowhere, My Story' (Ebury Press, £7.99)