Nights of the Living Dead by George A. Romero and Jonathan Maberry – Review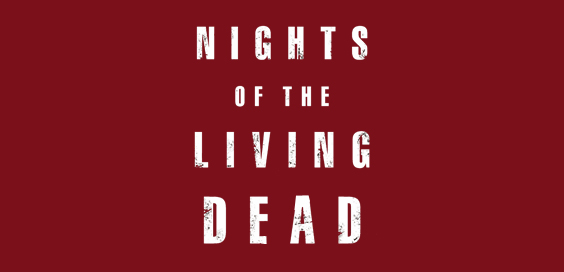 By Victoria Holdsworth
There is no denying that zombies and the walking dead have become mainstream big business these days. However, it all started with one man's vision, to bring these horrors to the screen, and the stories into people's consciousness.
Night of the Living Dead came to prominence in 1968 with George A. Romero and its co-creator, John A. Russo. Now, 50 years later, twenty authors revisit the world of the original zombie apocalypse.
George A. Romero left a hole in the heart of the horror community when he passed away in 2017, but he leaves behind an inspired anthology of work and tales inspired by his creation. This book is a celebration of all that work.
Romero's contribution, simply titled 'John Doe', is a must read. However, there is a wealth of talent from contributors such as Craig Engler, writer and co-creator of the popular Syfy television series Z Nation. Other remarkably atmospheric stories include 'Orbital Decay' by David Wellington and 'Pages from a Notebook Found Inside a House in the Woods' by Bram Stoker Award-winning author Brain Keene.
"Masters of the genre"
As a massive influence on pop culture, Romero transformed how we saw a specific concept. The writer and director hated the term 'zombie' for his creations. He would always call them ghouls, depicted as the rising dead who just happen to want to eat human flesh. The term 'zombie' stuck and we never saw Romero's ghouls the same way after 1968.
What is interesting about this anthology is reading the introductions by Romero himself and co-editor/author (shameless Romero fanboy) Jonathan Maberry. In Maberry's introduction, he gives some background into his childhood and the power that Night of the Living Dead had on his generation. He credits the film for the rise of zombie fiction, which made his future collaboration with Romero all the more of a dream come true. Maberry himself has written over forty books, including a series of zombie horrors based solely on Romero's films.
These original stories are a collection by absolute masters of the genre, but the book is also a tribute by fans to the man who inspired them to become writers. The stories in Nights of The Living Dead highlight the darkness, fears, hope, and un-dead humour, which only the living dead can bring to the morgue table.
"Entertaining"
In this anthology, some of the stories tie in to the film more intimately than others. There are some that also preserve the 1968 settings, whilst others are essentially timeless in their frames.
However, despite offering some engaging stories, Nights of the Living Dead doesn't exactly break any new ground. Some of these stories seem too reminiscent of earlier tales from collections such as Book of the Dead. Indeed, David Wellington's 'Orbiting Decay' is set on a space station – it's good, but similar to Stephen King's superior 'Home Delivery'.
John Skipp, one of the editors of Book of the Dead, contributes a story called 'Jimmy Jay Baxter's Last Best Day on Earth.' It's one of the more entertaining stories in the assemblage and while it's political commentary is heavy-handed, it is extremely funny.
Overall, this book hosts an impressive pedigree of writers of this genre – and it will definitely please fans of Romero's original zombie films. However, most discerning readers might crave more originality, especially considering the amount of talent on-hand.
'Nights of the Living Dead' by George A. Romero and Jonathan Maberry is published bu Duckworth Overlook, £14.99