An Interview with Will Sergeant of Echo & the Bunnymen
One of the most innovative and influential guitarists of all time, Will Sergeant's sonic architecture has been the framework for Ian McCulloch's skyscraping songwriting and vocals in Echo & the Bunnymen for most of the past 40 plus years. As the band re-release their groundbreaking early albums on vinyl for the first time ever, Will talks to Victoria Holdsworth about lockdown, legacies and Liverpool…
It has been a strange couple of years, a period that we are still dealing with, so how did lockdown and a global pandemic affect the band, and what did it do to your creative processes?
Well, the band was on total hold like everyone else. Luckily, I had started my book before the pandemic hit and any lockdowns were in force which gave me the time to concentrate on my story. And the writing kept my creativity alive.
You contributed to The Louder Than Words Festival of music and writing, after the recent publication of your book, Bunnyman: A Memoir, released in July this year. It details your earlier days in Liverpool in the 1960s and 70s and the emerging punk scene, but what are the most pivotal points that really sparked the magic in you to become one of the most influential and important British bands of the 1980s?
Firstly, growing up and being obsessed by music. Then seeing hundreds of bands and collecting records. Going to Eric's the punk club in Liverpool. Meeting Ian at a party and getting on with him as a friend with a common goal, basically to make great records and become a classic band. The money side of it was irrelevant then.
"Nothing is written in stone"
Your memoirs are written with jester-like attributes at times, showing a humorous quality which makes me think that you could have said more than you have. Are there any plans for another book at all somewhere in the future?
Yes, I am currently working on the second book which has the title of 'Echoes'. At the moment, nothing is written in stone, only in Microsoft Word.
You recently re-released the first four Bunnymen albums on vinyl – what was the reasoning behind this? And will there be new material from you any time soon?
The record label woke up and thought there was money to be made with the resurgence of vinyl LPs. We are doing a new record, but I have very little involvement with it now so I can't say how it's going or even if I will be on it.
We have seen lots of great bands and artists over the past few years, selling their musical rights and cashing in on their catalogues of work. What effects do you think this will have on the industry as a whole? Do the Bunnymen have any plans to follow suit?
It's not something I have ever considered but I'm not sure it would be worth that much. No one will be making a fast buck from our sales.
Over the past 40 years, your music has appeared on many a soundtrack to many a great film, but which would be your favourite and why?
I have only seen a couple, but Donnie Darko has the best intro I have ever seen.
You once described yourselves as an 'arrogant group of pricks' but after a career spanning 40 plus years, and still selling out worldwide tours, what could, or would, you have done differently? And how would you describe yourselves today?
That's not entirely correct. I never described us an arrogant group of pricks. I said if things continue to go well for us there is a good chance we could turn into a bunch of arrogant pricks. It's quite different.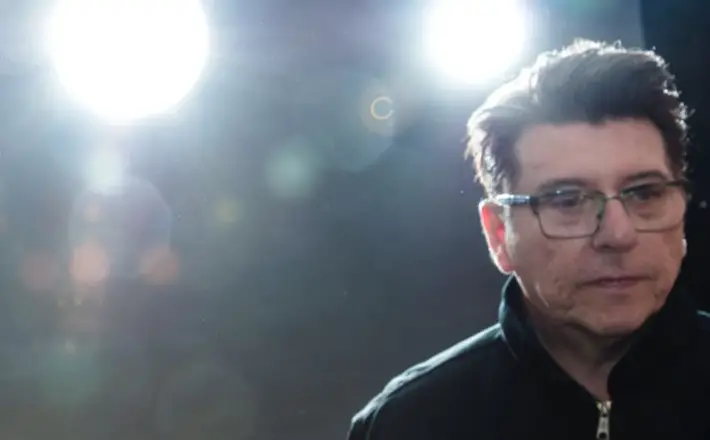 "Anything at all could happen"
I have heard that you are somewhat of a collector, with a full set of figurines from Star Trek's USS Enterprise, a large metal toy kingfisher, loads of record players and singles, with the list continuing. Any plans to be moving into the same circles as Drew Pritchard or David Dickinson?
Where do you get this info?
I have my sources.
[laughs] I do like the original Star Trek, though. Who doesn't? I have some plastic figures that I got years ago; I think a fan gave them to me. Large metal kingfisher? No, not got one of those. Or even want one for that matter. My face isn't ginger enough to compete with Dickinson. As for Drew I like his show, but he knows how to charge, that's for sure. So, in short, no I will not be the next Arthur Negus.
What would you say is your most prized possession from being in Echo & the Bunnymen?
The memories of all of us being in this band together on tour in the early 80s when it was all for one and one for all and all that. The travel, the friends we have gathered along the way, the people we have lost too. If you want something physical, my Vox twelve string guitar is up there with my prized possessions.
And how do you see the next chapter of your life and music being written?
Who knows? Anything at all could happen in the next half hour.
Echo & the Bunnymen's first four albums, Crocodiles, Heaven Up Here, Porcupine and Ocean Rain are now re-issued on vinyl
In 2022 the band play Sheffield City Hall Feb 1 and Leeds O2 Academy Feb 2 – for full tour dates visit: bunnymen.com/tour-dates