An Interview with Denise Mina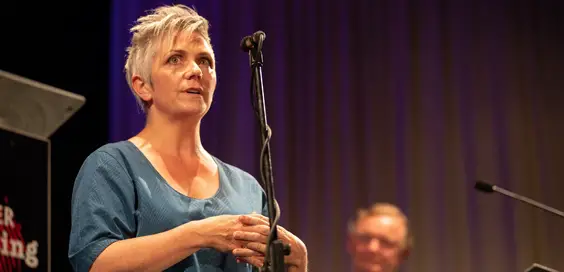 By Sarah Morgan
I'm slightly obsessed with Denise Mina's hair.  It's stylishly unruly and looks as if it has a life of its own. I've come face to face with it before and wondered what she uses to make it so damn wondrous. I wish I dare ask her, but she's at the Theakstons Old Peculier Crime Writing Festival in Harrogate not to talk about the intricacies of her coiffure, but to discuss her 20-year career as a crime writer.
Maybe hair questions will come later…
The Glasgow-based author of 13 books (a 14th is on its way) has been described as a feminist, a label she seems unsure about.
"I don't think I'm that gender aware," claims Mina. "When Garnethill (her first novel) came out, people said, 'are you having a female protagonist because you're a feminist?' Then after the Millennium trilogy (she worked on the comic book adaptation of Steig Larsson's books) people asked if it was a cliche to have a female protagonist!"
"The crippling self doubt is still there"
Her latest book, The Long Drop, is a true tale about Scottish serial killer Peter Manuel and his extraordinary pub crawl with the man whose family he murdered during the 1950s.
"It helped me understand women of my mum's generation. I'm interested in how narrative plays out in our lives, how it affects us. Stories we tell about ourselves are very important.
"In the past, women in crime fiction – we didn't see ourselves represented, so we didn't appear; we couldn't imagine ourselves in those situations. That's why representation is so important. We've come a long way."
After 20 years in the business, does she have any words of wisdom about her craft?
"The crippling self doubt is still there," she smiles. "If you're currently trying to write and feel self doubt, don't worry; it's part of the process.
"I can write anywhere"
"My books are shorter now; you learn you don't need to describe everything. And research is great – it's so much easier than writing. You can procrastinate, scrolling through newspapers, looking like you're doing something!"
Mina's next book focuses on the world of the true crime podcast, something that hadn't even been invented at the start of her career. But some things never change – such as finding a place and time to work.
"I have a family and a lot of aunties and a dirty house, so I can write anywhere!" she jokes. "Also, I find if you spend your money as soon as you earn it, you can write quickly!
"These haircuts don't come cheap, you know…"
images: Charlotte Graham