Ireland: Best Places to Explore by Car After Taking the Ferry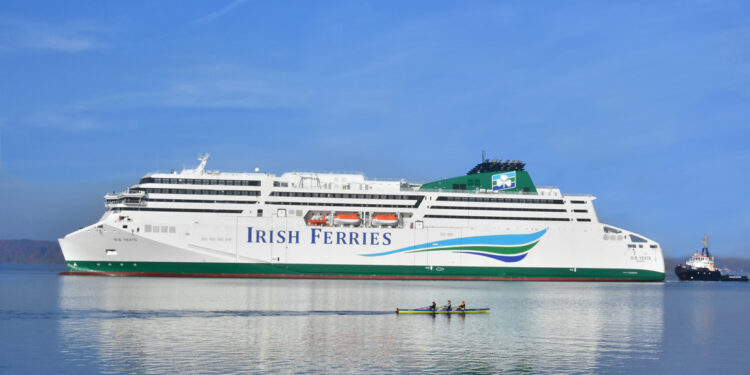 By Richard Jones
St Patrick's Day is less than a couple of weeks away, and people around the world are preparing to celebrate all things Irish, while iconic landmarks will soon be turning green again.
But to mark the occasion in true style, you need to visit the Emerald Isle itself.
If you fancy heading over there for the big day, or during the next few months, Irish Ferries operates up to six sailings per day from Holyhead and Pembroke to Dublin and Rosslare.
Both Irish ports are great bases from which to explore the country, and by travelling by ferry, you will avoid the spiralling costs and increased stress associated with air fares, be able to pack your car with as much luggage as you want and take your pets on board.
We look at some of Ireland's best places to explore by car, following a relaxing three-and-a-half-hour ferry voyage from Holyhead to Dublin.
Dublin City
Learn all about and taste Ireland's two most famous drinks at the Guinness Storehouse and Jameson Distillery on Bow Street. Alternatively, enjoy an authentic taste of traditional cuisine on an Irish Food Trail – Walking Tour of Dublin, before having a drink in the world-famous The Temple Bar. Dublin's National Museum of Ireland, National Gallery of Ireland and National Museum of Decorative Arts and History are all free to visit.
The Dublin Coastal Trail
Dublin's long coastline is dotted with unexpected experiences and outdoor activities. The Coastal Trail highlights these hidden gems, with castles, beaches, seafood restaurants and more. Start off in Skerries to the north, which was once Ireland's busiest fishing harbour. Then, in the south, Killiney, with its iconic spots like White Rock and the Vico Baths, is home to global music stars (two members of U2) and Formula 1 drivers.
Brú na Bóinne
Europe's largest and most important concentration of prehistoric megalithic art is a one-hour drive from the city, in an area rich in stories of Ireland's ancient past. The site is 5,000 years old, making it older than Egypt's pyramids, and its three main areas, Newgrange, Knowth and Dowth, are situated on a ridge between the rivers Boyne and Mattock. Space is limited each day to 650 people.
Wicklow Mountain National Park
Wicklow Mountains National Park stretches across almost 23,000 hectares south of Dublin. The largest of country's parks, it features wide-open vistas, winding mountain roads and fast-flowing streams that descend into the lakes of the wooded valleys. Make your way up to Upper Lake View, the most photographed view in Wicklow, which is always spectacular, no matter the weather.
Howth
With its picturesque harbour, pretty beaches and wildflower-covered sea cliffs, Howth feels like the kind of village you'd find on a far-flung stretch of Ireland's west coast rather than a 45-minute drive from Dublin city centre. Walk along the waterfront, spotting the resident seals poking their heads up between the docked boats, and you'll see why it's the go-to spot for Dubliners seeking a breath of fresh air.
Glendalough
For thousands of years, people have been drawn to the stunning 'valley of the two lakes' for its stunning scenery, rich history, archaeology and abundant wildlife. The remains of this Monastic City include a round tower, medieval stone churches and decorated crosses. Of particular note is St Kevin's Bed, a small man-made cave in the cliff face, where it is said the saint lived and prayed.
Malahide
While its grand old castle and handsome stretch of coastline are enough to entice visitors, Malahide has much more to offer. The village is packed with independent boutiques, cool pubs and restaurants that draw gourmands from the city. Make your way down past the pastel painted houses and the steeple of Saint Sylvester's Church to Malahide Beach, from where you can set off on a lengthier stroll to Portmarnock.
Powerscourt Estate
Step inside and explore the magnificent 47-acre gardens, voted third best garden in the world. Marvel at the sublime blend of formal lawns, sweeping terraces, statues and ornamental lakes, secret hollows and rambling walks. Enjoy a coffee or a bite to eat at the Powerscourt Avoca Café, or browse the shops which specialise in homeware, giftware, clothing, furniture and plants.
Irish National Stud
Ireland's horse-racing heritage has developed from folklore, legends and High Kings. Deep in the heart of the thoroughbred county in Tully, County Kildare, is the beating heart of the Irish racing industry. It is the place where many of the great legends of international horse racing like Arkle, l'Escargot and Dawn Run were born, and the only stud farm in Ireland that is open to the public.
Cliffs of Moher
They may be a three-hour drive from the capital, but the incredible 700-foot-high Cliffs of Moher, located on the Wild Atlantic Way on Ireland's west coast, are one of the country's most breathtaking landmarks. After visiting them, browse intriguing exhibitions in the visitor centre, and marvel at the lunar limestone landscape of Burren, before stopping off at the cosmopolitan city of Galway.
Irish Ferries is the leading ferry operator from the UK to the Republic of Ireland, offering a choice of cruise and fast ferry services between Holyhead and Dublin, and Pembroke to Rosslare.
Fares start from £119 each way for a driver and car. Pets travel free but must be pre-booked. Go to: irishferries.com
To find accommodation, plan activities and see what's on in Ireland, go to ireland.com