An Interview with Take That and 'The Band'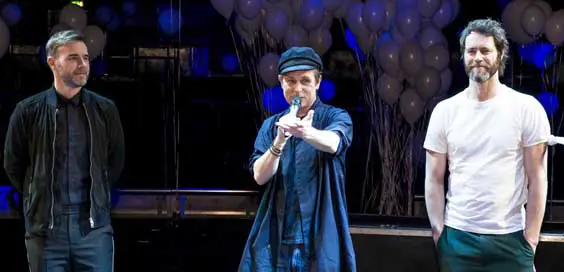 Press Conference Prior to Announcement of the Musical 'The Band'
This is the full Take That press conference for the announcement of 'The Band' musical. Present are Take That members, Gary Barlow, Howard Donald and Mark Owen, writer David Pugh and members of The Band cast…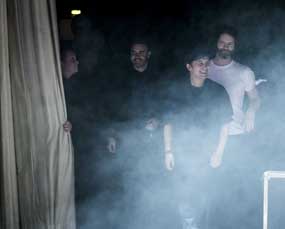 David Pugh: We, today, came back here to where it all started (Manchester). We wanted to do it here. If you can test a musical in front of 98 people, and if you can make it work in front of 98 people, we believe you can actually make it work in front of 2000 or 2500 people. The reception itself has been extraordinary. We're going to do it again tonight for another set of 98 people. A mixture of people who have been invited, all for free. Whether it's fans young and old, even from the industry so we could get a good cross-section. So we can now all go away, put our heads down and refine it and hopefully make it better and better and better. We gave questionnaires to our 98 audience (members) this afternoon and we're going to do the same again tonight, asking a whole set of questions to try and learn, to try and glean, to try and make it better and better and better.
"Finding the right storyline"
How much have Take That contributed to the basic story of the piece. How close is the story to Take That?
Mark Owen: For me, the story of Take That – we're in it from the beginning to the end. (It's) our memories. We met those kids when they were 16-years-old, when they were outside our houses and outside our gigs and screaming and we've seen them grow up. And that is the story, to be honest, of Take That. I think in many ways it's the audience and the support they've given us. We sometimes say we're just a vehicle for them all to get together and hangout. We've always had a great relationship with our audience. That's one of the reasons we were so keen on doing this and finding the right storyline. I think the guys (The Band) are the wallpaper of the whole thing – the comfort of the whole thing. All these people are going through their lives that are changing left right and centre. Music is the central core, through the band.
David Pugh: The boys (Take That) sat down with Daffyd Rogers and myself, and Tim Firth and we started to talk about quite a lot of stories. Stories we can't go into revolved around a letter and it was all to do with fans. I can tell you that the story that actually you've seen today is actually based on a true story. That's all we can say at the moment, but it was the the seed of an idea that we all latched on, didn't we? The young ladies that were actually involved in that story, were actually watching this afternoon. We were inspired by a true story.

"Pays respect to those who loved it"
For Gary. Just wondering if you're feeling better now?
Gary: After that performance, I am healed! I absolutely loved it today. Already we're so involved in this musical. We're starting to really fall in love with everybody we're working with. We feel very proud at this point to be able to sit in an audience. This is all new for us to be able to sit in an audience and watch our music being performed. So proud of everybody. For us, one of the things we love when this story came about is it pays the ultimate respect to the audience. To our audience, to any audience. To anyone who's been involved in music at any point in their life, this turns the table and pays respect to those who loved it, supported it, made it part of their lives. So yes I'm fully healed. In fact I'm running a marathon tomorrow. So I'm looking forward to that.
Quick question about the song choices – obviously they need to drive the narrative in the story, but what was that choice like for you to pick which songs to include in the show?
Howard: I guess it's a weird one really when it comes to the songs. That's one of the things that brings out the emotions in us. We never actually wrote those songs for a musical. And we never wrote them as a situation, for a young group of girls growing up and meeting 25 years later. We've got a lot of swapping about to do still. Songs might still get taken out and other songs might get put in in their place. We've got until September. The more and more we see it, the song choices might change. But from what we're looking at now, I personally believe we're at 60/70 percent there with the song choices.
"There's been a lot to do"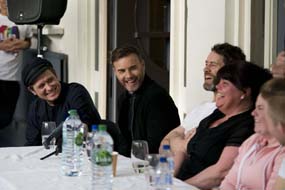 To 'The band' – How are you finding going from the show (Let It Shine) to rehearsals and the show itself now?
We haven't really had time to stop and take it all in. We sung a lot on the show. And then Gary said to us on the final "the hard work starts tomorrow morning" and it did. We were together the next morning doing the trailer that recently came out. And then we've been in the studio in rehearsals. We had tracks to learn, the ones we didn't already, which I don't think that was many. And then the dance routines. So there's been a lot to do.
Mark Owen: We've been quite concerned as they're getting very, very good. We said, don't get too good!
David Pugh: They all live in the same house together in London, you've never seen such a tip.
Mark: We've become very proud of them. They're like our little brothers, and I was very proud sat watching them today. To be up there – they look so professional, so solid together. Such a unit. We were so lucky, we had no idea what we'd find. The band that came out of that show (Let It Shine) are absolutely incredible. We're really proud of you guys.
"This is what theatre is all about"
What can theatre goers expect from the musical?
Gary: It's a bit of a rollercoaster of emotions and it's a celebration, we're very happy to say, of our music. It is beautiful story. A beautifully written story. You will be laughing, you will be crying. And also you will see amazing cast members, brilliant acting, brilliant singing – a great band. This is what theatre is all about. Putting something on stage which will take people from laughing, crying, standing up on their feet dancing, singing along, making them feel like they're fifteen agin. That's what they'll get in one evening.
David Pugh: Rachel (actress playing Rachel in the show) and I have worked together many times before. and you've worked with Tim many times before. It's not a coincidence the lead role is called Rachel. It's sort of written for our Rachel here.
To Rachel – Are you a real Take That fan?
Rachel: Yes, absolutely. Of course who wasn't, and who isn't? Yeah I was a Take That fan.
"Don't get too good!"
Same question to Young Rachel.
Faye: Yeah I was, yeah. I've got three older sisters, they were all big fans of Take That, so we grew up listening to that kind of music. The only one I didn't really know was 'Pray', but I love it now. Yeah i'd say i'm a huge fan, and it's great to meet them.
What is it like playing the older and slightly younger versions of the same person and was that quite a bonding process?
Rachel: Yeah it has been. When we did the initial workshop, Faye and I looked at each other and went "we look quite similar" I don't know if it's a morphing thing, but we spend so long together now.
Faye: She's taught me a lot in terms of acting. Character Rachel goes on a complete rollercoaster, so just with the vulnerability and how Rachel, deals with that. I watch her in rehearsals and it just inspires me to go on that journey where Rachel is, because I don't want to play it completely opposite to watch she does.
"This isn't a story specifically about us"
Rachel: I music admit, what anybody ever says about people coming in from a talent show, these guys work their butts off. They're absolutely phenomenal. From Day One they are focused, they are in the room and they learn very quickly. Coming into a show is a totally different experience for them, they're used to a TV show and although some of them have got experience within theatre they are focused, they're on time, they listen, and they are punctual and they absolutely take on board what the director or a producer or their MD says to the, and they do it the first time round. you don't have to tell them again. And I think that's a credit to them.
Mark: Don't get too good!
Gary: Too late.
Although it wasn't produced to yourself, how is this show different to Never Forget?
Gary: We didn't see it, we didn't see that show. It wasn't an official show. The simple answer is the story. This isn't a story specifically about us. This is a story alongside our story, so that's the biggest difference.
"I always remember on that tour the volume of the screaming girls"
To Five to Five – Are you prepared for the reaction you'll get at theatres all around the UK, that these guys have had all their lives?
Yasdan: I think it's been quite an eye-opening experience, for us we've never experienced just having people knowing us and going out about about and being stopped by people and to be asked for photos. Just people knowing our names, and knowing our faces, and that's a new experience for us. It's great talking to people. I think we're all taking that role on and being as social as possible, especially on social media – replying to fans and interacting with them, so they feel like they're coming on this journey with us. Social media is a great tool that we have to do that.
AJ: We've spent a lot of time with Take That and they've taught us a lot as it is. We may go out, and may be on the tube and someone will say "we voted for you!". I think it's nice for us to thank them personally. That's why these artists are such a success as they look after their fans. They talk to their fans, they have that rapport. We 'take that' with us.
"It was literally three days before he got his hearing back"
To Take Take – How does it feel to be back here in the Manchester Apollo, having had your first performance here in 1992?
Howard: When we went backstage and we went behind the curtain tonight and we saw the place itself it sent a shiver up my back. I always remember on that tour the volume of the screaming girls when you're in such a confined space. Nearly every time before every show I used to break down in tears because of emotions because of the noise. It's amazing coming back to Manchester. My parents are here. Gary's got parents here this evening. It's always great to come to Manchester. What a great city.
Gary: I met Tim when I was fifteen. We lived in the same village. the first gig he came to was this, Manchester Apollo and he was queuing with my mum to get their tickets at the box office. And I called him the next day to say "did you enjoy the gig?" and he said "It was absolutely brilliant, I didn't hear a word of anything you sang" he said it was literally three days before he got his hearing back. So that's why this venue is so special.
images: Matt Crockett, unless credited otherwise