An Interview with Kara Tointon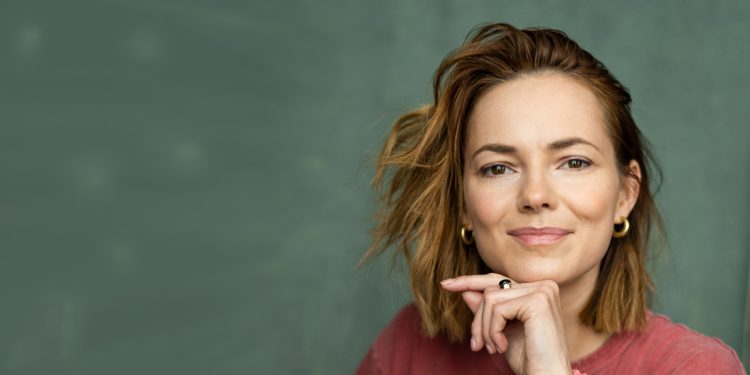 Actress Kara Tointon talks to Roger Crow about her time in cult hit Teachers, EastEnders, Strictly Come Dancing, and her new app, Tell.
Teachers was one of my favourite shows. What are your memories of working on that with the likes of James Corden and Andrew Lincoln?
That was one of my first roles after leaving school, and I was wondering whether I would go to drama school or not. It was a great, great experience working with Andrew Lincoln and the main cast. They were great mentors. I loved it. I felt like a right adult.
Did anything prepare you for EastEnders and the impact it would have?
I'd been acting from a young age, so by the time I was 21 and that offer came up, I knew exactly what it meant. I weighed every thing up, but I was really desperate at that point to be part of something for longer than a couple of months max, or a couple of weeks usually. I just wanted to be part of a team and feel like I belonged; basically the nearest thing to a nine to five. So for those reasons it was absolutely the right thing to do. In hindsight it's good to go into those serial dramas having had a bit more time just get the experience in. I would have done a bit more theatre before going into that, but I did really enjoy my time, for getting a lot of friends and knowing where I was for a bit.
Tell us about the new 'Tell' app.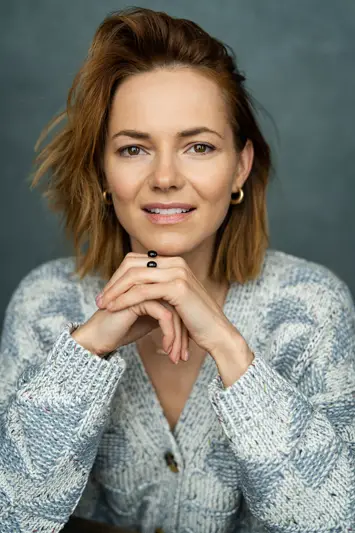 Well the idea came about in 2018 when I had my son, Frey. At that point you're thinking about how you're going to parent… and at the time my mum was quite ill and as a family we were having a lot of conversations about remembering our childhood and trips we'd taken and reminiscing and recipes we'd loved. We were recording a lot of conversations; it felt like an odd thing to do at the time and also quite comforting. I don't know when I'll be ready to listen to those conversations, but the fact that they're there; that one day the time will be right, because I lost my mum a few years ago, it's a comforting thing for my sister and me. I said to (partner) Marius, because he's Norwegian, "We must get your grandfather to record a fairytale for Frey in his native voice". All these things were happening in our lives and it spurred on this idea of having an app where we champion voice. Audiobooks are so popular now and podcasts, and I guess it was about championing personal voices. It started out as a storytelling venture because we saw that all the famous fairytales that we know are all out of copyright, but we all know them. So in 2019 when we released the first version of the app to get a gauge of how people would take to it and get some feedback, it was ready to launch when Covid hit. But what it meant was, families that weren't able to see each other… grandparents could tell grandchildren stories at bedtime, which is so valuable. We've got a great library of stories from Shakespeare through Beatrix Potter to you name it… and we're always uploading new content. But it's basically about going on the 'net, narrating a story and sending it to someone you love.
What was it like to take part in Strictly?
It's such a one-off experience, and this time of year we all get ready for that autumnal phase of Strictly. It's almost become part of the calendar; you can't imagine it being on at any other time of the year. I just had such a great time from being such a fan of the show, and then getting asked to do it the year before and saying yes. Then I pulled out at the last minute; I had a bit of a panic. Then the next year I thought, 'I hope they ask me to do it again'. And they did thankfully, and it worked out really well in the end because I ended up winning (laughs). So obviously it was the right thing to do. It is bizarre though; you're in these heels trying to do something you've never done before. You're all in this crazy boat together and you just laugh your way through it really. But it is an incredible experience.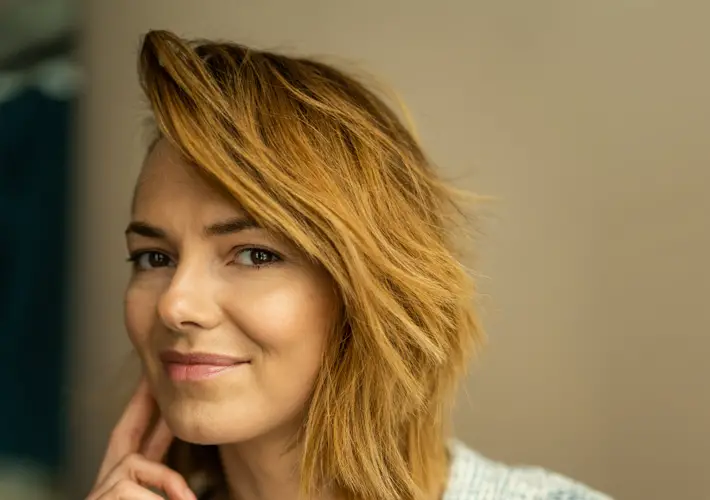 Finally, where and when are you happiest?
I think when I'm doing theatre I feel at my best from the beginning to the end the process is really enjoyable and I'm kind of in control of it all, and with filming you always end up watching it and think, "Oh my god. Really? I didn't envisage that at all!" So it's very rare to come out of a filming job and really be satisfied about the end product. But there was an Alan Ayckbourn I did called Relatively Speaking, and that stays in my mind as a really good role, and I love doing comedy as well, so that was a lot of fun.
The TELL Storytelling app is available to download from the App store and Google Play www.tellapp.com