Qubana, Wakefield – Restaurant Review
Tapas. It's my favourite kind of food, and something I've not been able to resist from a really young age since my parents introduced me to it in Spain.
Qubana in Wakefield has been creating a bit of a stir for a while now with their Cuban-based menu, and their tapas dishes have been getting a bit of a reputation – and the more I heard about it, the more I felt like I was missing out.
Upon arriving, Qubana seems to just appear in front of you. The building stands out. It's the pride of Wood Street, and you can't help but notice it. It used to be the old Barclays Bank and they've done some tasteful work to the exterior which preserves grand character, but looks modern. It's inviting. We walk in.
It's early evening, and we're welcomed in to the restaurant by two friendly gents, who note our booking and one of them immediately escorts us to our table for two. No waiting. We step up into a raised dining area, and as we're shown to our booth the whole room opens up. There's grandeur, character and an element of tasteful Latin flair here… pictures, mirrors, paintings and posters with a Cuban theme. A lovely setting, and a lovely table – we're excited to be handed the menu.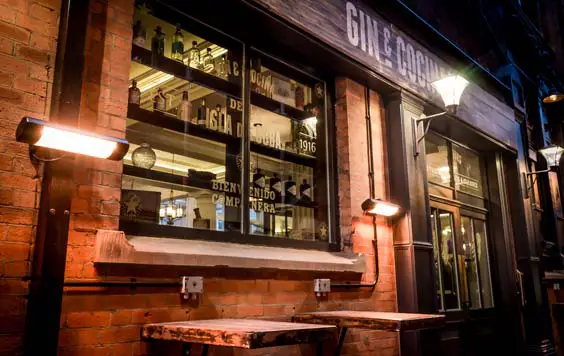 "Effortless"
We scan a specials board, a Grill and Classics menu and study the Tapas menu. The latter is far too strong a temptation to even consider anything else, despite some of the other options sounding so good it would normally cause a chaotic oral dilemma.
As we are both driving we order a soft drink and table water to begin, although the vastly stocked bar provides us with many choices of tipple fit for the couple of hours ahead.
The staff are delightful, friendly and attentive. Once our drinks are ordered, our food waitress appears and briefly guides us around the menu. She recommends the Gambas De Cuba (£7 – king prawns, white wine and butter sauce, spring onions), and the Chorizo Lollipops (£4.30). We go with her suggestions, and also order a further five dishes including a starter.
There's a nice atmosphere building in the restaurant, and at the bar area – such an impressive focal point of the interior. The tables are starting to fill up too, it seems it was essential that we booked ahead.
Service has, so far, been effortless and at a good pace. Qubana employ nice people. So when our shared starter of grilled mixed breads and oils as a starter (£3.50) arrives swiftly and with a smile we are happy and ready to tuck in.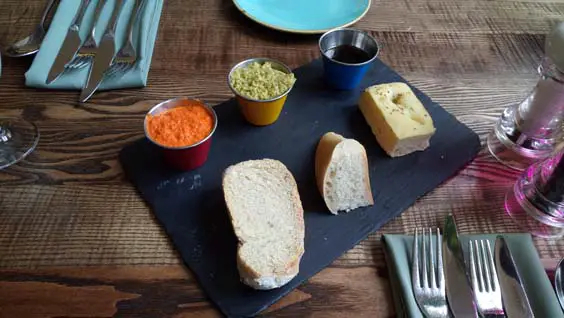 "Exquisitely done"
Three good-sized portions of grilled, warm breads are presented along with a red pepper coulis, balsamic, and tapenade oil. Standard stuff you'd think? Well, try the red pepper coulis. It's subtly tangy, has a slight spicy kick to it – but isn't over-bearing. It's a nice way to set us up for the main dishes, which again are promptly served on our spacious and nicely presented table.
Three of the dishes arrive together, and I go in for the recommended Gambas De Cuba. And what a start to the meal. There's a soft, warm feel to them – perfectly textured, the butter perfectly seasoned. I'm a big fan of prawns, and being our most expensive choice of dish tonight, I'm far from let-down. I secretly wish I didn't have to share them, but I'm not mean, and I'm in great company – I'm happy to share.
One thing we quickly notice is that the portions are generous. Although tastefully presented, none of our dishes compromise presentation over size – something that can be rare in tapas places as they becoming increasingly popular.
The Tocina Asado (belly pork – £5.30) is juicy, succulent, tender and exquisitely done with an accompanying apple compote. The crackling is perfect, and they've set the bar high for the rest of the food. Again, we're pleasantly impressed with the portion size.
We have a large plate of calamari (Calamres De Qubana – £5) and we have that chat that you have about calamari before you bite in to it… has it been cooked right, or is it going to be chewy and rubbery? We have a taste, and it's in a nice, slightly salted batter. It's one of the best Calamari dishes I've had the pleasure of devouring. The chipotle mayo served alongside it is a nice touch too.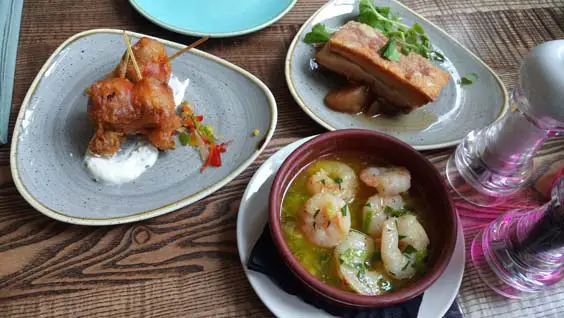 "Cuts of Chorizo"
Already the rest of our tapas has arrived, and stepping away from the meat and fish, the Baked Machego (£5) that we order is easily enough for two and then some. Cutting a small piece off, it's fresh, and it's moist – just as it's meant to be. We've picked a perfect combo of dishes here – and the chefs have certainly provided us with some delicious comida. And we can't forget that standard dish that everyone orders… patatas bravas (£3.50). A dish full of these, cooked just right.
The recommended Chorizo Lollipops are cuts of chorizo, deep friend in a beautiful crisp tempura batter. Served with sour cream and chives, we soon realise why they come recommended. These are quite substantial, and the word "lollipop" is a bit of a red-herring… if a kid got a lollipop this size, their eyes would pop out!
The only disappointment we both find with Qubana is that our meal has to come to an end, and we're both nicely sated. Our waitress recommends we try an Espresso Martini for dessert which is incredibly tempting, but we simply don't have the room. We have to admit defeat, with a sense of fulfilment.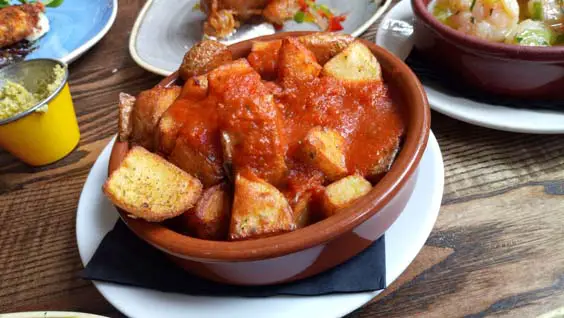 "Fantastic place"
On this warm Yorkshire evening, we decide to make our way to the roof terrace for a drink before we leave. And just as we think we couldn't be more impressed with what Qubana has to offer, we encounter this pocket-sized, tasteful, palm ridden spot. It's a superb bonus to the Latin feel of the place and less formal than the restaurant. We find out it's a great meeting spot for people before they go on their merry way around Wakefield and West Yorkshire on their night out. A beautifully relaxed but upbeat atmosphere, it makes me feel like having a cocktail. I plump instead for my favourite beer though – a cool crisp pint of San Miguel.
This has been the cherry on the top of a wonderfully crafted cake. It's nicely rounded off a very good night, with great company, in a fantastic place, eating some of the best food I've tried in 2017. We've been treated perfectly from beginning to end, and Qubana's growing reputation is well deserved.
Qubana,  1-3 Wood St, Wakefield, West Yorkshire, WF1 2EL
Opening Hours:
Mon – Thu 12pm – 10pm
Fri – Sat, 10am – 11pm
Sun, 10am – 10pm
Phone: 01924 299000
qubana.co.uk