Office Equipment Decisions to Boost Employee Well-being
Looking for ways to boost your team's performance? One way to achieve such an objective is by providing your staff with quality office equipment. It's no secret, even the most industrious teams can be hindered by dated, substandard office tools and equipment.
Employee well-being is intertwined with the office setup. Today's leading organizations invest in quality furniture and safe working environments to boost employee efficiency and output. Well-designed offices, ergonomic seating, and healthy bites significantly impact the staff's general productivity.
Adverse Effects of Uncomfortable Equipment
A typical employee spends a third of their day at the work place sitting for long hours. The many hours coupled with uncomfortably designed chairs directly impact their productivity. For one, a wrong chair can result in back injury, poor posture, lower back pains, and pains in the shoulders, neck and arms.
Prolonged use of outdated office furniture may lead to complications that necessitate time off, strain other workers and affect the overall employee output. Such employees are also predisposed to lifestyle diseases like heart disease, obesity and diabetes.
Besides considering functionality as the primary factor when purchasing office equipment, you must take into account additional features that favor the health of your employees. For instance, ergonomic seating has been recommended by occupational therapists. Here, sit-stand desks can help workers to switch from long hours of sitting to working comfortably while standing. Height-adjustable seats, armrests and footrests allow employees to sit comfortably.
Employees are the most valuable asset in your company, invest in their holistic well-being through quality office equipment and non-toxic environments.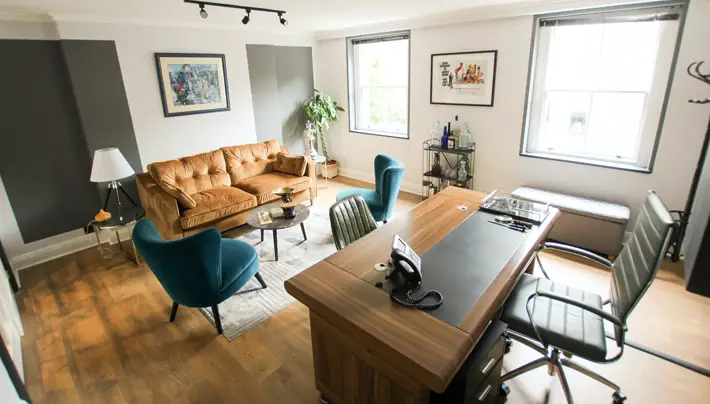 Four Ways Quality Office Equipment Affects Employee Well-Being
1. It Makes your Personnel Feel Valued and Appreciated
Well-furnished rooms and ergonomic furniture are connected to employees' holistic health. These tools provide a safe and healthy environment—ensuring work is more manageable while offering comfort. Think of customizable chairs and desks that give you room to stretch and ergonomic mouse and keyboards that make your tasks less laborious.
2. Increased Efficiency
Using quality equipment can lead to a fast and more accurate result. That is because comfort helps reduce tension, fatigue, anxiety and negative energy in employees. As such, your teams' tend to work together peacefully, thereby increasing efficiency.
3. Less Wasted Time
If the desk or chair at the workplace is uncomfortable, your staff will find an excuse to leave and walk about, wasting work time regularly. Sort out this psychological problem by investing in the right office equipment. For sure, your employees will work longer at their desks and be more focused once you mind their comfort and well-being.
Moreover, discomfort and limited space can make your staff lethargic or postpone their tasks to avoid fatigue. For this reason, you may not get timely results. This creates an issue that has a detrimental bearing on your overall performance.
4. Boosts Employee Morale
For better efficiency, employees need a positive attitude towards their work. How is that possible when an employee wakes up to the thought of frustrations and fatigue caused by inappropriate equipment?
Such an attitude will be reflected in their output. On the other hand, their productivity will get a boost if you provide the team with reliable and comfortable desks and chairs.
Boosted morale is not only caused by reliable furniture; consider your office environment. Let the office setup be designed with air quality, natural lighting and access to nature in mind. Air filters and no-smoking zones eliminate pollutants.
Increased natural light while reducing flicker lights also helps relieve your staff from eye strains, blurred vision and headaches. Nature directly impacts your thinking; so, use indoor plants and botanicals if you cannot access nature. All these factors and a perfectly painted interior structure will intricately affect your employees' mood and production.