How To Choose A Bridal Look You Won't Regret
Getting to marry the love of your life is probably included in many bucket lists. And why wouldn't it? You're about to spend the rest of your life with your best friend and soulmate, after all. From that point on, your lives will be much more intertwined than they already are
With this in mind, it only makes sense for you to look your best at your wedding. Since you and your partner are the stars of this life-changing event, your bridal look will be the talk among your peers. To do this, you need all the help you can get. But there are some tips you could consider in completing your look, though.
1. Establish Your Theme
You can't start planning any flower arrangements whatsoever without shedding light on your theme. Here, you get to identify where the wedding is taking place. Knowing the venue would make choosing your make-up and outfit a little easier.
For example, what you need to know in setting up on a beach should be far from being a formal ceremony. With how open and natural it is, it would make sense for the bride to reflect those qualities. By adapting to the venue, your look has a better chance of surviving the wedding from start to finish.
On the other hand, if you'd much rather have an indoor wedding, then you might consider having a gimmick. Perhaps, your favourites are purple flowers, so you have purple flower ideas already occupying your mind. Or maybe you and your partner have a favourite show you want to bring to life.
From there, any idea you may have for your bridal look will follow since this should mesh well with the venue.
2. Look For Inspiration
Going by trial and error when searching for the best make-up that could suit you or figuring out how to style your hair ideally tends to take long. That's because your stylist has to consider factors, such as your face shape, hair type, and skin type.
So, if you want to save some time, look for a reference which could either be an actress you've seen wear make-up that looks gorgeous on her or another personality who shares the same features as you. With this as a guide, you and your stylist will have an easier time narrowing down your options until you finally spot the perfect one for you.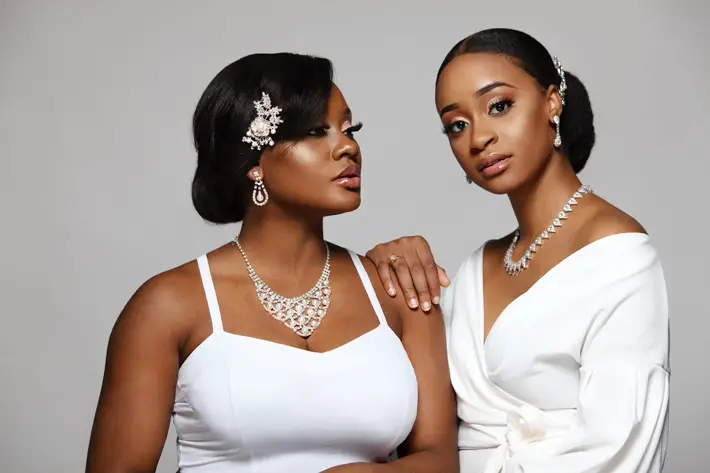 3. Check The Date
Keeping up with the weather forecast might not sound too crucial in the middle of your wedding plans. Little did you know, the weather could quickly complete your bridal look or ruin it entirely. This concern might be much more applicable for your make-up.
Humid weather will cause you to sweat more. While you can't exactly stop your body's natural reactions, what you could do is lower the damage they might cause. So, instead of applying a thick layer of foundation to hide your skin deformities, use lighter make-up from waterproof products.
Dryness will threaten your skin when you're about to tie the knot during the cold season. Because it's dry, any amount of make-up you put on could crack. Using products with hydrating features can both keep your skin glowing without risking your make-up from breaking against the low temperature.
4. Mix In Your Personal Preference
A wedding is supposed to be one of the highlights of your life. Since you're the one getting married, it's only fitting for you to be comfortable the entire time. Of course, there's no harm with trying new things. As the saying goes, 'don't knock it until you try it.' But if you're doing this at the risk of your wellbeing, turn it down.
One example of your comfort getting threatened is your stylist taking the initiative to have your make-up bolder than you'd like. Another is your hair having too many accessories and making it look gaudy. As for your dress, forcing yourself to squeeze into one that's two sizes too small would be painful to watch (and wear) completely.
Pressuring yourself to be 'conventionally attractive' could only draw in accidents while your wedding goes on. Although there's a way to remove any stains from your gown at the last minute, you can't remove the stress you've been in at one of the happiest moments of your life. And seeing you uncomfortable might affect your partner as well.
5. Be Realistic
Although having a Star Wars-themed wedding would be so quirky and unique, you must remain realistic. While it would be cool to have your guest list cosplay as different aliens, it's still highly inappropriate. In this case, the only thing left for you to do is compromise.
If an expert gives you a piece of advice that's against your wishes, consider it and change it in a way you (and everyone else) are comfortable. So, if you're sticking with Star Wars, how about you have your guests colour coordinate depending on what character they wanted to be. Because in the end, it's a professional's job to advise on how to satisfy you and everyone else.
Dressing Up
Marrying the one you love is a dream come true for romantics everywhere. However, to make this day even more perfect, choosing the right bridal look that fits you would be challenging. Fortunately, some ways can help you lean toward comfort while bringing your dream wedding to life.