The Full Monty – Review – Bradford Alhambra Theatre
By Sue Dean, November 2023
From curtain up, this stage adaptation of The Full Monty dives headlong into the gritty Northern humour and heartfelt storytelling that endeared so many to the 1997 British film, but it's worth remembering The Full Monty is no knockabout farce. The well-known dance scenes only work alongside, not apart from, sombre source material that addresses themes of unemployment, self-acceptance, and even suicide – and at its core is a character-driven narrative about searching out an unlikely dream. It's somewhat strange that 90% of the audience in Bradford Alhambra tonight are women, when this play is very much about men and male identity.
I wonder why that is?
The 90s setting is authentic, with meticulous attention to detail in recreating the era. The set appears to have been fashioned from Sheffield steel—a jigsaw-like, movable structure that transitions effortlessly into multiple settings, adding to the theatrical experience. The costumes too, including those iconic shell suits, transport you back to the 1990, whilst paying homage to the film.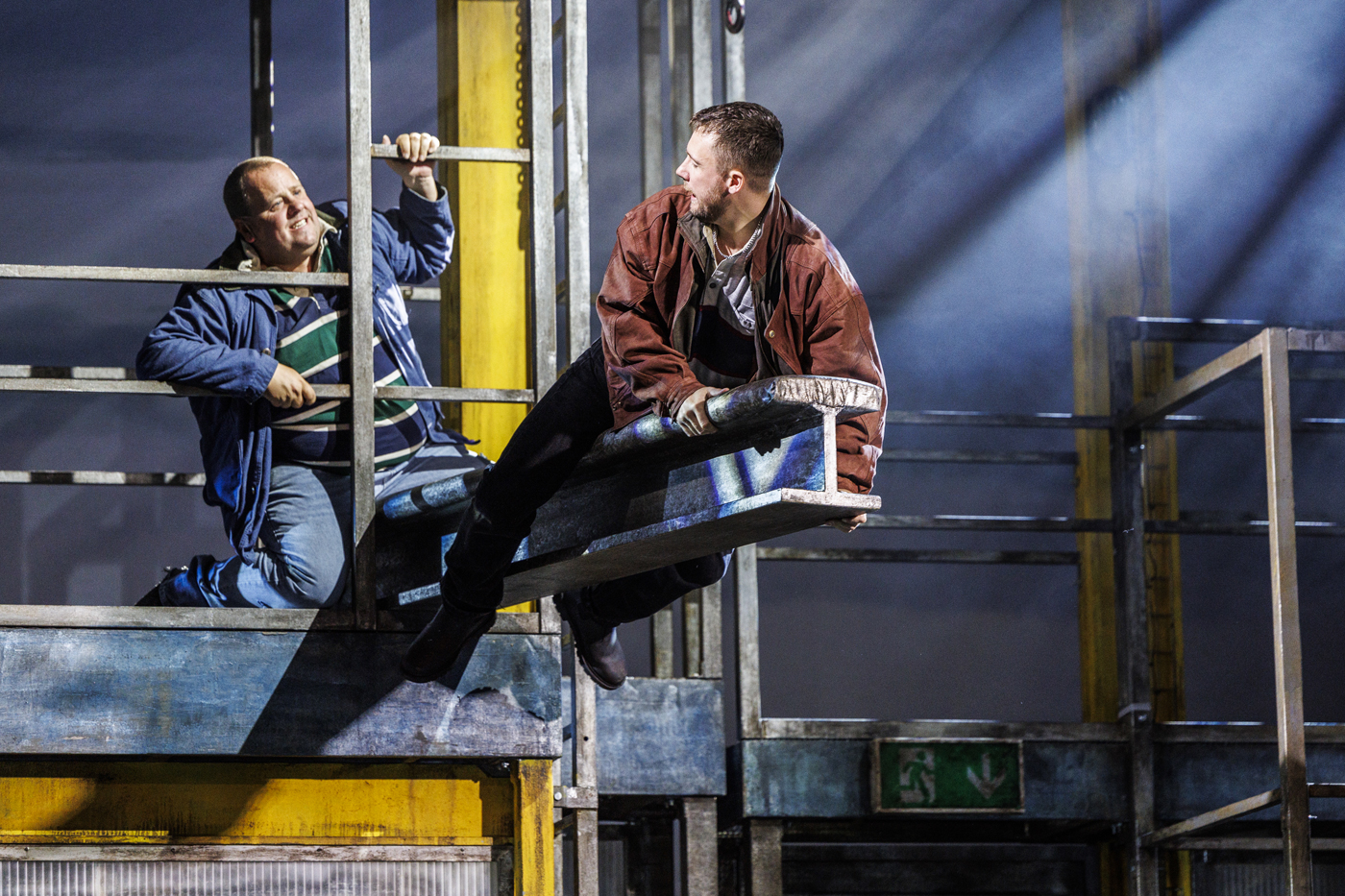 "Authentic"
The entire cast embrace their roles with enthusiasm, maintaining the film's charm and wit. Gaz, Dave, Lomper, Horse, and the others are portrayed with a genuine sense of camaraderie. Their chemistry is palpable, and it's impossible not to root for their success.
The famous dole office scene, a fan-favourite, is executed beautifully. The subtle movement as Donna Summer's "Hot Stuff" commences, gradually building to a spin, is testament to the production's on-point meticulousness. The soundtrack, filled with fantastic '90s tunes, complements every scene change, providing smooth transitions between locations.
The performances are praiseworthy, with Theo Hills as Nathan, the self-appointed group manager, delivering well-timed one-liners with ease and is certainly an actor to watch for in the future. Neil Hurst's authentic Sheffield accent lends credibility to his portrayal of Dave. These actors, alongside the remainder of the cast, succeed in giving their characters the depth they need and help create a credible and engaging show.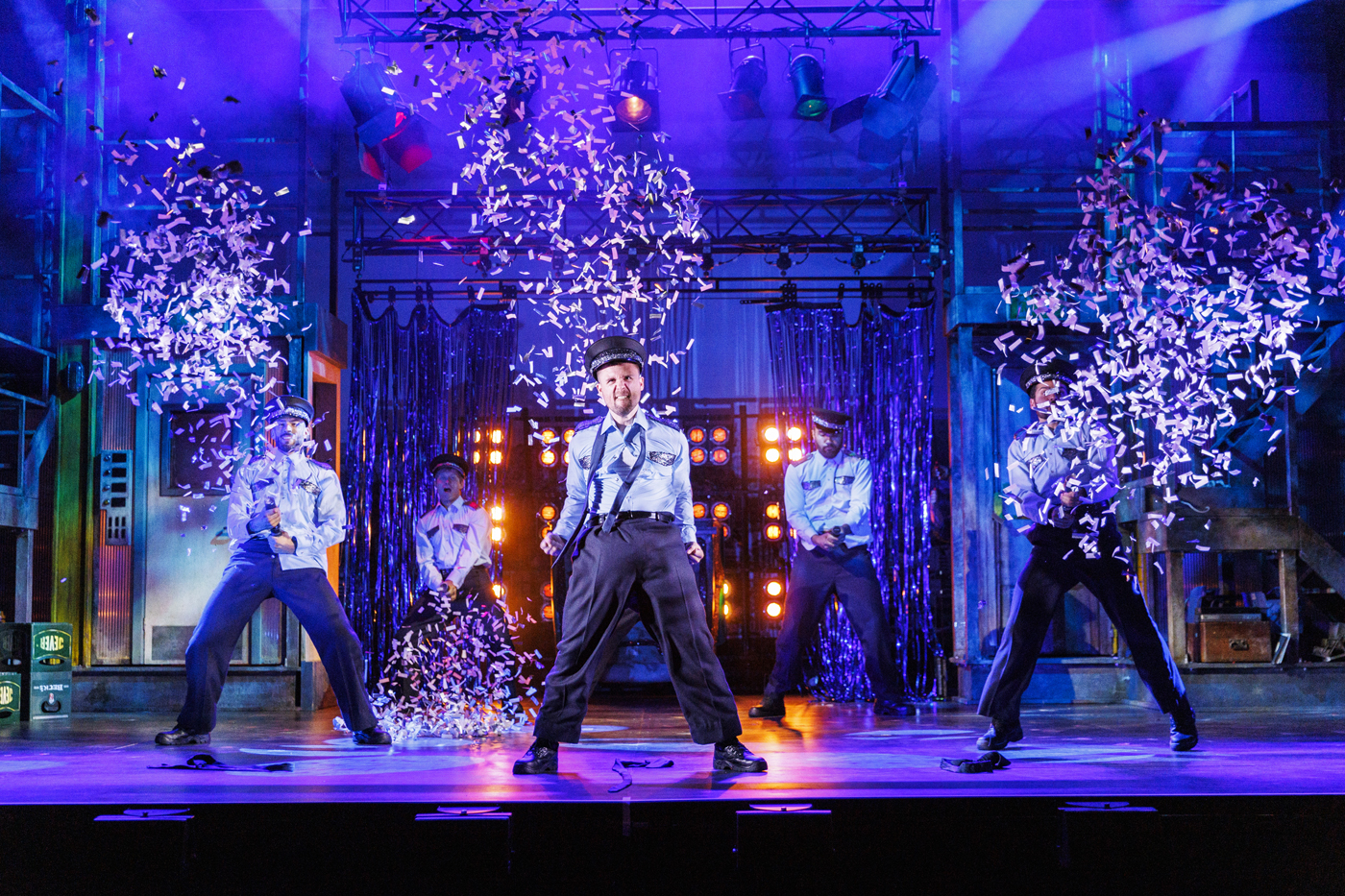 "Celebration"
Indeed, the first half builds towards a truly memorable moment prior to the interval. No spoilers, but it's a standout scene that adds layers to the narrative and surprises even those familiar with the film.
The biggest compliment I can offer is that The Full Monty stage play successfully captures the essence of the film, upholding the themes of friendship, self-acceptance, and overcoming adversity while infusing a live energy that holds your attention throughout. It really does become a joyous experience.
When the iconic final scene unfolds, the audience joins in in celebration, irrespective of gender. Regarding the question of whether the cast go "the Full Monty," well, that's something theatregoers must experience for themselves. Suffice it to say, one actor does indeed "leave his hat on".
'The Full Monty' is at Bradford Alhmabra until 18th November
images: Ellie Kurtz