The Great Gatsby [Northern Ballet] – Review – Sheffield Lyceum Theatre
By Clare Jenkins, March 2023
F. Scott Fitzgerald once reputedly complained to Ernest Hemingway, "The rich are different from you and me." To which Hemingway laconically replied, "Yes, they have more money."
Jay Gatsby has more money than anyone in Fitzgerald's classic novel. A bootleg millionaire in Prohibition-era America, he's enigmatic and reclusive – despite the jazzy cocktail parties he throws at his Long Island mansion. In the novel, he's dismissed (by his love rival) as "Mr Nobody from Nowhere". In Northern Ballet's stylish revival of their much-praised 2013 adaptation, he remains an enigma, appearing fitfully over the course of the two hours. More evident are his macho neighbour Tom, his mistress Myrtle, her garage mechanic husband George – and Daisy, Tom's wife and Gatsby's lost love from his US Army days.
As Daisy, Sarah Chun is magnificent. Not perhaps the most facially expressive of dancers, but delicate, dainty and mesmerisingly fluid, pouring like water into the arms of the melancholy Gatsby (a rather self-contained Jonathan Hanks) and Tom (Harry Skoupas, all splayed-leg masculinity and powerful physique). She appears tireless, whether dancing the Charleston – this is the hedonistic 1920s, after all – melting into a tender pas de deux, or floating between partners.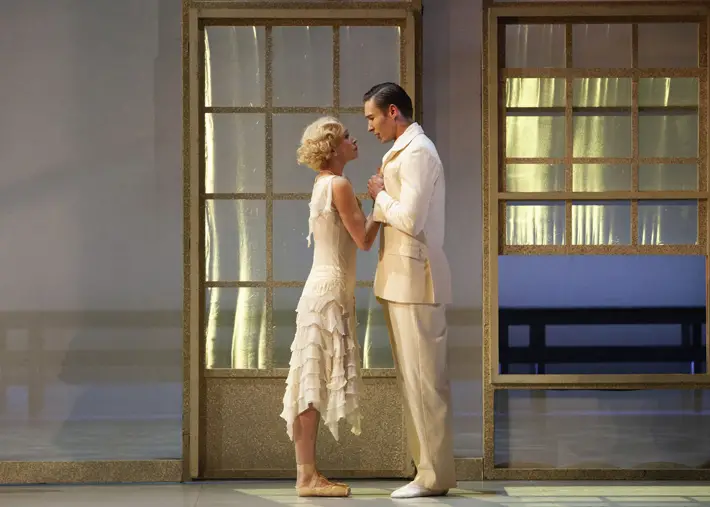 "Dazzling party scenes"
In contrast to the restrained unhappiness of Daisy and Tom's marriage, as soon as the action shifts to Myrtle and George, so does the mood. Here is a marriage based on sexual passion and attraction, steamily expressed by Rachael Gillespie's hip-rolling sensuality and by Harris Beattie's love-lorn and frustrated physicality. Whoever knew tyres could be used as such sexually expressive props? He curves over them, through them, underneath them, seeming to become part of them with admirable agility.
The third couple in this tale of doomed love are Daisy's cousin Nick (Filippo Di Vilio) and her best friend Jordan Baker (Alessandra Bramante). All the main characters are introduced in a stylised opening scene-setter that's clever if you know the story, potentially perplexing if you don't. There are, in fact, generally times when the narrative could be clearer – clarifying Nick's role, for instance, or making the car crash scene more explanatory. While the choreography is superb throughout, the storytelling can be uneven.
A lot of time, for instance, is spent on the dazzling party scenes, with the women in gorgeously frothy Chanel-inspired dresses, the men unbelievably athletic in tailcoats (watch out for the one who's every bit as giddily flexible as Fred Astaire). But then a whole ton of action has to be crammed into the second act as relationships unravel, tensions rise and tragedy occurs. Maybe director David Nixon was heeding Fitzgerald's line, "There are no second acts in American lives"?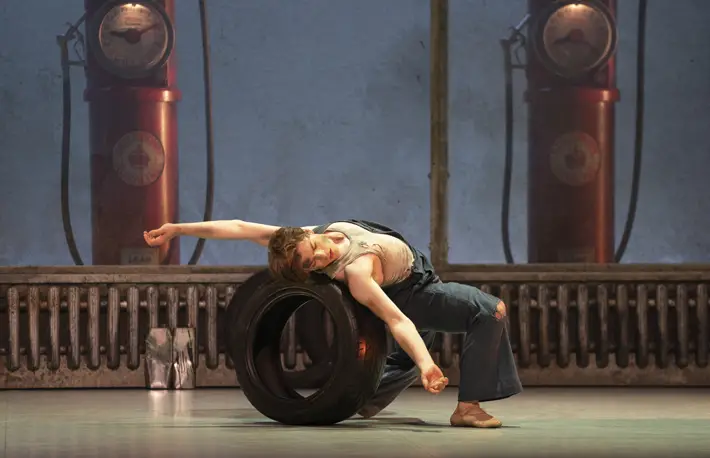 "Glamorously syncopated"
At the heart of the novel are questions about the American Dream, about love and loss, and about contrasts between rich and poor. All are depicted here, too, with deft restraint. Downton Abbey-style maids and manservants in regulation black and white uniforms march stiffly on and off stage carrying vases of white roses, silver trays, plus the fox furs and top hats their more privileged guests casually toss to them.
There are poignant scenes where the lonely romantic Gatsby, hands as ever in his pockets, summons up the ghost of his youthful soldier self (Archie Sherman) and of the carefree young Daisy (Julie Nunes) in innocent Heidi-style dress, and they dance with their own reflections.
Then there are glamorously syncopated group routines, such as the parties full of vivacious flappers heel-kicking and arm waving; another where the dancers dart backwards and forwards across the stage as New York commuters frantically obsessed with time; even a couple of scenes where they all sing as well.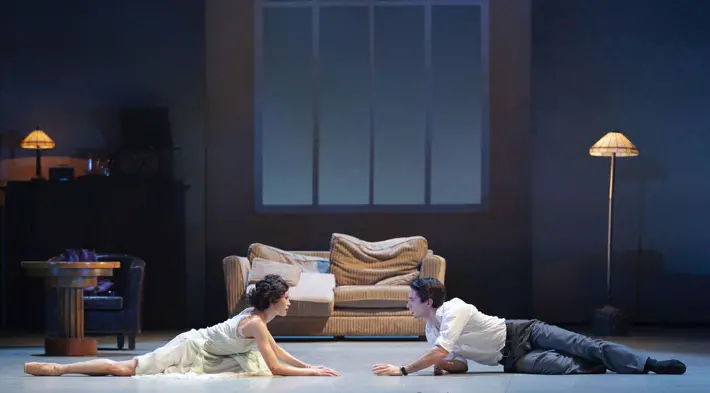 "Cinematically powerful"
Other scenes seem rather cartoonish in their depictions of fedora-hatted, raincoated criminals or of Daisy as a mother (though Grace Owen, the tiny poppet who plays the daughter, is adorable). But always there is strength and dynamism in the movements. Always there are Jerome Kaplan's simple yet stunning set designs (the lit-up trees are an inspiration), Tim Mitchell's flawlessly atmospheric lighting (the shadows are superb), and Sir Richard Rodney Bennett's cinematically powerful music. At times haunting, at others it's jaunty, frenetic, sassy, moving across the range from classical to ragtime and brilliantly performed by the Northern Ballet Sinfonia, conducted by Jonathan Lo.
As Fitzgerald also said, "Show me a hero and I will write you a tragedy." So expect the unexpected at the end.
'The Great Gatsby' is at the Sheffield Lyceum until Saturday, then at London Sadler's Wells in May: northernballet.com/the-great-gatsby
images: Caroline Holden