Beautiful – Review – Bradford Alhambra Theatre
By Sandra Callard, March 2020
Carole King is one of the most prolific and successful songwriters of the twentieth century. Born Carole Joan Klein in 1942, she was writing songs from a remarkably young age, when impresario Donnie Kirshner signed her up at the age of eighteen, along with her lyricist husband, Gerry Goffin. Their first hit soon followed in 1960 when the Shirelles released 'Will You Love Me Tomorrow?'.
Their rollercoaster career is depicted in the musical Beautiful, subtitled The Carole King Musical and now touring with a huge cast of singers and dancers, and is a sweeping panorama of the talents of the young couple as they conquered the pop world of the sixties.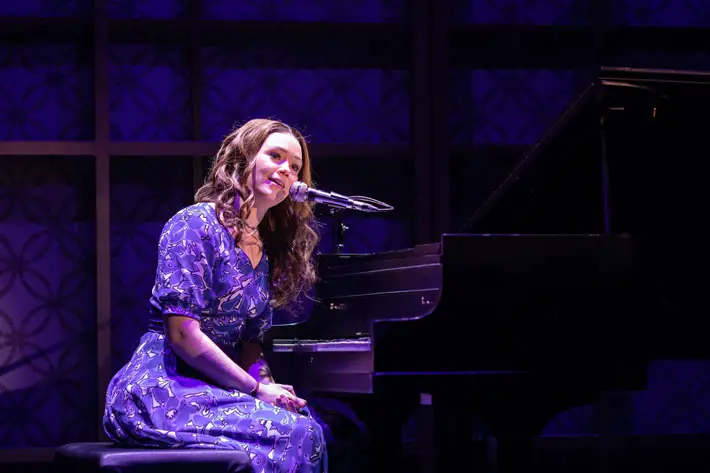 The early life of Carole and Gerry is drawn clearly in sharp relief as Daisy Wood-Davies brings life and personality to the eponymous, essentially clean-living, heroine who managed to write superb musical scores from the age of fifteen, meet the love of her life and marry at the young age of eighteen, have two children and continue turning out a huge number of hit songs which still resonate through the generations.
A tall order for any actress or singer to emulate, but Wood-Davies gives a good performance that, although bordering on the saccharine, nevertheless brings out the essentials of the complex but clever and strong personality of Carole King.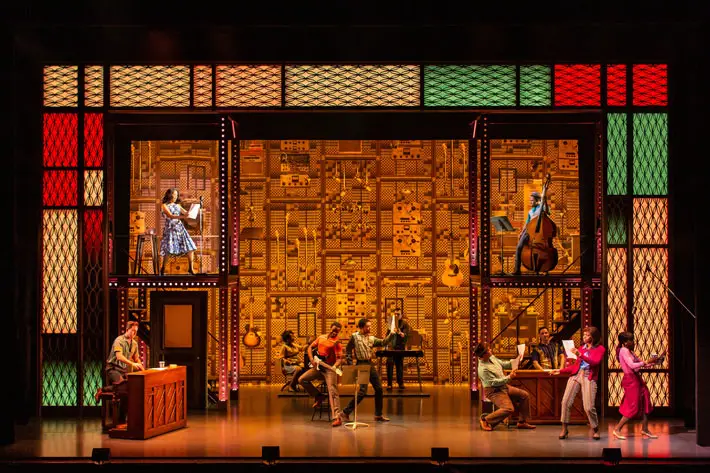 "Does justice to the great songs"
Her husband, Gerry, is played with conviction by Adam Gillian as he wavers his way through their marriage and career. Gerry's strengths and weaknesses are clearly shown, but Gillian still manages to engender our sympathy as Gerry fights his demons, while still providing the wonderful lyrics to accompany Carole's music. Gillian turns in a solid and convincing performance as a man whose musical talents and offerings were an essential part of the success of Carole King, but maybe did not receive the same amount of plaudits.
King associated with other lyricists after her and Gerry Goffin divorced, although still working with him from time to time, but their early works together are still the classics of King's output. 'It Might as Well Rain Until September', 'Up On The Roof' and 'One Fine Day' are amongst the ballads belted out on stage by diverse singers, soloists and groups who do terrific justice to the great songs. No mean feat when they stand in for some of the world's greatest singers, including The Drifters, The Righteous Brothers, The Shirelles and Neil Sedaka. All give credible, if occasionally  tongue-in-cheek, renditions of their famous songs. They are all terrific, especially The Drifters, who had both brilliant sound and movement and looked like they were having the time of their lives.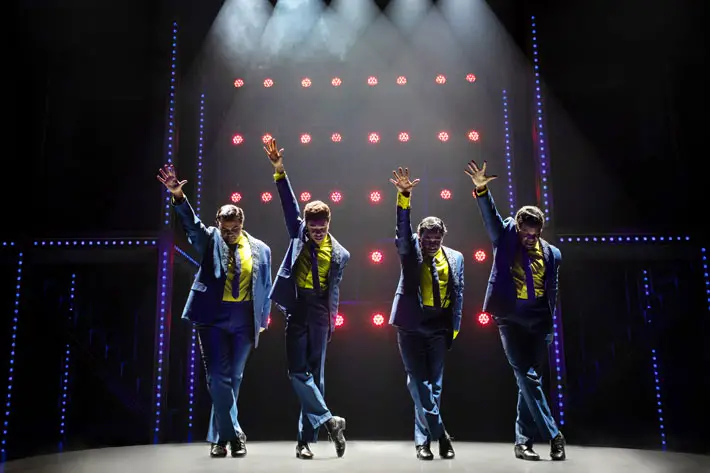 Of note, too, are the couple who are the friends and musical rivals of Carole and Gerry, Cynthia Weil and Barry Mann, played with great humour and thought by Laura Baldwin and Cameron Sharp. Their comedy timing is perfect and their acting of this odd couple is endearing and entertaining, and their obvious love for each other shines through without any extrovert actions.
The stage settings for this production rank amongst the best I have ever seen on stage. The changes of scenery are slick and fast, and so clever that they become part of the enjoyment of the show, rather than the irritating and cumbersome interlude that many productions carry.
But, of course, the songs are the thing that drives this musical. King and Gillian were a blessed combination as their music and lyrics meld together with a perfection rarely seen, often imitated, but never surpassed. Their songs are now classics that have stood the test of time, and the sell-out audience appreciated every note of this terrific show.