Introducing: Rickyleupnext
Out of Sheffield's thriving rap pool, a new fast-rising voice…
YOUR NAME: Rickyleupnext
HOW LONG HAVE YOU BEEN PLAYING MUSIC?
My earliest memory is when I was around 10/11 years old. My older brother and cousin were in a popular Sheffield grime/rap group at the time called Regimentz. I just remember them always going to studio and writing lyrics together in my brother's room and one day I said to my cousin can I come please? He said no, you're too little, but he sat down with me for half hour before they left for the studio and helped me write my first rap. I still remember it to this day, haha. Those two inspired me loads to go down the path I am currently going down. I've always rapped ever since then, with my friends at school or in the area at youth club while trying to chase my basketball dream. At the time I would always rap a little on the side for fun and one day my friend told me take it serious, I could go far very far and that I'm talented. So I did that once I felt like basketball wasn't going to fulfil my dreams. Four years I have been taking music seriously.
ANY PAST BANDS OR COLLABORATIONS WE SHOULD KNOW ABOUT?
I have two collaborations with fellow Sheffield artist Deep Green that are really great songs! Some of the best releases out of the city this year! Other then that I have a couple of collaborations with my close friend Trxlly who is also a rising musician from Sheffield we released those tracks a couple years ago in the early stages of our career but have loads of new bangers in the pipeline ready to be released.
GIVE US 3 REASONS WHY WE SHOULD TRACK DOWN, LISTEN AND DISCOVER YOUR MUSIC?
Because I have a story to tell which can be relatable to the youth, people my age and older people that have been through the things I talk about and come from where I come from. It's like reality music.
Because it's some of the best music you'll hear, which you'll find out once you track down and listen. I feel like I bring a new different wave, a fresh melody which is unique because of the things I speak about whilst melodising.
And finally I want to break down doors and put Sheffield on the map like these big cities are and I feel like I can be the one to do that, most definitely.
WHERE DO YOU SOUND BEST – FESTIVAL, CLUB, BEDROOM – OR SOMEWHERE ELSE?
I think I sound best in festivals and clubs because the energy I bring is different and believe me when you listen you won't be able to sit still, haha. I'll have you vibrant and moving in the car and even have you dancing in the mirror in your bedroom, haha.
WHAT WAS YOUR FIRST…
CD? My first CD ever purchased was I Am Chipmunk (album). I was around 10 years old haha I remember watching chip on Channel U thinking that's something I want to do one day, be on TV.
DOWNLOAD? My first download was Nines, 'From Church Road To Hollywood' mixtape. I remember me and my friends used to have that on repeat, we would learn the lyrics come back to school and recite the bars to each other in the playground see who knows more.
SO, WHEN IT ALL GOES RIGHT AND YOU'VE GOT A BOTTOMLESS PIT OF MONEY AND LONG QUEUE OF HANGERS-ON, WHAT WILL BE YOUR BIGGEST MUSICAL INDULGENCE?
To collaborate with Drake definitely. I'm talking in the studio, catching a vibe then shooting a music video to the song that would be game changing.
SO, WHEN IT ALL GOES WRONG AND YOU'RE LEFT BITTER AND TWISTED AND CURSING THE MUSIC INDUSTRY, WHAT DO YOU FALL BACK ON?
That's not going to happen because I believe soon as the people take me in there's gonna be no going back from there. The only was is up.
WHAT ARE YOUR MUSICAL GUILTY PLEASURES…
Haha, I don't really have any to be honest but if we're talking about what/who do I listen to that I wouldn't listen to around my boys then I'd say Summer Walker definitely lol. She's one of my favourite female singers I listen to her quite often.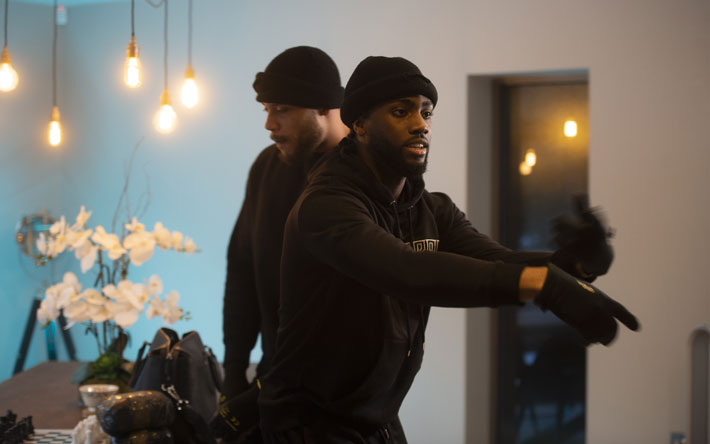 WHO ARE YORKSHIRE'S FINEST IN CULTURE, SPORT AND MUSIC?
Coming from the same area as where I grew up (Upperthorpe, Sheffield) we have Deep Green who is a promising artist. He has a couple of videos on YouTube with 1 million views +.
We also have Kid Galahad who is on the verge of becoming a world champion boxer. He has already won the British and European Titles for featherweight, super bantamweight.
NAME YOUR SUPERGROUP – WHO'S PLAYING WHAT, WHO'S ON VOCALS AND WHO'S YOUR BEZ?
I'll give you 5 people who I listen to the most at the moment and are some of my favourites in no particular order:
Drake
Pop Smoke
Lil Durk
Lil Baby
Young Adz/ D Block Europe.
GO SEE THIS FILM: Snowfall.
GO READ THIS BOOK: Russ – It's All In Your Head.
GREAT LOST BAND/ARTIST: Drake.
WOULDN'T BE CAUGHT DEAD SUPPORTING: Any team other than the Lakers lol.
LONDON, L.A OR LEEDS?: L.A.
AND FINALLY… AS YOU LEAVE THE STAGE, WHAT ARE YOUR PARTING WORDS?
I wish I could stay longer but I've got to go now ahahh make some noise… Then the crowed starts screaming my name going wild.
For more info visit: instagram.com/rickyleupnext