Tom Odell – Live Review – Leeds O2 Academy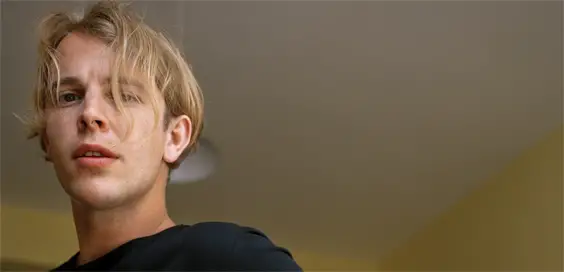 By David Schuster, October 2018
The sight of Tom Odell belting out 'I Know', whilst standing on top of his piano like a latter-day Jerry Lee Lewis, is one that I'll remember for a long time. However, that was just one highlight of many from his performance at the Leeds O2 Academy.
You'd have to have been living somewhere very remote indeed not to have heard the British pianist's radio-friendly tunes, but I didn't really know what to expect from the gig. "Do you think he'll have a band?", I wonder aloud, as we park up. That question is soon answered; grand piano centre stage, drum kit to rear, a standing mike to the left and two to the right. I point this out to my wife as proof of the band. "Yes", she replies archly. "Unless he moves around a lot".
Tom walks to the front of the stage and takes a bow, a slight, blue-suited figure, and launches into the title track of his forthcoming album, Jubilee Road. As he plays, the black-clad figures of drummer, guitarist and bassist do indeed take their places. Like many musicians before him, including Van Morrison's wonderful 'Cyprus Avenue', he's taken inspiration from the places he's lived. Somehow though, with the lyrics, "And the neighbours my dear, I still think they hate me, for all these songs I endlessly sing", I don't think he'll be moving back anytime soon.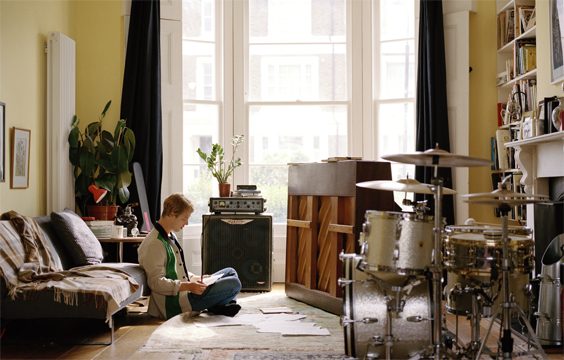 "Belting the keyboard"
It's a bold choice to start with new material, but it's well received, and he goes straight into a rocking version of 'I Know'. He throws away the piano stool to play a standing honky-tonk break, before climbing on top to sing at the top of his lungs. The crowd go wild, and he obliges by letting us sing along unaccompanied. As he stops belting the keyboard, I hear a sound that I've never heard before; the rumble of grand piano strings continuing to vibrate after he's finished playing. It's an awesome noise.
Sparse lighting and pin spotlights are used to very good effect throughout the whole gig, sometimes fanning out like sun rays from behind the piano, sometimes forming a pyramid of light over the pianist, and sometimes picking out other members of the band. It's especially good during 'Can't Pretend' when the stage is flooded with red in a Venetian blind effect, throwing dark lines of shadow across the performers.
During a break in the music Odell tells us that Leeds is one of his favourite places to play. That's believable, as he's performed here no less than five times since his breakthrough Songs from Another Love in 2012. Less believably, he says later that we are the most beautiful audience he's ever performed to, laughing as he points out that there's a man at the front of the crowd shaking his head at that!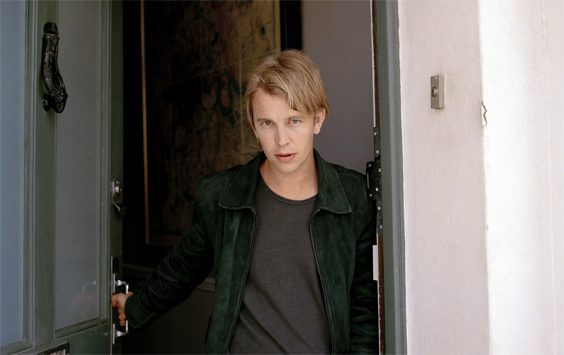 "Master showman"
He introduces the band, and it turns out that two of the three musicians he works with are called Max; Clilverd on guitar and Goff on bass. It's also nice to get some insight into how tracks arise; before 'Queen of Diamonds' he explains how it's about men imagining they are at a casino in Monte Carlo, when they are in a seedy betting shop, throwing their money away. It's made more poignant when he says one of them was him.
It's astounding just how many hits Odell has had in a relatively short career to date, 'Hold Me' follows 'Grow Old with Me', and the main set finishes fantastically with the crowd, arms in the air, singing along to 'Another Love'.
The gap between Tom leaving the stage and returning is admirably short, but the evening isn't over by any means. He really seems to enjoy performing and perhaps this is his habit, but he gives us no less than six encores, including 'Wrong Crowd', 'Concrete' and 'Magnetised'. He attempts, and fails laughing, the whistling on 'Wrong Crowd'. The Leeds crowd is happy to provide this though, with variable but hilarious effect. It's been a memorable evening; the multi-talented singer/songwriter/pianist is also such a master showman that it's easy to overlook the fact that he's still only 27, with a long career ahead of him. He loves the crowd and the crowd love him, rightly so.