Reef – Live Review – Leeds Stylus
By Victoria Holdsworth, April 2022
There's a static charge in the venue tonight as Reef swagger back into Leeds with a new album under their guitar straps – and a renewed sense of vigour. As the Glastonbury lads take to the stage, there is a crackle of excitement coming off them, as Gary flashes his toothy Cheshire cat grin and looks out across the sea of cheering faces.
Kicking things off with their newly released single, from the same titled album, 'Shoot Me Your Ace' sees an epic eruption, with its Motörhead infused overtones, clever little blues licking rhythms resting just underneath the surface, coupled with exceptional vocals from Gary Stringer. It's one of the best songs you could possibly hear live, just pure energy from start to finish. Without any let up, 'Stone For Your Love' manages to keep a simmering lid on the crowd, just taking them down a notch from such a blinding opener.
'Naked' sounds even better than it did when originally released in 1995, with Gary's voice continuously improving over the years. It's closely followed by the soulful and slinky 'Higher Vibration', a blast from the past with some outstanding hypnotic hooks.
'Consideration' is a standout tonight, reminding me of Tesla's 'What You Give', another epic rock ballad, but in the way that Gary et al sing out the words, "It's gonna be alright!" it doesn't matter what is going on outside the Stylus tonight, because you kinda believe them.
"Blistering, rocked-out set"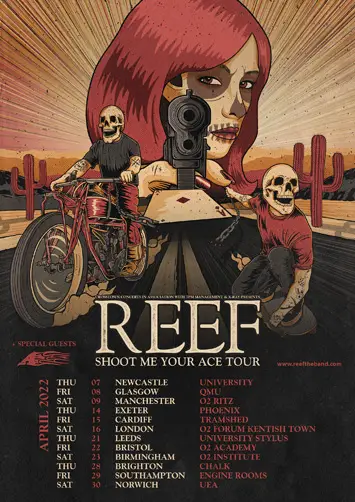 Reef certainly manage to put a lot of smiles on a lot of people's faces tonight. It's clear that the Leeds massive love the band, and the guys all look like they are having a great time thus far. But as we approach the half way point of tonight's set, the unmistakable intro for 'Place Your Hands' strums out, and the place just explodes, with Gary really working hard with the crowd. The effort that the audience gives back in return is simply phenomenal! There aren't many songs in existence like it in terms of immediately sanctioning an obligatory lung busting sing-a-long, and neither does it seem to matter where it's placed in their set as it always fits perfectly.
Reef always mix up their set, and Jesse Wood, Luke Bullen and Jack Bessant, play with such evident passion they create gritty, blues-soaked, eras-past-influenced stunners, but with new life breathed into each and every one of them. The crowd clearly love the newer direction that the band has taken over the last few years, and I agree with them. Reef have to be hands down one of the best bands I have ever seen live, just for the sound and energy that they create together.
'Best Of Me' could quite easily be an ACDC track, and is a firm favourite. The track is exceptionally gritty and has some ballsy marching vocal punctuation points, with lowly slung guitar riffs lending to a dirty rock 'n' roll sound, like being dipped in honey and nails.
The anthemic 'Come Back Brighter' sparks an even louder sing-a-long, but it was the funked out, spellbinding 'I Would Have Left You' which remains one of the best songs they have in the extensive back catalogue. The track really shows off Stringer's vocal range, closely followed by 'Precious Metal' which can only be described as epically brilliant.
There is a little funky break in the set sounds as 'Don't You Like It?' brings everyone a small amount of respite in this blistering, rocked-out set – but things are about to get even heavier with 'Wolfman', the sounds of which could easily pigeonhole Reef as a bona fide metal band.
'I Do Not Know What They Will Do' is another formidable tune, but one of the best songs in their arsenal is 'Revelation' from the same titled album, released in 2018. After eighteen years in the waiting, I really believe that this was the album that finally saw the band finding their true voice and sound, and it is a rip roaring anthem of epic proportions.
Ending the set on an oldie but a goody, 'Summer's In Bloom' from their second album Glow, sees bodies flying everywhere, and in a blink of an eye we are saying our goodbyes, and hoping for an encore.
"Gripping guitar spikes"
The Stylus didn't have to wait long for what was an outstanding version of Fleetwood Mac's 'The Chain', which sees some exceptional guitar work from Jesse Wood, as he nails the infamous riff, and even improves upon it. Gary's usual husky and gritty range is shown off to perfection, with some beautifully sung harmonies, and versatile vocal acrobatics, making it sound so much fresher and substantive.
'Good Feeling' does exactly what it says on the tin, and is such an uplifting, grooved out piece of all consuming rhythm and blues that without fail will transport you back to all your favourite bygone heroes. But it's the unmistakable festival favourite 'Yer Old' with its gripping guitar spikes and peppering drum beats that again sees the crowd go crazy, not wanting the night to be over.
Most appropriately the last song we shall hear tonight is 'The End' from their first album Replenish, released in 1995. As the guys play out their last notes, you can see the exhilaration and delight on each and every one of their faces. The Leeds crowd loved it, the band loved it, and anyone who ever goes to see Reef will love it.
This is a band unlike any other I have seen before. The energy, attitude and passion are just perfection, as is the outstanding musicianship, with an edge like only a few other great bands possess. Reef really are something special.