Crowded House – Live Review – Scarborough Open Air Theatre
By Charlotte Oliver, June 2022
The sun literally and metaphorically came out at Scarborough's majestic Open Air Theatre the moment Crowded House took to the stage as part of their first European tour for 10 years. After a solid and entertaining support slot from their very own Liam Finn and children (bringing the number of Finn family generations to perform that night to an impressive three), the weather stepped up to match the warm atmosphere created by an audience and band delighted to be in each other's company.
Launching straight into their opener, 'Distant Sun', the evening air was soon filled with gorgeous harmonies that soared as high as the distant birds and sounded as fresh as ever, demonstrating from the off that this is a group who are still very much at the top of their game.
Lead singer and guitarist Neil Finn, dapper in a white suit and boots, was genial and relaxed in his chat with the audience and in particular with fellow founder-member, bassist Nick Seymour. Their ease with each other and with us only served to strengthen the feeling that we were in the presence of consummate professionals, and could therefore relax and enjoy the show (spoiler alert: we really did!).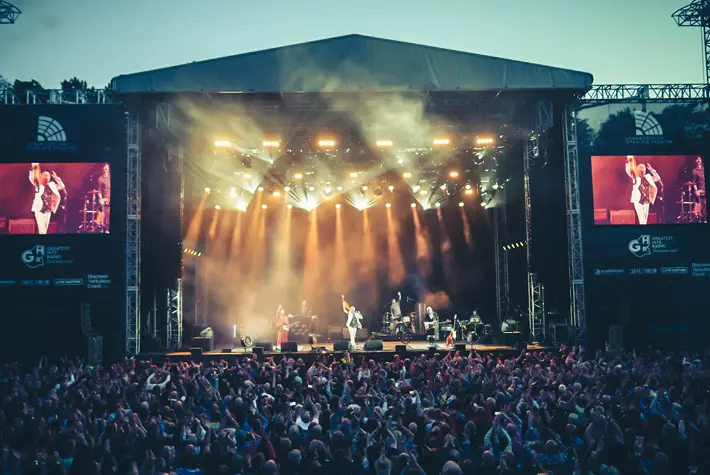 "No need for flashy effects"
Next up was 'Only Natural', which was met with great joy and some hearty singing along from pretty much everybody in the packed house. 'To The Island' followed before their massive 1991 hit, 'Fall At Your Feet', and what a treat it was to see this performed live in all its yearning intensity. True to the band's generous form, the audience were invited to join in, with the musicians dropping out and Neil taking to acoustic guitar to give us space to sing – and we were happy to oblige. 'You're in good voice', he commented afterwards to enthusiastic cheers (though we all knew that the voice of the evening was his, which sounded even better than ever).
There followed some banter about seagulls, again to the seaside crowd's happiness, and then the band moved into the lilting folky groove of 'Pineapple Head', through which a few strands of the Beatles' 'Norwegian Wood' were deliciously woven.
A frisbee appeared on-stage after more friendly chat, which resulted in performers and audience briefly indulging in a massive game together before the music continued. Crowded House played song after song of music so melodious and well-written that there was no need for flashy effects or showy presentation. Instead, the stage was simply set with a number of spotlights and the odd puff of dry ice, allowing the band and tunes to be the focus.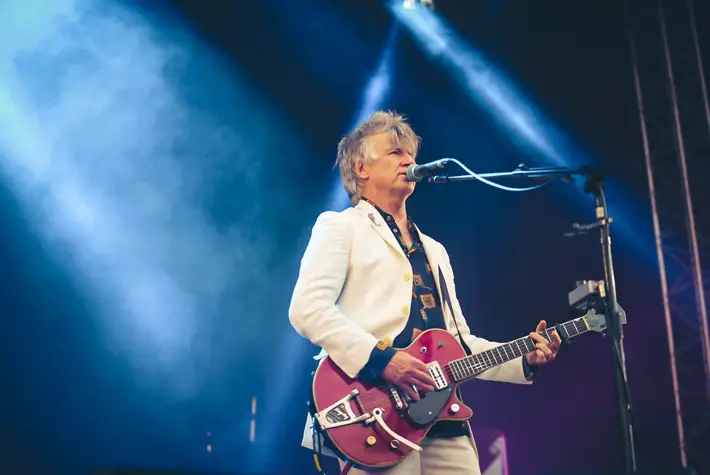 "Song-writing genius"
There was definitely less of a sense of the audience waiting for big hits to be played than I have experienced with many other top names, which, again, is testament to the quality of this group. In saying this, however, there was an obvious increase in the number of raised arms towards the end of the set, when the group unleashed a string of their most popular songs, such as 'Four Seasons in One Day', 'Weather With You', 'Don't Dream it's Over' and 'Something So Strong', all of which sounded as though they could be hits of today.
For the encore, Neil switched from guitar to keys and carried on with yet another four songs, closing the show with a lush rendition of the appropriate, 'Better Be Home Soon', again inviting the enormous crowd to join in and finish the song with him.
This was an evening of beautiful songs, top-notch musicianship and genuine affection between band and fans. Their stripped-back style of music does not rely on trends or musical fads; it sounds deceptively simple which is the classic trademark of song-writing genius and why their new and old tracks blended in so well with each other over the course of the evening, creating a set that was consistently brilliant. It is also the reason why Crowded House have and will continue to stand the test of time, though I truly hope they don't leave it another 10 years before coming back.
images: Cuffe & Taylor