A Q&A with The Wandering Hearts
Folk-Americana, heavy on the harmonies – here's London trio AJ, Chess and Tara from The Wandering Hearts…
What's the title of your latest release, and what does it mean to you?
Our new album is self-titled and it felt really important for us to do this – it truly reflects who we are. When we wrote and recorded our first album, Wild Silence, we hadn't been a band very long at all and we are so proud of the songs on it and where it took us. Since then, we've played together so much that we really know who we are and what we do best. Our new album is everything we imagined it would and could be and we cannot wait to be able to release it.
What was the hardest part about putting this release together, and why?
We'd love to say something other than Covid but truthfully, that has been the hardest part. We feel so lucky that we finished recording our album at the start of March 2020, up in the Catskill Mountains, NY with the indomitable Simone Felice and David Baron. The recording experience and being in Woodstock for so long was a dream but then of course the pandemic ensued, we had to fly home and then we've had to sit on the album for all of this time so that's been tough. 30 July cannot come quickly enough!!
Who produced the release – what did they bring to it?
Simone Felice and David Baron were a dream to work with. They have the most incredible studio in the snowy Catskill mountains, set away from everything. It was the perfect place to all be focused on the record and it really helped being holed up there for a month together. David is a phenomenal multi-instrumentalist who helped capture our sounds on some incredible vintage gear and Simone's focus and attention to detail elevated our songs to new heights.
What do you want the listener to take away from listening to your music?
Anything! Music is so subjective, people derive their own associations and meanings from it. To have listeners at all feels fortunate enough in itself. But obviously, we'd like to move people, one way or another. We write about all sorts of things, often issues that don't get talked about that much, so we'd be just as happy with having someone tap their feet as we would be starting conversations.
How does a track normally come together? Can you tell us something about the process?
It really varies as we don't have a solid process as such. We write together, separately and with other writers that we know and we get together to work up ideas and develop them until we're happy enough to make a demo. Then we tend to listen through what we've amassed, keep working stuff through and making changes until we've shortlisted our favourites to record.
What band/artists have influenced you the most since you started this project, and why?
Since we started?! Well, we all bonded over Chris Stapleton, First Aid Kit and the Civil Wars when we first got together. We also realised we'd listened to a lot of the same music when we were kids via our folks so we played with some of those influences as our music has developed like Fleetwood Mac, The Mamas & The Papas, The Beatles. We have also been hugely influenced by some of the artists we know and have been lucky enough to work with, like Marty Stuart for example. He's been an absolute inspiration to us as well as a huge supporter. His generosity is legendary and he's known for going out of his way for others and championing music. Being on tour with Marty & His Fabulous Superlatives taught us and brought us so much.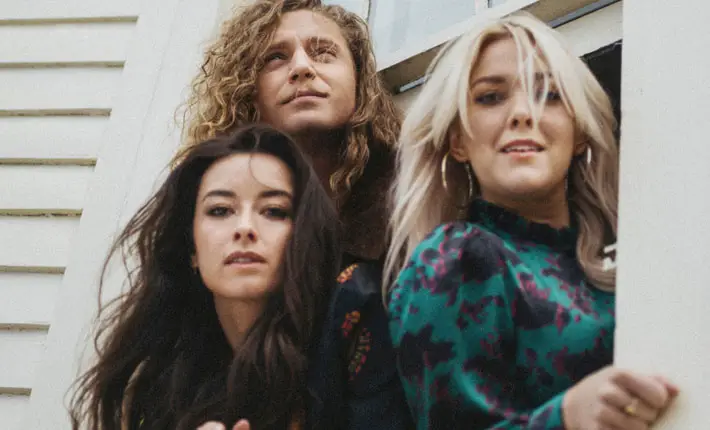 What countries would you like to tour? Are there any standout venues you'd like to play in?
Every country?!? Would just be great to get out and see the world right now. We love playing to home crowds as much as away but there are still so many places we haven't been – would be cool to get around to Asia, Australia, New Zealand… As far as venues, anywhere right now! Have been really thinking about some of our fave places in Nashville like the Ryman and the Opry again lately. That'd be nice to revisit, even just to catch a show!!
If you could pick one track for our readers to listen to in order to get a taste of your music, what would you pick, and why?
'Gold' – our recent single from our new album. It's really true to our sound as a band and has a message which we hope people take some strength and hope from.
What ambitions do you have for the band/your career?
To still be doing this is in 10 and 20 years time. If we can make a living from writing and playing music we love and touring year after year then that would be the dream.
Finally, as you leave the stage, what are your parting words?
Oh to be on stage again!! Usually, our words are along the lines of: Thank you so much. We hope you have enjoyed yourselves as much as we have. We will be out front in a second so come and say hi. Safe journey home and be kind. Until next time…!!
The second album from the Wandering Hearts is out on 30 July
For more info visit: thewanderinghearts.com