Cinematic pop from Manchester – here's singer Rob from The Slow Show…
What's the title of your latest release, and what does it mean to you?
Our new album is called Still Life. The title was inspired by a story my mum told me over the phone during the pandemic, deep into the second wave lockdown. My parents' neighbours had bought their son Freddie a butterfly life cycle set to keep him busy whilst the schools were closed. Freddie proudly invited my parents to watch him release his lovingly 'home grown' butterfly into the word but was disappointed to see that his butterfly wouldn't leave home. I wrote down Still Life immediately after hearing the story of Freddie, letting his butterfly go. It's been such an unprecedented couple of years. We didn't want to dwell on the situation but it inevitably influenced this record. Life stood still and we wrote a record.
What was the hardest part about putting this release together, and why?
The logistics were difficult. We're not all in the same city and I live in Germany which meant almost 2-years without seeing the rest of the band. We learnt to work remotely but it was a steep and fairly painful learning curve.
Who produced the release – what did they bring to it?
The album was self-produced although we had additional help from Andreas Ernst, a German producer based in Düsseldorf. Andreas helped the recording process feel less remote and helped us regroup. We were midway through the record and things were feeling and sounding fairly disjointed. Andreas helped connect some of our ideas and gave the record a much needed perspective. He was a much needed tonic during a difficult time in the process.
What do you want the listener to take away from listening to your music?
Our goal has always been to create moments of feeling. To move people. I hope that people feel something, that they finish the record feeling differently to when they started.
How does a track normally come together? Can you tell us something about the process?
I'd like say that after three albums we have a system but there absolutely isn't one. Each song starts differently, it can be a sound, a melody, a story, looking at a stranger's face.
What band/artists have influenced you the most since you started this project, and why?
We've always been excited about mixing genres. We all have such varied musical tastes, finding an influence is difficult. I think each record is probably a product of the time it was written, our personal lives, and a mixture of records we are all listening to.
What countries would you like to tour? Are there any standout venues you'd like to play in?
We've been lucky enough to play in some wonderful cities and countries. I think the enforced break has made touring feel even more of a privilege. Going anywhere at the moment would be wonderful!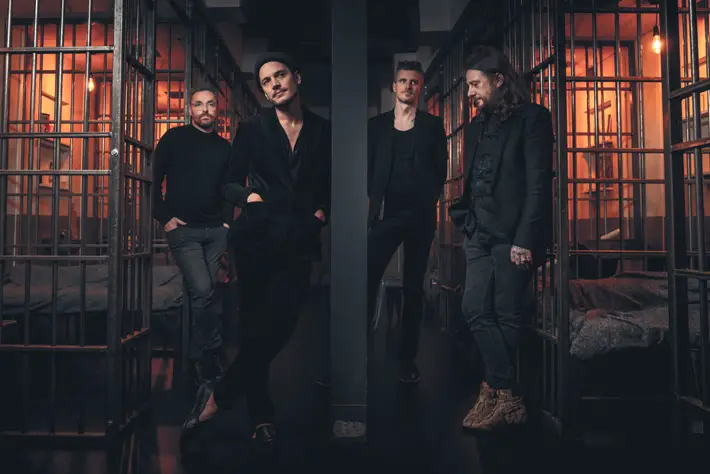 If you could pick one track for our readers to listen to in order to get a taste of your music, what would you pick, and why?
'Mountbatten'. I think it's an example of how we enjoy playing with genre. With 'Mountbatten' we wanted to combine classical arrangements with electronic loops, sung and spoken words. We wanted to create a movement in its entirety, from one place of feeling to another. For this reason, i think this is one of our most ambitious songs.
What ambitions do you have for the band/your career?
To keep writing, to enjoy making music and hope that it means something to someone.
Finally, as you leave the stage, what are your parting words?
Thank you.
For more info visit: facebook.com/theslowshow