A Q&A with Miesha & The Spanks
Canadian garage rock duo pump up the volume…
What's the title of your latest release, and what does it mean to you?
Miesha: Our new single 'Dig Me Out' is an expression of how overwhelmed I felt when the news and social media started running with the residential school stories, after the first 215 children were found in Tk'emlups, and as the numbers piked up. My Grandmother was there, she survived as much as anyone can survive that horror, and like most Indigenous kids the reality of that institution is something I've known about for a long time. The reminder was tough.
What was the hardest part about putting this release together, and why?
It was hard to balance a banging rock song with the serious content tied to it, and how to approach sharing that, because the content is so awful and so intense. Anyone who follows us already or finds our song from a piece of press, is going to know that right off the bat. My hope is that people who find it via radio or playlists gravitate towards it because of the song itself and its energy, look us up, and learn more about what happened in Canada and the US.
Who produced the release – what did they bring to it?
We worked with Danny Farrant (drummer of The Buzzcocks) and Paul Rawson on this track, as well as the rest of our upcoming album. They produced our last full album (Girls Girls Girls, 2018) and we stopped over in Brighton to record 'Dig Me Out' and 'I Can't Wait' between playing festivals in Sweden and Germany. Working with these guys is such a dream! It's a very collaborative space, and they are both such amazing songwriters and so at home in the studio, that they really do get the best out of us and our work. As a two piece, the drums are so important, and having Danny there as a producer starts the song's foundation strong, producing interesting and unexpected sounding beats allow for me to jump on that with new and exciting guitars and vocals. When we work with these guys we really end up building something that's much greater than the sum of its parts.
What do you want the listener to take away from listening to your music?
I like when our music makes people feel something. While this new song is dark and the content is tough, I do hope it sparks something in people to not just be upset and angry with Canada's hidden history, but to advocate for change and growth.
How does a track normally come together? Can you tell us something about the process?
How we write music changes all the time. Typically I write a riff and the beginning of a song, record a baby demo at home that I send to Sean, and then we will get together and work it out in person until we lock in the bones of it, and then I'll finish vocals and we will revisit in the studio together. For some of the music moving forward, Sean has been writing some of the riffs that start the process, and that has been pretty exciting.
What band/artists have influenced you the most since you started this project, and why?
I always wanted Miesha and The Spanks to be a hard hitting rock n roll band, with some obvious proto-punk or riot grrrl undertones. It took a while! We're getting there! Some of the bands I looked to for inspiration are The Bellrays and L7.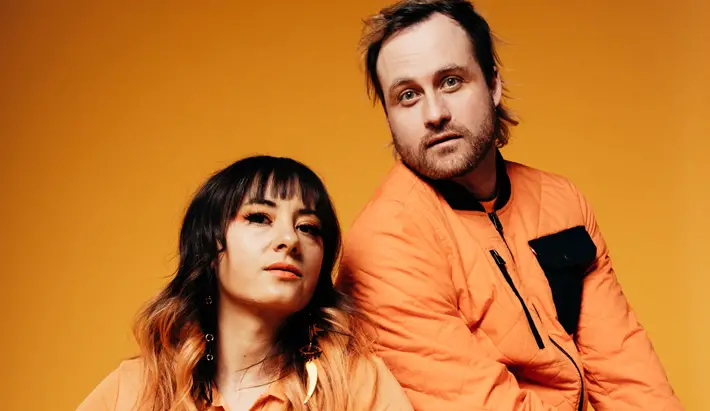 What countries would you like to tour? Are there any standout venues you'd like to play in?
We've been performing at festivals in Germany and the UK the last few years and are really trying to pick it up and get some touring here. We've spent so much time in Brighton, recording and for Great Escape, and I think Hope & Ruin would really be our kind of rock n roll space. In Hamburg at Reeperbahn we saw Kadaver at Gruenspahn and that venue looked very cool.
If you could pick one track for our readers to listen to in order to get a taste of your music, what would you pick, and why?
Have a listen to our new song 'Dig Me Out'! It's hard yes but it's also rock n roll and deserves to be turned up.
What ambitions do you have for the band/your career?
Our fingers are crossed that live music is back to stay, in which case we want to tour the heck out of our new album… once we are done making it.
Finally, as you leave the stage, what are your parting words?
Just a big sweaty huge and a "hope we see you soon!"
For more info visit: mieshaandthespanks.net