Extreme metal quintet, from London and the home counties…
What's the title of your latest release, and what does it mean to you?
The theme of our album, Death and its Slaughter is about death and the forms that have represented it, for example in personification and the ceremonies such as weighing of a soul. Such metaphors appear in the historical accounts from superstitious citizens.
What was the hardest part about putting this release together, and why?
The pre-production followed a familiar approach of writing followed by demo and rehearsal iterations. When our schedules permitted, with the exception of Richard and Owen members flew out independently to Monroe Studio in Stargard, Poland to record the tracks. During planning for the release, the global pandemic hit London in March and this meant mostly a switch to exclusively digital promotion with few opportunities for live performance emerging. This was a challenging time for all live acts but I am sure that the crash course in digital promo was valuable for the longer term.
Who produced the release – what did they bring to it?
As before on the first album Univerself, production was handled by Arkadiusz Jablonski and recorded at Monroe Studio (Masachist, Vesania & Shadows Land) in Stargard. There was no question that they would produce this album building on the strengths of the mix on the debut.
What do you want the listener to take away from listening to your music?
A fan told us that it took more than one listen to appreciate some of the musical intricacies in our songs. If there is some replay merit in there that persuades the listener to give it a second or even third listen – even if it is not to their taste then that is a testament to the depth of this textured production.
How does a track normally come together? Can you tell us something about the process?
As alluded to above, writing will usually begin with a complete guitar track circulated to the members, we get together and rehearse it together in the practice space and lyrics are either written in parallel or at the very end.
What band/artists have influenced you the most since you started this project, and why?
At this point after experiencing this music for decades, it is difficult to attribute influences solely to specific artists. The legacy of releases by some Swedish death metal bands including Edge of Sanity and Pan.Thy.Monium left an impression, for sure Emperor also has a place there too.
What countries would you like to tour? Are there any standout venues you'd like to play in?
Crossing the channel for some central European dates would be appealing. If it is possible to get a good monitor mix then we are less concerned with the venue's novelty or prestige.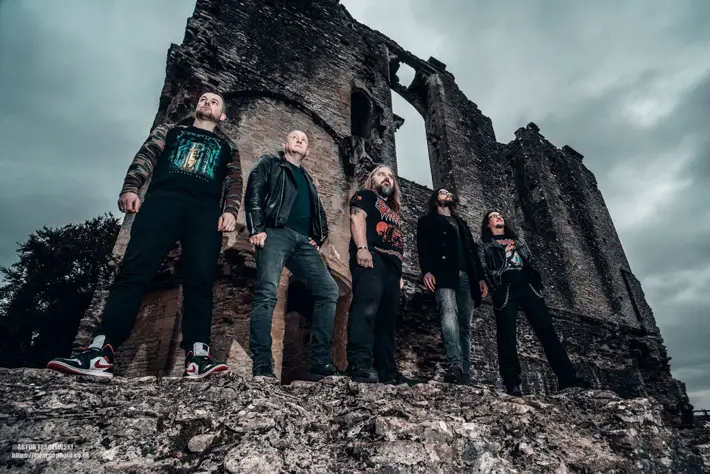 If you could pick one track for our readers to listen to in order to get a taste of your music, what would you pick, and why?
'Human Condition' captures the breadth of influences opening with a mellow melodic clean instrumental section followed by a crushing and aggressive verse.
What ambitions do you have for the band/your career?
Everything has been a bonus up to this point. Shows further afield from our respective homes – getting in more fans faces as well as having the resources to produce a follow-up album with production that stands up to the previous two releases is where we want to be.
Finally, as you leave the stage, what are your parting words?
Please check out our merch – it's the best way to support us.
For more info visit: facebook.com/DyingVision