Spotlight (2015) – Film Review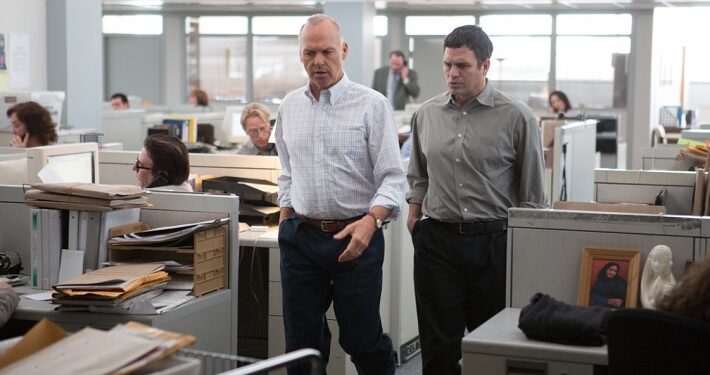 Director: Tom McCarthy
Cast: Michael Keaton, Mark Ruffalo, Rachel McAdams
Certificate:  15

by Jen Grimble
The way a director approaches a sensitive topic can make or break a movie. Two success stories came in the form of Shame (2011) and Precious (2009), both films explored controversial themes in entirely different ways. The former is brooding with long silences and melancholic slow-pans. The latter introduces shocking flashbacks and fantastical dream sequences. Despite their differences, both films found great success by partially distracting the audience with artistic flare.
Then there are those that use an altogether different technique. Actor-come-director Tom McCarthy approaches his latest project, Spotlight, with a sense of determination. The Oscar-winning procedural newsroom drama is muted in its appearance and practical in its method. Covering only the matter at hand, in a similar way to John Patrick Shanley's period piece Doubt, it removes the rose-tint and shows turmoil without let-up or lustre. Both movies minimise the distraction of visual artistry and irrelevant side stories. The allow the viewer to focus solely on the delicate story that is being told.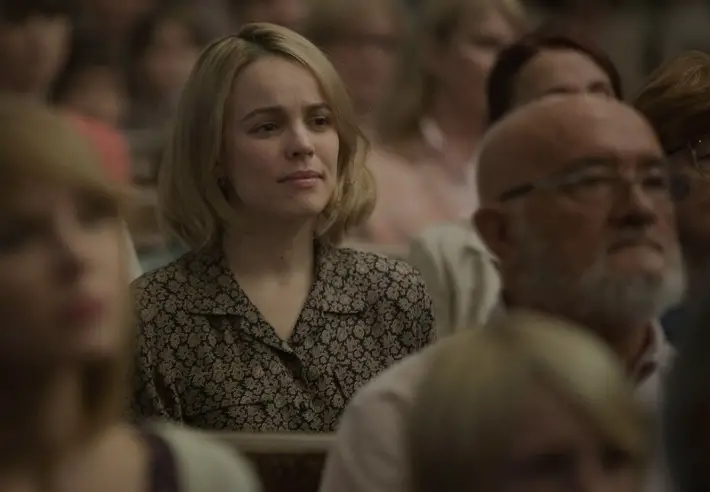 "Gritty and emotional"
While Doubt questions the guilt of a priest within a Catholic school, Spotlight deals with the factual events that saw the Boston Globe unveil a child molestation scandal within the local Church. Spotlight is a gritty, frustrating and emotional drama. It neither minces its words, nor down-plays the horrific nature of the facts. McCarthy questions faith and toys with the notion of blame. Yet his movie neither showcases the punishment of the culprits, nor celebrates the journalists who name them.
We join the film in the summer of 2001. The Globe has just replaced their long-standing Bostonian editor with out-of-towner Marty Baron (Liev Schreiber). He is a man entirely disconnected from the city's cultural and religious ties. Staff-cuts loom as the investigative 'Spotlight' team struggle to find grit in their latest story. Following reports of child abuse in the local Catholic parish, Baron sees an opportunity. He asks the Spotlight team to see where the rumours end and the facts begin. The five long-standing journalists, Mike (Mark Ruffalo), Walter (Michael Keaton), Sacha (Rachel McAdam), Ben (John Slattery) and Matt (Brian d'Arcy James) slowly uncover information that has been dormant for centuries.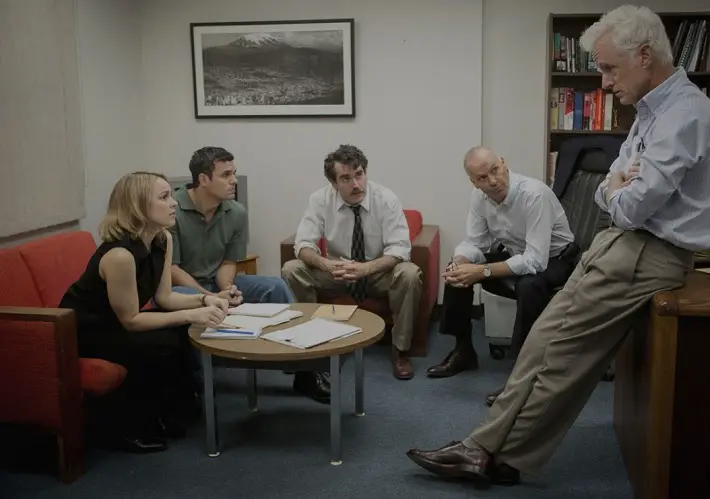 "Illuminating"
The plot treads gently. It is measured, never straying from its known direction. McCarthy is uninterested in muddying the story. He keeps scenes clean, hinting at outside relationships and domestic sets-up but never exploring them. He removes unnecessary characters and irrelevant content to limit detraction. Simultaneously he mutes the film's colour palette and shoots scenes in grey offices with dim-lighting. Spotlight is old in appearance, reflecting context, and sharp in its timeline. It is this that makes Spotlight so mature and humble in its approach.
This is not to say that the movie lacks lure or points of interest. It doesn't. In fact, the simple way in which it is shot actually makes the movie more interesting. It is the cast however, that really elevate it. Each member performs with a poignant understanding. Every spoken line and every reactive glance feels genuine and tangible. Mark Ruffalo offers the finest scene, when his character Mike finally gives in to his emotions. His speech is ardent, angry and authentic. Three components that reflect the very core of this movie.
What Spotlight lacks in cinematography it makes up for with its script and with the actors who perform it. It unites story and audience while confidently illustrating the trauma of the events it depicts. With a clear message and direction, Spotlight is a raw and penitent true story. This dark, brooding newsroom thriller rejects the stereotypes that movies before it have clung. And it does so with the utmost success.
8/10