Plane (2023) – Film Review
Director: Jean-François Richet
Cast: Gerard Butler, Mike Colter, Yoson An
Certificate: 15
By Roger Crow
How much do I love Gerard Butler, with his Desperate Dan face and gruff, no-nonsense movies? Since we lost Sean Connery a few years ago, the movie world has needed another great Scot to fill the void, and Gerard has built an impressive career as a Poundland John McClane in those 'Fallen' movies. A decade ago, Olympus Has Fallen kick-started the trilogy, and fans flocked to the further adventures of Mike Banning in their masses.
A few years ago he made Greenland, a terrific, end-of-the-world survival thriller which proved Butler really could deliver intelligent escapist drama, and suddenly sniffy critics started re-evaluating his work.
Which brings us to Plane, the sort of single-syllable title which, like Fall, says little and promises… well, a movie set on a plane?
Going in cold I know little about it apart from it'll probably be another generic action thriller like Passenger 57.
However, it turns out to be far more entertaining.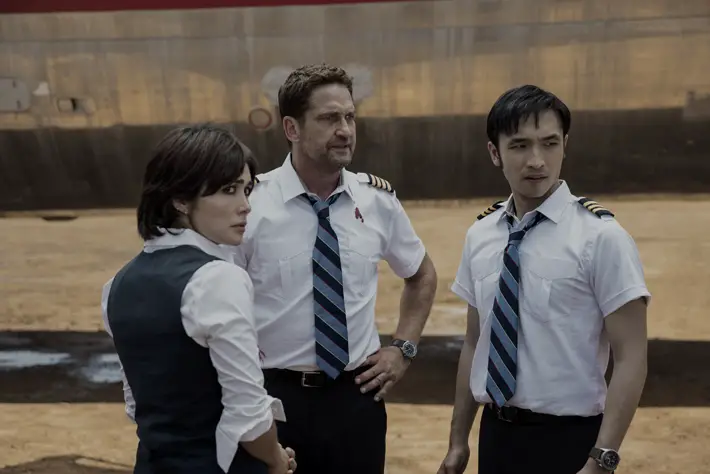 "Stranded travellers"
Gerry is Brodie Torrance, a pilot with a daughter who's running late for his latest flight. Following a bit of FaceTiming with his offspring, we have clunky exposition that sets up a character in a few seconds, and then he's meeting his co-pilot and cabin crew, and being briefed about Louis Gaspare (Mike Colter), a convicted murderer who was being transported by the FBI. We think 'Okay: prisoner will break loose and the hero and villain will go head to head amid mid-air shenanigans'.
The first act is pure Non-Stop, that absurdly entertaining Liam Neeson thriller from a few years ago. When the plane hits a lightning storm and loses comms and electrics, Captain Torrance has to land on a random island miles from anywhere. At this point I do wonder if it's going to go a bit sci-fi, like Stephen King tale The Langoliers, but no. With fried electrics, Captain Torrance and the prisoner head off to find a building briefly glimpsed in hope of contacting the outside world.
Meanwhile, a rescue team are planning to get the stranded travellers out because the area is a ruled by lawless bandits. At this point it turns into No Escape, the terrific Owen Wilson/Lake Bell thriller from a few years ago. A sweaty drama with ruthless bad guys intent on kidnapping the travellers for nefarious ends.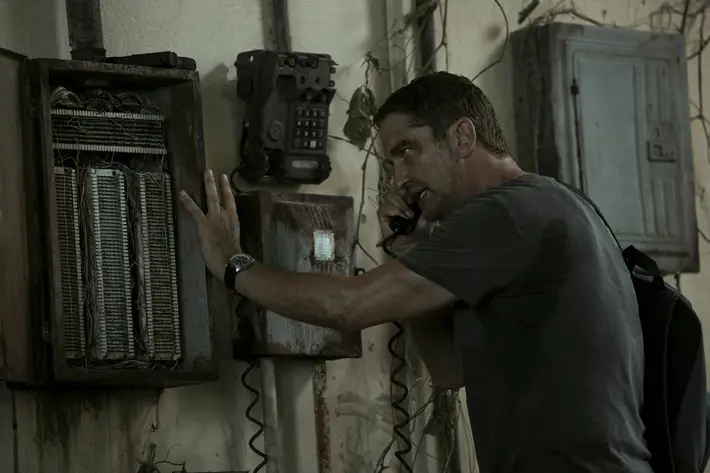 "Brilliant action"
With Captain Torrance and muscly prisoner Louis bonding after a splendid fight scene with a bad guy, Plane reveals itself as an intelligent slice of escapism. The fights aren't just an excuse for heroes and villains to go through a pre-planned routine. There's a realistic feel to these clashes, and that third act ramps up to an edge-of-the-seat cracker as our hero plans an escape reminiscent of The Wild Geese finale.
Yes, there are moments when credibility is stretched to breaking point, but this is easily Butler's best movie in years. Smart, thrilling, with brilliant action scenes and shootouts, it should keep you hooked for the duration.
No spoilers, but I can easily see a sequel being rushed into production to tidy up one loose end.
And that wouldn't be the worst prospect in the world.
Lionsgate UK presents Plane on digital and on 4K UHD, Blu-ray and DVD now