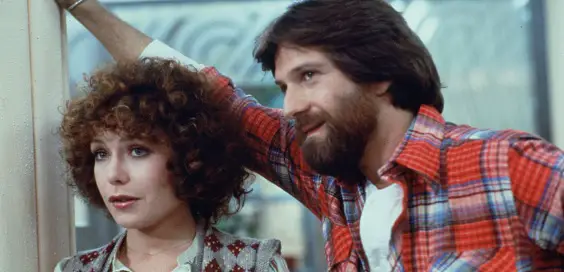 Director: John A. Alonzo
Cast: Michael Brandon, Eileen Brennan, Alex Karras
Certificate: 12
by Sarah Morgan
Did you see the recent two-part documentary about so-called yacht rock on BBC4 recently? If so, and you enjoyed it, the movie FM is for you.
Michael Brandon stars as Jeff Dugan, a DJ and manager at the Q-SKY radio station in Los Angeles. It's staffed by a group of mismatched individuals with one aim in mind – to bring its listeners the best rock music around.
However, their efforts are about to be undermined by a new sales boss, who wants to capitalise on the station's ratings success by selling ad space to as many big-spenders as he can find. The first group he lines up is the US Army, which Jeff realises doesn't fit in with Q-SKY's demographic – their jingoistic ads are more likely to turn listeners off than on.
"Natural charm"
When Jeff is forced to quit in the ensuing row, his staff members stage a sit-in at the station's offices, with thousands of listeners backing them in the streets below. Can they win the battle to stay on air?
The comedy drama was the first to be directed by acclaimed cinematographer John A Alonzo, who was rewarded with the job after photographing the amazing Chinatown, while the screenplay was by Ezra Sacks who based it on his own experiences of working as a film critic at an LA radio station in the 1970s.
Michael Brandon takes the lead role of Jeff, and he's well cast; his natural charm shines through. Brandon's old drama school pal Cleavon Little, comedian Martin Mull, in his film debut, veteran Eileen Brennan and Cassie Yates play the rest of the regular DJs.
"Great soundtrack"
It's an intriguing if undemanding tale, livened up by a great soundtrack featuring songs by Steely Dan, Tom Petty & The Heartbreakers (Petty also has a cameo as himself), The Doobie Brothers, Eagles, Foreigner, Queen and many more; the album was apparently far more popular than the film itself.
Real concert footage featuring Linda Rondstadt is also included.
Special features include a wonderful interview with Brandon, who proves he can still remember his lines more than 40 years on. He also reveals the impact the production had on his marriage to Lindsay Wagner and the part he was forced to play in persuading Rondstadt to appear in the film.
Sacks is also interviewed, while film critic Glenn Kenny discusses the incredible soundtrack.
6/10
'FM' is released on Blu-ray by Arrow, £24.99