The Buddhist on Death Row by David Sheff – Review
By Sandra Callard
This book is a fascinating, frightening and enlightening story about a man who spent most of his life on Death Row in San Quentin State Prison in California.
Writer David Sheff heard about Jarvis Jay Masters, a man accused of arranging, with others, to murder a guard in the prison he had been sent to. Found guilty, he was sentenced to death. Masters denied his part in the murder, but the wheels of justice turn very slowly in San Quentin and Masters spent years in the prison requesting a retry of his case. His childhood was desperate, his youth violent, and he was eventually arrested and sent to San Quentin prison for murder.
Masters had been in prison many years, still living precariously and violently, when he met a Buddhist nun, Pema Chodron. She was a prison visitor who had come to know him over the years, and Masters slowly and reluctantly accepted the ways of Buddhism. The effect on himself and others who knew him was astounding. He stopped fighting, he meditated regularly as he sat on the cold stone floor of his cell, and started writing about his life and how he had come to be in San Quentin. The writer, David Sheff , who knew Pema, eventually visited him and was gripped by his story and he asked Masters for his permission to write it.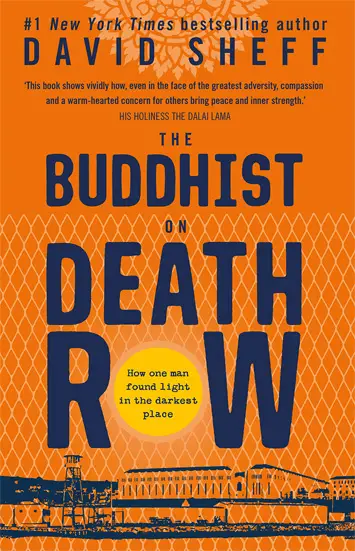 This book is not a fairy tale of sudden conversion and happy ever after. Masters was reviled by both prisoners and guards for his Buddhist faith, and he was regularly attacked and ridiculed within the prison. He failed on many occasions to carry on with Buddhism, but bravely spoke to other prisoners about it and grew stronger by doing so.
"Honest and thought provoking"
David Sheff's book is an explosive account of the horrors of San Quentin, but it is not by any means an account of, or a recommendation for Buddhism. It is a very simplistic and thorough written account of a world that most of us will, thankfully, never know, and the man who learned to survive in it. He does not take any partisan side in telling the life of Jarvis Masters. It is a cool retelling of a life that has been horrific, frightening, sad and also, in parts, extremely uplifting. There are no miracles here, but the book states clearly and evocatively that man can rise above the filth and cruelty that exists alongside the hope and love that can also be found, and was found by Jarvis Masters, even in a place where fear and unbelievable cruelty and brutality abound.
I found the book made me look at a place and an existence that I had never thought about before, as we tend to brush off anything that is so hugely far from our normal lives. This book is an honest and thought provoking look at lives so far from our own that it reads like a novel, but this is real life, for some at least. Nevertheless, there is a thread of hope within it, although the author's very laid back and positive way of writing offers no easy answers. It simply states that any life is redeemable, and that in itself is a positive and worthy mantra. This book is an unexpectedly compulsive read. It leaves you with a feeling of horror for the brutality that exists, as well as the selfish and thankful thought that we may never have to endure the horrors told in it.
'The Buddhist on Death Row' by David Sheff is published by HarperCollins, £14.99 hardback