An Interview with Stuart Hillard, Quilt Maker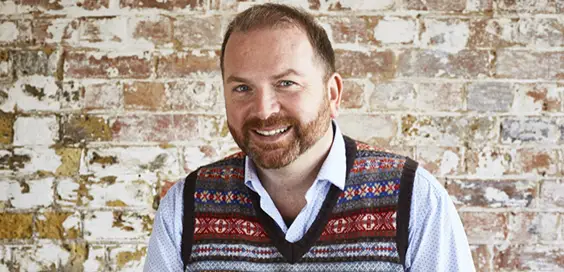 Yorkshire-born Stuart Hillard is one of the UK's leading and most recognised quilt designers, teachers and home décor experts with over 25 years of experience and more than 100 published patterns to his name. As a monthly columnist, author and an instantly recognisable maverick star of the first series of BBC2's The Great British Sewing Bee, Stuart will be leading a workshop at The Handmade Fair in May, for Adventures in Sewing.
How did you get into crafting, and was it a big part of your childhood?
My Mum taught me to knit when I was three years old… a fairly vain attempt to keep me occupied and quiet! I took to it instantly and still knit and sew every day. I had a wonderful teacher, Miss Jenkins, at primary school who taught me to use a spinning wheel, weave, sew, and do macramé. She was very influential in teaching me to live a creative life.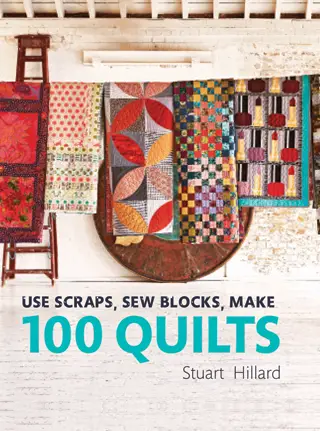 What is the first item you can remember making from hand?
I knitted my action man a maxi dress… it was snug but flattering and he wore it with immense style. I later turned my attention into knitting for myself, sweaters and cardigans,though. Then I started sewing!
"It's the people I meet who put fire in my belly"
Did you have many crafting disasters when you first started – if so, what were they?
Plenty of projects have had their challenges and 'unique touches' as I prefer to call them. I enjoy the journey and as with many routes, you sometimes take a different turn. Everything I've made has taught me something so in that sense they've all been successful… although there was that fluro pink cardigan I made for my Mum.
Which project are you most proud of?
A couple of years ago I was asked to contribute to a quilt for her Majesty The Queen on her 90th birthday, which was pretty special. I've made a couple of quilts for Dame Zandra Rhodes too. She is a total inspiration to me, a wonderful, kind, funny and smart person and works harder than anyone I know. Also, writing books and seeing them on shelves, teaching others… all these things make me very glad to do what I do.
Who inspires you?
My chief inspirations are the people who I imagine making my quilts… I travel extensively, teaching and speaking and it's the people I meet who put fire in my belly.
"Take the leap"
What does Yorkshire mean to you?
Yorkshire has been my home for 14 years and I won't be leaving anytime soon… it's a beautiful, diverse, complex, cultured and historic place that has a real heart. It's also where my husband's family have farmed for generations. We have a very special connection with this glorious county.
What advice would you give to anyone who wants to start sewing or crafting?
Take the leap and keep your eyes wide open… buy books, read, learn as you go, be ambitious, enjoy the ride, listen to advice but ignore it often.
Are there any projects you'd recommend to a beginner who is just about to start out?
Adults who start a new craft have generally been inspired by a particular design, kit, exhibition or person. They usually already have in mind what they want to achieve and it's rarely a 'beginner' project – there's nothing wrong with that! If you need to take your time, take a class or get some help, do that. Yes, it's easier to start with something small and easy but the small and easy projects are rarely the things which inspire someone to start a craft!
"I just let things flow"
What reasons would you give to someone thinking of pursuing a craft hobby – are there any benefits you can get from this kind of activity?
Crafting is a wonderful way to live and enjoy life… there's a wonderful sense of fulfilment and satisfaction in saying "I made that" and even the "perfectly imperfect" will be loved and cherished. Joining a craft group is a fantastic way to meet new people, be part of a community, bridge gaps and combat loneliness. Frankly anything that gets us off our phones and tablets has got to be a good thing!
You're going to be at The Handmade Fair, Warwickshire, in May – what can we expect from you at the show, and what are you most looking forward to?
I'll be at The Handmade Fair in May in Warwick talking about my crafting life – it's been quite a journey over the past few decades working as a magazine columnist, author and TV presenter, designing quilts and being part of the first series of The Great British Sewing Bee… there's a lot to gossip about! I can't wait to meet everyone who comes, and of course I'll be signing copies of my new book.
Last year you published your second book, Use Scraps, Sew Blocks, Make 100 Quilts. Describe the writing process, and can we expect any more books off you in the future?
I am continuously in "designer mode "everywhere I go, everyone I meet… I'm thinking about quilts and designs. My head is always full of ideas so when I sit down to work I just let things flow. I find designing a very natural and organic process, I like to make first and write later, that way if I've come up against any challenges or thought of a useful tip, I can include it. The downside is I forget how many or how wide or long! I'm currently working on another book with Pavilion Books and that will be out in early autumn 2019.
If you could re-live any day in your life again, what day would it be and why?
Life comes with a one-way ticket not a return. Everything that's happened in my life, the good and the bad, have led me to where I am now and I accept that all things make us who we are. I like to treat each day as if it was my first – fresh and bright and full of endless possibilities!
Tickets for The Handmade Fair with Kirstie Allsopp are on sale now at handmadefair.com