Mother's Day Gift Guide 2023
By Julia Paddon
I'm a mum and, coincidently, so was my mum. Amazing, eh?
Which is why we know about mums and we know what mums like – which leads to our essential gift guide for mums of all ages for 2023. Enjoy!
GARDEN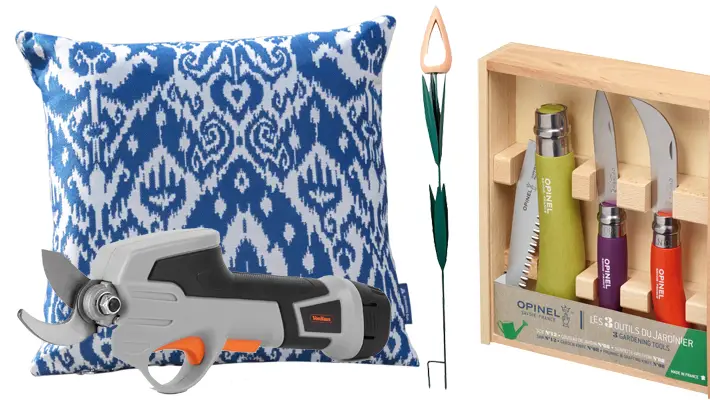 Garden Cushions
Beautiful weatherproof garden cushions in a Moroccan-inspired patterned fabric. These brilliant azure blue and white outdoor cushions are the perfect accessory and finishing touch to your garden sofa. The plump inner pad of this cushion dries fast so you won't need to worry about the weather. It's practical weatherproof and wipe-clean fabric makes it suitable for use indoors or outdoors.
£60 from armadillosun.com
Cordless Pruner
Powered by a 7.2V li-ion battery pack, cut up to 800 branches (approx.) after a 3-hour charge. Weighing 920g with an ergonomic handle for one-handed use, you can reach every nook and cranny of your garden without straining. For added safety, a safety lock ensures you never activate the clamping blades unintentionally.
£69.99 from vonhaus.com
Tulip Bird Feeder
Add a splash of colour to your Mum's garden with a beautiful Feeding Tulip! These bird feeders offer a lovely alternative to traditional hanging feeders and feeding tables, and the leaves on the tulip stem are flexible and can be positioned to suit your style to create an attractive garden display.
£19.99 from birdfood.co.uk
Gardeners Gift Set
The 3 essential tools you must keep in the garden, especially when spring is coming! The set includes No.12 Saw, No.08 Garden knife and No.08 Pruning knife. Varnished beech handles, stainless steel blades and Virobloc safety locking ring for added peace of mind, all presented in an attractive wooden display box!
£49.95 from berryuseful.co.uk
GADGETS
Phone Charger
This neat phone charger fits in the palm of your hand. Perfect for Mums who need a battery top up for their iPhone whilst out and about the iWALK LinkPod Pro is a must have. Weighing just 90g, it will fit neatly into any bag or pocket and comes with a built in connector so no wires needed.
£31.99 from amazon.co.uk
Retro Coffee Machine
The Swan espresso coffee machine's milk frother will add the perfect creamy finish to your morning brew, whilst preparing two cups at once. It has a 2-in-1 filter basket that always gets the best results from ground coffee too, so each cup is full of flavour. It comes with a removable drip try as well, making it simple to keep clean.
£75 from ao.com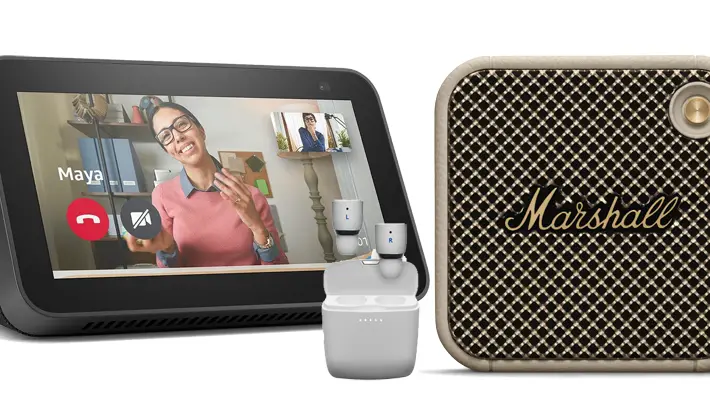 Amazon Echo Show
Simple to use, the Amazon Echo Show 5 enables you to watch the news, TV programmes or films, video call friends using the 2MP camera, turn your home screen into a digital frame and control compatible light bulbs and thermostats for a smarter home. View Very's smart speakers range here.
£74.99 from very.co.uk
Cambridge Audio Melomania 1+
Available in black or white, these British-designed earphones have won awards for both design and performance in 2022. Smaller than the average true wireless earbuds, they use graphene drivers for detailed and authentic musical reproduction. Enjoy up to 45 hours battery life, a choice of EQ settings and a featherlight, 4.6g fit. They're also sweat resistant and come with a range of tips to find the perfect fit for your ears.
£49.95 from amazon.co.uk
Willen Portable Speaker
Available in black and cream, Willen is the mighty portable speaker that is made to go everywhere with you. It's ready to roll with a hefty 15+ hours of portable playtime on a single charge. In addition, the little marvel comes with a top-of-class IP67 dust- and water-resistance rating so it's always ready for the road.
£99.99 from johnlewis.com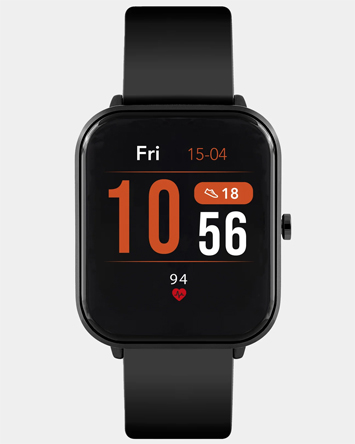 Smart Watch
Reflex Active Series 15 now brings calling function to the range! Make outgoing calls, GPS Connection, Personalised Photo Dials, receive message notifications, Track specific activities, Distance/steps/calorie tracking, Breathe training exercises, hydration reminders and menstrual cycle tracking. Live weather updates from your watch, Selfie camera control, Find your phone function, Track your sleep, Alarm and reminders and Choose from a range of different dials.
£59.95 from reflex-active.com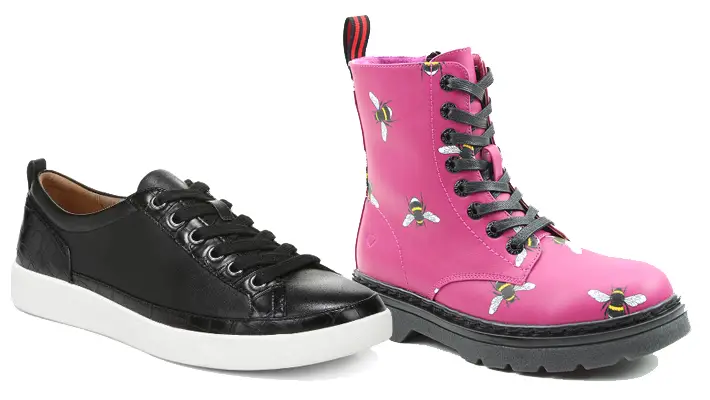 FOOTWEAR
Vionic Trainers
Whether you're craving stylish spring/summer kicks to add to your wardrobe or a trainer which keeps you in utter comfort all day long, you are on to a winner with Winny. Available in Onyx (above) and white, this traditional leather lace-up with rubber sole features Vionic's exclusive Vio MotionTM Technology.
£115 from vionicshoes.co.uk
Heavenly Boots
Heavenly Feet boasts a multitude of styles that are the perfect gift to delight this Mothers Day. For a cozy pair of slippers for the colder nights or a stylish new pair of boots, there's something to treat every mother figure. All Heavenly Feet footwear is vegan friendly and made with super soft lining and memory foam for the ultimate comfort.
£64.95 from heavenlyfeet.co.uk
BOOKS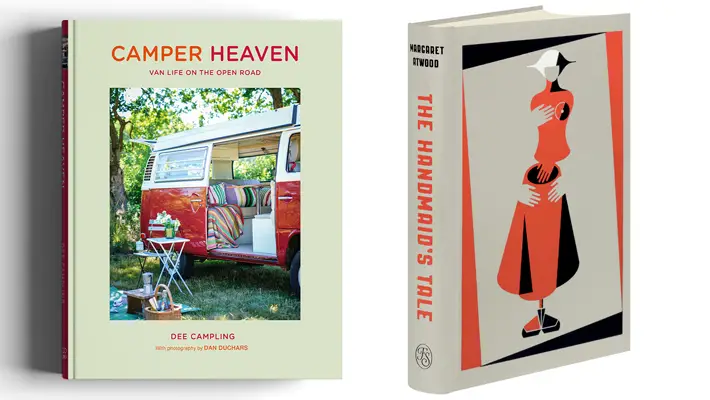 Camper Heaven by Dee Campling (CICO Books)
Showcasing amazing vans and their owners from around the world, Camper Heaven will inspire you to take off on the road trip of a lifetime. All the vans are highly personal and as unique as their adventurous owners, who offer thoughtful insights based on their experiences of van life.
£25 from amazon.co.uk
The Handmaid's Tale
'Science fiction has monsters and spaceships; speculative fiction could really happen.' The Folio Society edition of Margaret Atwood's chilling cautionary tale is illustrated by the Balbusso sisters and features an introduction by the author.
£49.95 from foliosociety.com
FOOD & DRINK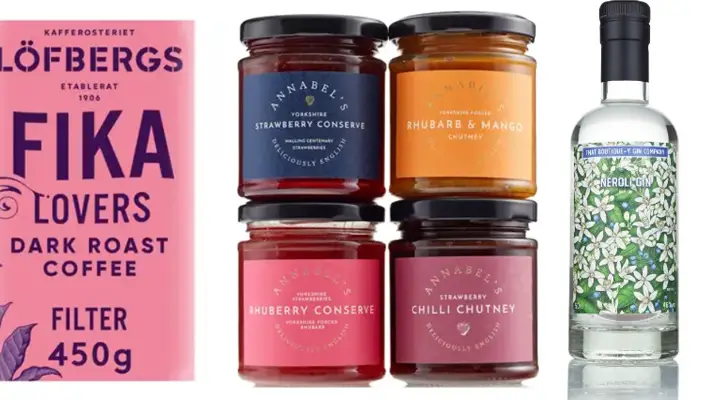 Fika Coffee
A soft and delicate dark roasted coffee that emphasises the fine notes of cocoa in its long aftertaste. Made with 100% Arabica coffee from South and Central America and East Africa. This is the perfect coffee to catch up over. Roast 4, Body 3, Acidity 1.
£5 from tesco.com
Jam & Chutney Pack
The all four flavours pack brings together the very best of Annabel's Jams and Chutneys. Known for being some of the most sustainable jams & chutneys in the world, Annabel's Deliciously British celebrates the British countryside and is created for those who care about taste and provenance. Flavours include Rhubarb & Mango Chutney, Rhuberry Conserve, Strawberry Conserve and Strawberry Chili Chutney.
£14 from annabelsdeliciouslybritish.co.uk
Neroli Gin
Neroli Gin from That Boutique-y Gin Company accentuates the deliciousness and unique flavour of Neroli oil, extracted from the blossom of the bitter orange tree through traditional steam distillation. It takes a lot of orange blossoms! In fact a whole tonne of orange flowers to produce just 1kg of Neroli oil, making it a rather expensive and luxurious ingredient and perfect for an extra special gin.
£34.95 from masterofmalt.com
SWEET TREATS
Chocolate Praline Hearts Gift Box
Milk Chocolate Praline Hearts Gift Box, £25, farhi.co.uk – A delicious selection of chocolate heart-shaped pralines, presented in a stylish gift box. Each filled with creamy, crispy hazelnut praline. Presented in our signature chocolate selection gift box and available in two colourways, this is a truly scrumptious gift for any mum, aunt, friend or loved one to celebrate Mother's Day
£25 from farhi.co.uk
Ritter Sport Delightfuls
Ritter Sport has launched Delightfuls into ASDA stores. A delightful box of 22, individually wrapped, little milk chocolate cubes in a mix of four flavours. Using Ritter Sport's 100% certified, sustainably sourced chocolate, the four individually wrapped Delightfuls flavours are Choco-Crisp, Caramel, Whole Nut and Praline.
£2.50 from groceries.asda.com
Lakrids
The beautiful LOVE SELECTION BOX contains six flavours of LAKRIDS BY BÜLOW's gourmet chocolate coated liquorice, from fruity and fresh to sweet and salty, guaranteed to go down a (very sweet) treat. The heart-shaped selection is perfect for gifting those with a soft spot for liquorice, and if you hold the same sentiment, it is also made for sharing!
£42 from lakridsbybulow.co.uk
Popcorn Gift Box
Treat your mum or chosen loved one to a pamper night in! Joe & Seph's Pamper Night Gift Box is filled with the most luxurious gourmet goodies sure to help them relax and recharge during their next night in! Hand packed with love in Joe & Seph's signature gold gift box.
£25 from joeandsephs.co.uk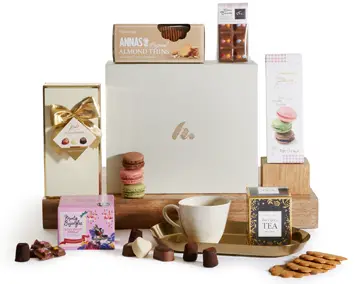 Sweet Treat Hamper
'Thank you for being you' is the perfect reason to treat someone you love this Mother's Day to a Sweet Treats For Her gift box, filled with macarons, biscuits, chocolates, truffles and tea.
£30 from hampers.com
HEALTH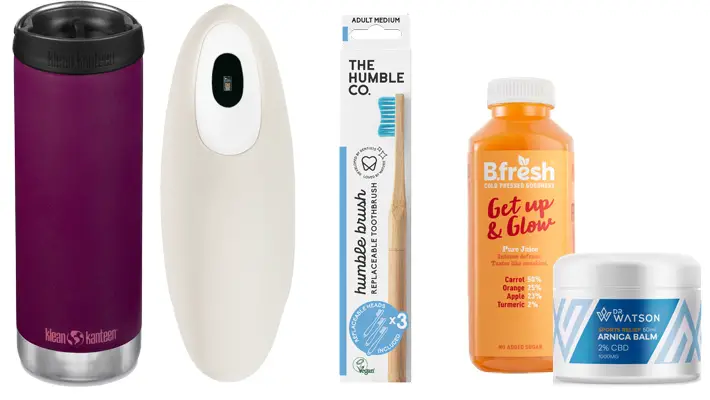 Insulated Water Bottle
Designed with versatility and portability in mind, the vacuum insulated TKWide bottle is a water bottle, coffee mug, sport bottle and insulated cup, all in one. The 16oz TKWide features the TK Closure™ internal thread design with smooth, rounded lip for comfortable drinking and easy cleaning, as well as the leak proof Café Cap.
£27.95 from kleankanteen.co.uk
Moonbird
The brainchild of Belgian brother and sister duo Stefanie and Michael Broes, moonbird is a health tech start-up born out of the founders' desire to help those around them struggling with stress, anxiety and sleeping problems. Wanting to ensure people could get the most out of deep breathing exercises the duo developed moonbird, a handheld breathing coach that has already helped thousands of people relax, calm down and sleep better.
£159 from moonbird.life
Replaceable Head Toothbrush
The Humble Co toothbrush has a handle made from 100% biodegradable, sustainably-grown bamboo, the bristles are made of nylon-6 bristles. The packaging is eco-friendly, the box and inside wrapper are made from recycled materials, and can be thrown out with the organic trash. The products are vegan, cruelty-free and dentist approved.
£10 from boots.com
Health Juices
B.fresh 100% natural, cold-pressed, farm-to-fridge wellness juices and smoothies are a refreshing accompaniment to elevate a Mother's Day breakfast. B.fresh produce expertly crafted cold pressed juices on a family run farm in Shropshire, with a focus on health and sustainability. The products are recommended to be incorporated into daily life.
£2.40 per 70ml juice shot and from £3.65 per 250ml juice/smoothie from b-fresh.co.uk
Arnica Balm
This Arnica infused balm is perfect for aiding skin and muscle recovery. Helping you to soothe and relax tired and overworked muscles. Formulated with pure CBD, this cream helps calm inflammation caused by soreness and tension, whilst promoting a sense of relief and relaxation.
£19.99 from drwatsoncbd.com
PERFUME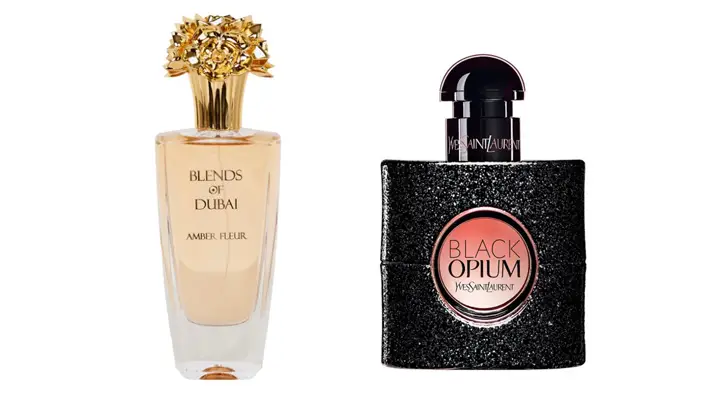 Blends of Dubai
Blends of Dubai Amber Fleur is a walk through the citrus groves of Sicily. It's the warm, gentle breeze of the Adriatic. It's a lingering embrace under the stars. Amber Fleur opens with Calabrian bergamot and Sicilian oranges and lemons, before unfolding into fruity middle notes and revealing a sweet, exotic and sensual heart of white musk, Madagascan vanilla and amber.
£150 from dxbperfume.co.uk
Black Opium
The original Eau de Parfum a captivating floral gourmand scent, twisted with an overdose of black coffee, for a shot of adrenaline. The signature black coffee is paired with sensual vanilla, enriched by the softness of white flowers and orange blossom, against a base of patchouli and comforting white musk.
£65 from beautybase.com
BEAUTY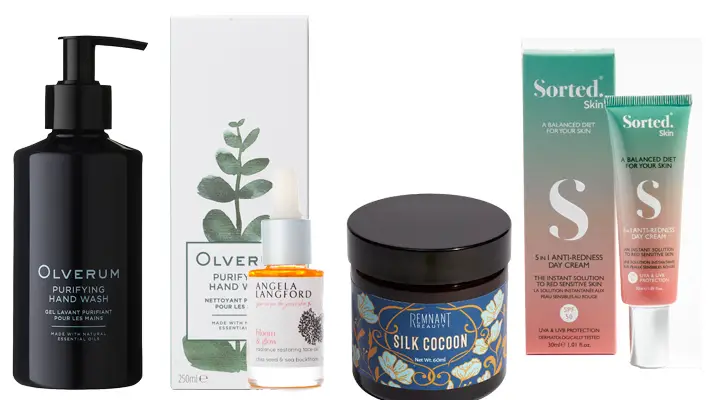 Oliverum Purifying Hand Wash
Soap and sulphate-free, created specifically for dry, dehydrated, and unsettled skin; our unique complex cleanses effectively without disturbing the stability of the skin barrier function, intuitively maintaining hydration, and drawing moisture deeper into the skin.
£22.50 from olverum.com
Face Oil
This highly effective, affordable, natural range harnesses the finest ingredients from natures larder to feed your skin – with no chemical nasties. Suitable for even the most temperamental of complexions, Angela Langford Skincare offers a tailor-made solution to each unique skincare concern.
£20.50 from angelalangford.com
Silk Cocoon Mask
Give your mum the royal treatment with this overnight mask. This luxurious silk cocoon night treatment is formulated to leave her skin soft, moisturised and glowing when she wakes up. With its lovingly sourced animal fats and Blue Tansy essential oils – it'll envelop her in an aroma reminiscent of spa treatments.
£35 for 60ml from remnantbeauty.co.uk
Anti-Redness Cream
Containing natural, prebiotic, active ingredients, Sorted Skin's nourishing 5 in 1 Anti-Redness Day Cream soothes the inflammation, irritation and itching that often accompanies particularly red skin. The bright green microcapsules, which contain natural colour correcting pigment, blend with natural skin colour to immediately neutralise redness.
£29.99 from sortedskin.com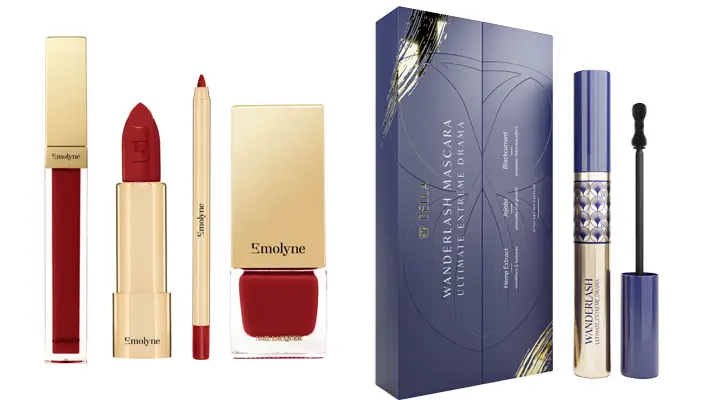 Emolyne Complete Kit in Senegal Shade
Designed by Ugandan born, Denmark raised and London based Emolyne Ramlov, the name-sake brand is driven by performance and inspired by Africa's rich colour ways. Each shade has been meticulously curated with every nuance of skin tone in mind, providing the much needed diversity which Emolyne herself found was lacking in the beauty industry. Expect phenomenally pigmented and long-lasting formulas that provide real-life wearability.
£68 from emolyne.com
Bella WANDERLASH Mascara
Enter the 30 second lash lift. 3 years in the making and already loved by top beauty experts, BELLA's hero WANDERLASH Mascara is the 30 second shortcut to instantly expensive lashes. Expect hi-fi definition, a supercharged lift, dramatic length and lavish volume with a hi-tech holistic formula that enhances the structural integrity of your lash architecture.
£28 from bellaworld.com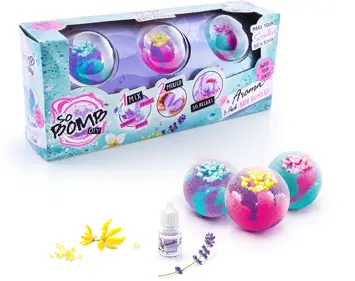 DIY Bath Bombs
Create your own colourful aroma bath bombs! Fun and easy to make, just add water and fragrance them to create relaxing moods! The perfect gift for Mum, each pack comes with an amazing smelling aroma to create the best bath bombs that your mum will love! Follow the step-by-step guide & create 3 bath bombs that are ready to use in less than 2 hours!
£9.99 from
4 MORE?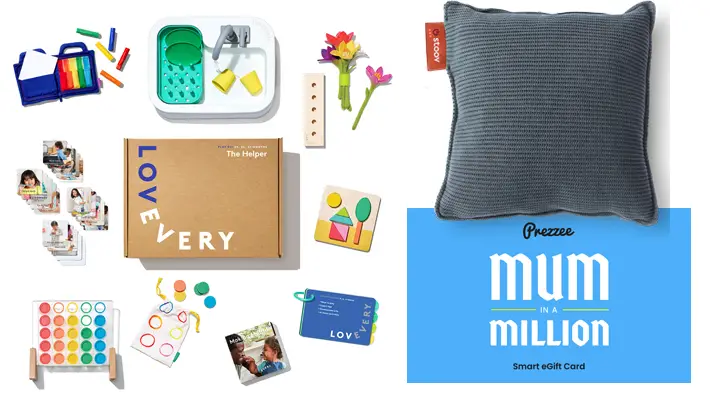 Play Kit
Lovevery's early learning system supports mums with stage-based play essentials for children. The Play Kits program makes world-class research and neuroscience simple, relevant and accessible, to help parents feel confident they're giving their children the best start in life. Lovevery's team of experts, academics and specialists link brain science and Montessori to design best-in-class playthings for children ages 0-4, delivered every 2-3 months, just as a child's developmental windows are beginning to open.
Subscriptions start at £80 per kit from lovevery.co.uk
Heated Cushion
All mums deserve a little extra TLC, so a warming cosy hug from Stoov's heated Ploov cushion is the ideal gift to cosy up to with a cup of tea this Mother's Day. This chic white cushion has three temperature settings, and is totally cordless, so it can seamlessly integrate into your mum's home, and she can instantly feel warm and cosy, whilst saving the planet and money on her energy bills.And woolly is the ultimate cuddly fabric: the structure is reminiscent of sheepskin and has a truly snuggly feel.
£99.99 from uk.stoov.com
eGift Card
A Prezzee is an eGift card which lives on your smartphone. Sent via text or email, you can attach a personalised message and video and select your favourite design. A Prezzee can be purchased, personalised and sent in a couple of minutes, and can be redeemed in thousands of locations across hundreds of brands.
From prezzee.uk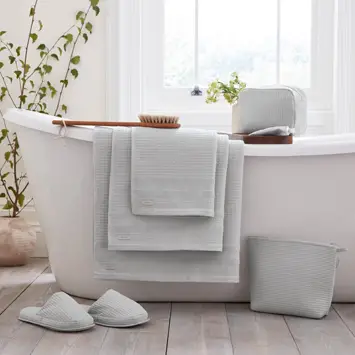 murmur Spa Collection Waffle Towels
Dry off spa-style with murmur's Spa Collection Waffle Towels. Made exclusively in Portugal, these 100% cotton towels are luxuriously soft and lightweight, with a modern geometric waffle design adding that spa-like texture to elevate any bathroom interior. Available in hand, bath, and sheet sizes, the murmur Spa Collection Waffle Towels are quick drying and perfect for wrapping up in after a hot bath or shower on chilly winter evenings. The towel range is the perfect solution for a stylish and balanced interior and is available in an elegant colour choice of white, rose, or grey. Complete the collection with murmur's versatile array of Spa Collection Waffle products, which include cosy dressing gowns, slippers, and wash bags, for the perfect spa-like experience.
Hand towel £9 (currently 50% off, reduced from £18); Bath towel £18 (currently 50% off, reduced from £36); Sheet £24 (currently 50% off, reduced from £48) from bymurmur.com