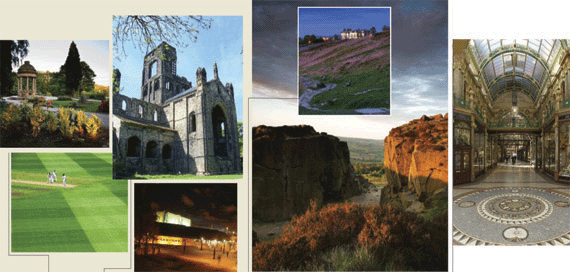 Leeds people vote for their favourite places in the city…
It was a simple concept. Ask 1,000 Leeds citizens what their 3 favourite places are in the City, then compile a league table of the Top Ten nominations. Except in these days of social networking, of the invisible interlinked connectors of email and txt msg, things tend to, well, grow!
In total we received 2,207 submissions – that's nearly 7,000 individual nominations. Some were straightforward, some were surprising, some waxed lyrical about their favourite place (we're printing the best ones) and some, like those wags who nominated their favourite place as the M1/M62 out of the City, didn't quite enter into the spirit of it all!
We think we crossed into all walks of life and included all ages – as opinion polls go, we think this is an accurate cross section of West Yorkshire people. So, with a huge thank you to the On: Readers and On: Associates, various Blue Chip Leeds Companies, Leeds Government HQ, the odd school, The Lord Mayor and my friend Jim's Aunt Marianne who submitted the one-and-only vote for Bradford City Football Club (not in Leeds, Marianne, sorry) On gives you The Favourite Places of Leeds – as voted for by the people.
"A font for Leeds memories"
1. ROUNDHAY PARK
In the end, the 700 acres of organised green on the north east edge of the City, was a clear winner. We heard about funfairs and fun runs, pushchairs and paddle boats, Leeds Mela and The Love Parade, Bruce Springsteen and Madonna – even first kisses and first loves.
The former hunting park is currently in sparkling condition, catering for nigh on one million visitors per year and, like all the best public spaces, there's a little something for everyone: family footpads around Waterloo Lake, cricket on Soldiers' Field, picnics on arena hill, shady moments of peace, Canal Gardens and Tropical World, coffee and cake, that odd and fascinating folly. You also told us about brass bands, golf and tennis, roundheads versus cavaliers and, in one memorable email, an unfortunate encounter with General Urko, the nightmarish head gorilla from Planet of the Apes! The place is, indeed, a font for Leeds memories. And we're all off for an ice cream.
(pic: Steve Stenson)
DID YOU KNOW: Kirkstall born Aviation pioneer Robert Blackburn used to give demonstration flights on Roundhay Park for thousands of people – he even helped establish a small airport there in 1919.
"Open stretches of green"
2. TEMPLE NEWSAM
Since 1922, this huge and famous estate, has been owned by the Council. There's an inevitable air of aristocracy about the Tudor-Jacobean house, but nowadays Temple Newsam is very much The Peoples' Grounds. The building itself (The Hampton Court of the North, no less) is Grade I listed (and haunted, naturally!). But the house is really just the epicentre from which to explore 1,500 acres of formal gardens, manicured, open stretches of green, pretty nature trails and wider and wilder areas of extensive woodland.
DID YOU KNOW: Summer's a great time to catch some rare species of bat – Daubenton's Bats use the Temple Newsam lakes at dusk to skim low across the water and catch insects in flight.
3. HAREWOOD HOUSE
Proving, at least, that contrary to popular opinion, Yorkshire-folk aren't averse to putting their hands in their pockets for a bit of rich cultural heritage. Harewood House (and let's get this bit right once and for all – the house is pronounced Har-wood, the village is pronounced Hair-wood) offers Chippendale furniture, stunning ceilings and Old Master paintings on the walls. The stately residence has remained the family home of the Lascelles since it was built in 1771. The famous Bird Garden received the most nominations, however, and it now houses over 120 species of exotic, non-British birds. Ever heard a flamingo with a Yorkshire accent?
DID YOU KNOW: There are just over fifty clocks at Harewood (they aren't all on display) and it takes about two and half hours each week to wind them all. It can take twice as long when the clocks go back in the autumn!
"A stirring sight"
4. ELLAND ROAD
And back we go. Game by game, year by year, crushing, heart-wrenching disappointment next to brief, occasional flash of joy. The magnetic allure of Elland Road is as strong and, for some, as unfathomable as ever. But a football club's roots run very deep. The stadium itself remains a stirring sight, lit up from the Beeston Hill descent, or emerging from the maze of ginnels across Gelderd Road, or glimpsed briefly as you hurtle along the M621. Rumours of redevelopment continue to surface but, for now, Elland Road remains a towering monument to, groan, second tier football.
pic: David Lindsay
DID YOU KNOW: Legendary Leeds manager Don Revie was a superstitious type. A few cruel tricks of fate had convinced the Don that a curse hung over the ground. He employed a gypsy to rid the ground of bedevilment – safe to say it's high-time the Don's heirs claimed their refund.
"Eating up worms"
5. THE VICTORIA QUARTER
For over 100 years the Victoria Quarter has been the centre of exclusive shopping in the city of Leeds. The transformation of Victoria County Arcade and the surrounding area is widely regarded as one of the most successful regenerative city centre projects ever undertaken in the UK. Today's Victoria Quarter houses some of the biggest names in the industry. With brands such as Louis Vuitton, Harvey Nichols, Vivienne Westwood, Paul Smith, Mulberry, Oliver Sweeney, Reiss, Gieves & Hawkes, Diesel and Firetrap, the VQ more than justifies the moniker of 'The Knightsbridge of the North.'
pic: David Lindsay
6. ILKLEY MOOR
Where else are you going to find staggering views, Bronze Age carvings, the occasional enthusiastic American tourist, alleged alien visitations, lots and lots (and lots) of sheep, the most famous pair of rocks in the country and, dare we say it, ducks eating up worms. On Ilkley Moor, of course… with or without hat.
DID YOU KNOW: That famous pair of rocks, the Cow and Calf, could tell a tale or two – they're currently sharing their 325 millionth birthday with the surrounding millstone grit.
"Twinkling River Aire"
7. WEST YORKSHIRE PLAYHOUSE
….which makes The Playhouse a veritable babe in arms by comparison. Twenty years young next year, this gem in our many-gemmed cultural crown is already well-established as one of the nation's most important theatres. Impressively, there's an emphasis on new writing and the featuring of local talent both on and off the stage. The bigger productions excel in technical innovation and there's been an impressive list of names in the lead roles over the years.
DID YOU KNOW: Costume Hire in the St Peters Building has an estimated 400,000 items of costume and every single one has a label on it saying who it was originally made for.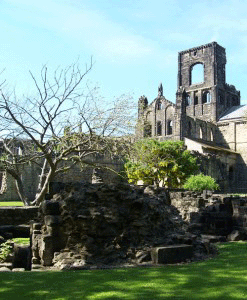 8. KIRKSTALL ABBEY
The elegant old lady of Leeds attractions, the ruined Cistercian Abbey just off the wheezing A65, is nearing the completion of its delicate and thoughtful £4.5m facelift. Votes were split between the Abbey and the attached Abbey House Museum, with many nominations mentioning lazy Sundays spent on the grass next to the twinkling River Aire with the Abbey as dramatic backdrop. Age and beauty combined – and at nearly 850 years, that's a whole lot of architectural bliss.
DID YOU KNOW: After the dissolution of the monasteries, the main road from Leeds was diverted through the nave of the Abbey's church – to discourage the monks from returning.
"Ticking the boxes"
9. HEADINGLEY CRICKET GROUND
Of course, it's compulsory for a Yorkshireman to have some romantic affiliation with leather and willow, so it's no surprise to see this arena for sporting drama high up on our Favourite Places. It's not the prettiest of grounds, and aesthetic improvements are essential for its long-term international future, but anyone with a fondness and knowledge of cricketing heritage will be aware of Headingley's vital cog in cricket's ancestral wheel. It's that certain-something that makes a Test Match in Yorkshire not just any-old-Test-Match – and something that The Rose Bowl in Hampshire will never quite be able to attain.
DID YOU KNOW? Yorkshire bowler Hedley Verity's 10 wickets for 10 runs in 1932 against Nottinghamshire at Headingley remains a world-record for first-class cricket. Fittingly, he was born in Leeds.
10. GOLDEN ACRE PARK
This impeccably well-kept 55 hectares of mature woodland, varied gardens and wildfowl-hectic waters in north Leeds has been a family visitor magnet for decades. Opened in 1932, it just keeps ticking those boxes – good parking, plenty of green, lively waters, quiet corners, formal gardens, wider open spaces, a duck feeding station and a coffee shop. Truly, what else does a park need?
DID YOU KNOW: Golden Acre used to be an amusement park and the lake was once half a mile long and a quarter of a mile wide!
Best Places in Leeds: What the readers say…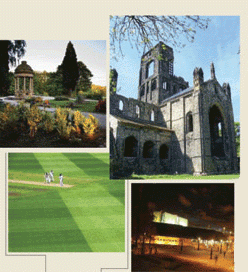 What impresses me about Golden Acre Park is the wide variety of floral displays as well as the environmental and wild life features. It is a truly delightful place to be enjoyed by all the family.
The Lord Mayor of Leeds, Councillor Frank Robinson
One of my favourite places in Leeds would have to be Yeadon Tarn – the tranquillity of the place is fantastic (until Jet2 takes off from nearby Leeds-Bradford Airport). Other than that, it's a perfect place for a nice summer stroll around the water with the kids. You can feed the ducks, watch the fishing and enjoy the various watersports on offer.
Damian Walton, Pudsey
Best place in Leeds is Temple Newsam. There's something for everyone. You can go round the house if you are an historian, admire the rhododendrons if you are a gardener, take your children round Home Farm if you like animals, or listen to the fantastic Opera in the Park if you are a music lover. Great value too!
Sandra Callahan, Harrogate
"Stepping into a time machine"
One of the most amazing places I have ever seen is the Royal Armouries. It's the sort of thing you would expect to see only in London. The collection of arms and armour is unbelievable. Everything is beautifully laid out, well organised and easy to find your way around. As a wheelchair user, I was delighted to find it was totally accessible. There is something there for everyone. Aside from the displays, there are the horses, the costumes and the menagerie and it's all free. I have recommended it to several of my friends as it makes a great day out for the whole family.
Freda Parkinson, Lincoln
I like old, slightly shabby relics of my childhood, of which there are few left. The Merrion Superstore, Leeds Kirkgate Market, The Grand Arcade, City Varieties – those places are real Leeds to me, the real North, the one that I grew up in, the one I wandered around with my mum looking for Star Wars figures and those cheap little soldiers with parachutes on. The Merrion Superstore has somehow retained all its old school naffness. I always try to pop in every time I pass. It's like stepping into a time machine. It even smells the same as it used to!
Paul Allworthy, Farsley
I'd nominate my home office – why? A converted attic with open views of suburban foxes roaming through Far Headingley, nobody breathing down my neck, lots of technical toys to tinker with when I should be working, and as much tea as I can stagger upstairs with. Beats commuting.
Jonathan Collins, Headingley
Otley Chevin rocks – literally. The bouldering is ace, it has great views, wildlife, fresh air and there's a beer at hand in nearby Otley
James Wright, via email
"Friendly attitude"
Of the many clubs I have frequented on a Saturday night, none of them compare to the friendliness and easy going atmosphere experienced at Back to Basics. The music is consistently good, and the quality of DJ's is very high every week. There are never any undesirables at the club, and the people who do turn up are there purely for the party vibe and three floors of music. All you need is a friendly attitude and plenty of stamina, as the night goes on from 10pm until 7am!
Chris Bayles, via email
The Mustard Pot in Chapel Allerton is such a relaxing little gastro pub. The food is always excellent and the service is second to none; I enjoy relaxing in their beer garden, enjoying a bite to eat with my girlfriend, as it's a great little escape from the city. The garden area is always kept looking inviting and there is ample parking available too. As for the food, it's got to be tried to be believed. A true gem and very consistent!
Richard North, Harrogate
"Occasionally the peace is broken"
I love Roundhay Park. Mainly because of those Planet of the Apes battle displays it used to host. Does anyone remember them? Gorillas versus chimpanzees in the most realistic, unsmiling, costume masks ever created. They'd have an 'organised' battle which mainly consisted of them charging at one-another with swords, whilst unleashing bloodcurdling death roars. It was absolutely terrifying and wholly unsuitable for children, which, of course, is the reason this then seven-year-old loved it.
Once, post-battle, my dad took me to one of those temporary portaloo things. Only to find the frankly intimidating figure of General Urko, head gorilla, relieving himself first. My dad nodded politely as the General passed. Only for the big bad gorilla to beat his chest and let out a mighty, echoing roar. I think I cried for about nine hours afterwards. I've a feeling my dad would have done so too had I not been there. But today I can only look back with admiration at this part time actor's De Niro-esque devotion to his craft. Fabulous!
James Barker, Oakwood
On a warm spring or early summer morning, what could be better than a brisk walk along the tow-path next to the Leeds-Liverpool canal? With the trees coming into bud, the only sounds you can hear are the birds singing to welcome the new day. Only occasionally the peace is broken by the puff-puff of a canal barge passing by. Within a short time of leaving the bustle of the City Centre you feel you are out in the countryside, taking the long flat walk along the Kirkstall Corridor.
David Chapman, via email
Best Places in Leeds: The On: Writers' Favourite Leeds Places
Whitelocks Pub is a hidden gem, tucked away in a yard off Briggate in the heart of the commercial bustle of Leeds. It was the favourite haunt of journalists. In-between editions we used to pop in at lunchtime to enjoy a pint and a snack from a wonderful selection of pies, scotch eggs and delicately cut rare beef and red cabbage sandwiches. Memories of its atmosphere, clamour, unspoiled interior charm, waitresses (black dresses and white frills) and, above all, its wonderful characters linger on.
Keith Spence
Leeds is a green city. It is not hard to find trees and parks and quiet flowering spaces. But there is one little place that is particularly close to my heart. Gipton Wood is at the top end of Roundhay Road. This tiny ancient woodland is an exquisite shady corner, just opposite the monstrosity of Tesco's and a perfect antidote to supermarket madness. It is at its best in May when the bluebells flower in their multitudes and carpet the wood with a shimmering piece of heaven itself. Perfection.
Barney Bardsley
"Relax with a cappuccino"
My favourite place in Leeds is Caffe Nero at 7:30 am on a Saturday morning. Heading through the indoor market to the nods of recognition from the stall holders who are setting up for the day's trading. Then striding out into the fresh air as the city awakens. Tables and chairs are put outside other coffee houses, shop assistants are waiting, reluctantly, to start their day. Stepping through the huge, tall, heavy door of Caffe Nero to be greeted by the aroma of freshly crushed coffee beans and the sound of milk under pressure. Sitting high on the mezzanine in a soft, well-worn leather chair, Italian classical music in my ears. Watching Leeds go by, in all its shapes, sizes and styles. Drinking my black Americano and then heading home an hour later feeling fortified, relaxed and curiously hyped-up to begin my day!
Lynda Holbrook
My favourite place in Leeds has to be the Victoria Quarter. Shops, shops and more shops! As a make-up artist I love popping into Space NK to see what new and exciting products are available. There's Mac make-up in Harvey Nichols. I enjoy browsing the new cosmetic products in there (via the cocktail bar and handbag section, of course!). Then after a little lunchtime tipple it's into Jo Malone to test all the smellies, via Kurt Geiger, Reiss, Karen Millen, Whistles, Allsaints, Ted Baker… oh yes, not forgetting Reiss. After all that its time to relax with a cappuccino and a slice of cake in Anthony's Patisserie. Lovely.
Samantha Marshall
"True gem"
Hyde Park is brimming with classic finds and original discoveries. There's a host of unique retro and vintage stores, cool cafés and a beautiful park to chill out in. Retro Boutique is an Aladdin's Cave. It offers a treasure trove of cool smoker's chairs, tea dresses, mismatched vintage china and en vogue brogues and leather jackets. Plus, the lived-in appeal all adds to its charm!
Bethanie Lunn
Fuji Hiro is a Japanese noodle bar at the wrong end of Leeds, nestling between a kebab shop and a bookies; but don't ever let that put you off from eating there. Once a genuine in-the-know place, it's now a joyful mix of enthusiastic foodies, university professors, students and comfortable regulars reading their newspapers. Its joy lies in its unpretentious simplicity – and the food is, well, perfect. Last time I was in there, I earwigged in on a debate on the EPR Paradox in quantum mechanics. Now, when was the last time you learnt something whilst enjoying a Ramen Broth? If it ever changes, in any way, I'm planning a record-breaking protest sulk.
Matt Callard
Hyde Park Picture House is an independent cinema that dates back to 1914. These days this unique Headingley venue majors on showing classic and art-house movies. Carefully preserved, it has many original features including gas lamp lighting. A true gem.
Paul Howard
"Party atmosphere"
I love the Victoria Quarter because it's an oasis of calm and feel-good style in an otherwise hectic shopping experience. Harvey Nichols' arcade café is the ideal place to pause and recharge while my wife hits the designer stores. You can enjoy a great cappuccino and half an hour of people-watching with the sound of the fountain for company. It revives any jaded shopper – even me!
Matt Peacock
It's nearly 20 years since I first went to Headingley. Since then I've enjoyed/suffered countless days watching Yorkshire, England and the Rhinos do battle. It's a place that's provided me with some great memories. From the chaos of the Western Terrace on Test Match day, to the party atmosphere that Rhinos fans create. I particularly like Headingley's quirkiness. It's retained some genuine character, unlike some modern arenas. And, of course, a trip's never complete without a visit to Brett's fish and chip shop.
Duncan Thorne