Wakefield Hosts 'Festival of the Moon' in August and September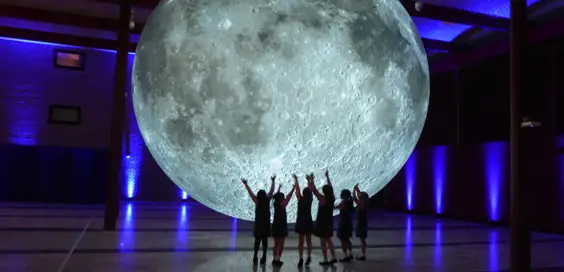 by David Schuster
Wakefield's Festival of the Moon opens on Friday 23rd August and runs across two weeks to Sunday 8th September, offering a host of great music and other entertainments, many of which are free. The event marks the 50th anniversary of that pinnacle of technological endeavour, when humans first set foot on the lunar surface, and Neil Armstrong uttered the historic words: "That's one small step for a man, one giant leap for mankind."
Highlights include the launch party, which is free to attend, on Friday 23rd. The following night, Blur drummer Dave Rowntree and The Cribs' Ross Jarman will be playing DJ sets. Saturday 31st August sees club dance masters, Galaxians and electro duo Night Giants play live at Moon Dance, an evening which also includes DJs. Topping off this exciting schedule, art-rock maestros Public Service Broadcasting will give a rare live performance of their classic 2015 album The Race for Space On 6th September. All these gigs will take place in Wakefield's former Market Hall, which is now a significant arts and music venue.
"Hypnotic"
The Race for Space is an album ideally suited to the Festival of the Moon, as it chronicles the intense 15-year rivalry between the USA and Russia to be first to plant their flag on the surface. In Public Service Broadcasting's unique style, it utilises historic news and media vocal samples over driving electronic and acoustic rhythms, creating a compelling and hypnotic sound.
Dave Rowntree, Blur's drummer since the band first formed 30 years ago, is also an appropriate guest; he was a key figure in gathering funding for the UK's ill-fated Beagle 2 mission to Mars. With the objective of looking for life on the red planet, Beagle 2 carried a tune, especially composed by Blur, to be transmitted once the spacecraft landed. Sadly, due to a failure of the solar panels to open properly, the transmission never took place and the craft was officially declared lost.
"Family friendly activities"
As well as the music, there's also a programme of other lunar themed activities: On the same day as his DJ slot, Dave Rowntree will also be in conversation with Terry Dobson, vice chair of the Rosse Observatory, to discuss his and the band's involvement in the Beagle 2 mission, and his interest in astronomy. Britain's first astronaut Helen Sharman will give a talk, and there will be a number of family friendly activities available, many of which are free to join in.
As if all that weren't enough, there's also a 7-metre-wide replica of our nearest neighbour in space, hanging in the centre of the Market Hall. An installation by artist Luke Jerram, entitled 'Museum of the Moon'; this is an accurate replica with each square centimetre representing five square kilometres of the surface. This has already toured the world and been seen by hundreds of thousands of people.
The Festival of the Moon is going to be awesome. Check it out!
Full details at: experiencewakefield.co.uk