The Cocktail Experience – Review – Aspire, Leeds
Glitz, glamour and good times were on the menu at Aspire last Friday, as Leeds' best bars and brands met Leeds' best people for the city's annual Cocktail Experience.
Now in its fourth year, the Cocktail Experience is a fun party, in a cool space. Set over a ground floor and balcony, up to 750 people reveled in an evening with a lively vibe, kicking off the party season.
Doors opened at 6pm. We turned up not long after and were whisked upstairs to try the Midnight Spice cocktail, courtesy of the Fourth Floor Brasserie and Bar at Harvey Nichols. A nice touch and a warming welcome. The mixing of Ciroc Vanilla with Ancho Reyes Chilli Liqueur provided a kick. Pineapple and lime juice, blackberry and ginger syrup joined it in the glass with fresh blackberries and ginger. You expect quality from Harvey Nichols, and that's exactly what our tastebuds got.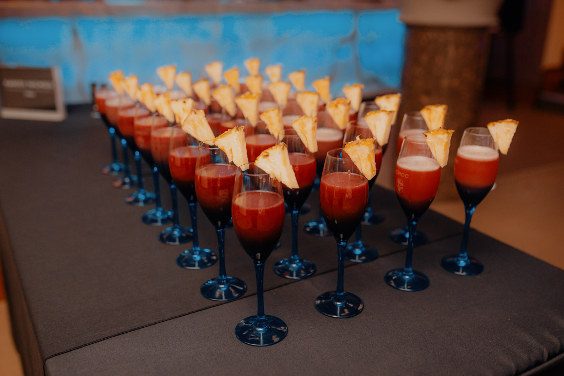 "Tasty creations"
We enjoyed the way the evening had begun, and we took a wander around the upper deck to see who else was there to provide us with some tasty creations.
Milling through happy faces, the excitement of being here was obvious. With the DJ spinning some upbeat, soulful tunes the atmosphere was brilliant. As was the set up for Oracle, Revs de Cuba and Dirty Martini that were all attracting attention.
Each bar offered one specialty cocktail, and there was something for everyone's taste. And it was Manahatta that caught my eye, and drew me in for my next drink. Their Tequila Me Softly cocktail sounded like it could have gone either way – doing what the title says (hey, it's Tequila… it can make or break you!) Or, it could have been something fantastic. Using Don Julio Blanco Tequila, this mix of pamplemousse, lemon, orange cordial, egg white and blue sherbet poured the drink straight in to the fantastic zone. Topped with an edible flower, it looked the part too. For me, the best looking drink of the night.
And the guys serving up the thousands of cocktails an hour weren't holding back on the strength of the drinks either. With a token system in place, it worked out at £5 a cocktail. And you were certainly getting your money's worth.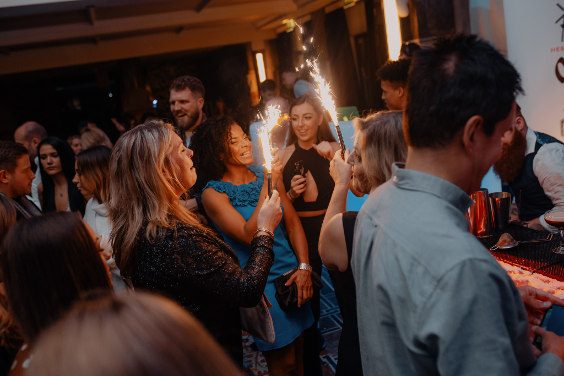 "Even more shine to the mood"
We ventured downstairs and were greeted with nine more bars, and much more space. So much so, that the social area-come-dance floor was the place to be. By this time, a saxophonist had joined the fray, and that added even more shine to the mood.
It was Malmaison and their Rhubarb Triangle that I made a play for next. As a late arrival to the gin party, I needed to give this one a whirl. And when I did it was the drink that put me in a whirl. My head anyway. Slingsby Rhubarb Gin (and lots of it) was combined with lemon, honey, apple, rhubarb, a sprig of rosemary and Mediterranean tonic. And if I wasn't already in the party mood, I was now.
Teams from Vice & Virtue, The Domino and Lost And Found were non-stop pouring. And after going back to Malmaison for seconds, then giving Fibre's Gingerbread Martini a try, I ended my drinking evening on a funky little number from Smokestack.
The Banoffee Pie Martini was the offering from the soul and jazz inspired guys. Bulleit Bourbon with coffee, dark chocolate, bananas and vanilla foam, it was like a dream dessert that rounded off a fantastic meal. And, in this instance, rounded off a fantastic night.
Executed superbly by the guys at Pink Gorilla, The Cocktail Experience is quite simply a fantastic evening. An attitude and pretentious-free zone, with nothing but good vibes and good whisky cocktails. It reminded you of what summer used to be like.
Can we have it more than once a year please?  I for one will be back in 2019 to enjoy the Cocktail Experience, part 5.