Davros Actor Terry Molly at Leeds Dr Who Event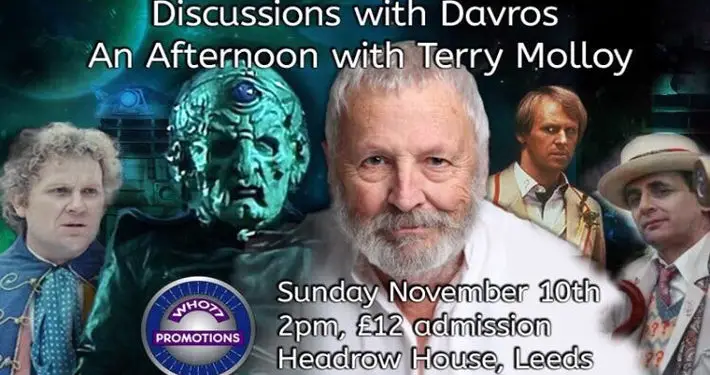 by David Schuster
What links time travelling hero Doctor Who to The Archers, that everyday tale of country folk?
The answer is Terry Molloy. The north east-born actor not only played Davros, mad scientist, creator of the Daleks and intergalactic super-villain in three seasons of the science fiction show but has also taken the role of Ambridge's 'Milkman from Hell' Mike Tucker for more than forty years. Terry is the latest exciting guest in Who77 Promotions' popular 'An Afternoon with…' series, which takes place on Sunday November 10th.
This is the best type of event; organised by people that love the subject and want to share it with others, giving them the type of experience they themselves would enjoy. Steve Bartle, founder of the PR company, is a lifetime fan of the BBC's beloved science fiction series.
"Long and interesting career"
He recalls his favourite Davros moment; "It's in 1985's 'Revelation of the Daleks' with Colin Baker, a dark story with some real black comedy. The plot has the evil scientist, masquerading under the name The Great Healer, in charge of a mausoleum where the bodies are either turned into Daleks or food for the rest of the population. When challenged by the Doctor if he ever considered telling the population they might be eating their own relatives, Davros responds with "that would create what I believe is termed consumer resistance". Such a brilliant line!"
The afternoon will commence with Molloy in conversation with regular interviewer Chris Hoyle, covering his three separate seasons with the long running TV series in depth, interspersed with apt video snippets. Chris too is a 'Whovian' and has a knack of drawing out the best from each speaker, using his expert knowledge of the subject. There will be an interval for attendees to take photos and obtain autographs from the guest. The second half will explore Terry's long and interesting career, anecdotes from his time with The Archers and finish with an opportunity for the audience to ask questions of the actor.
As with the previous events, this one will take place at Headrow House. It's an ideal venue; large enough to accommodate the demand for tickets, but small enough to feel intimate, and for everyone to be close to the celebrity speakers. It's also got a fine selection of beers for the interval should you wish, like me, to nip out and have a pint and some pork scratchings.
'Discussions with Davros: An Afternoon with Terry Molloy' takes place on Sunday November 10th at Headrow House
Tickets from who77promotions.co.uk