Warkworth, Northumberland – Review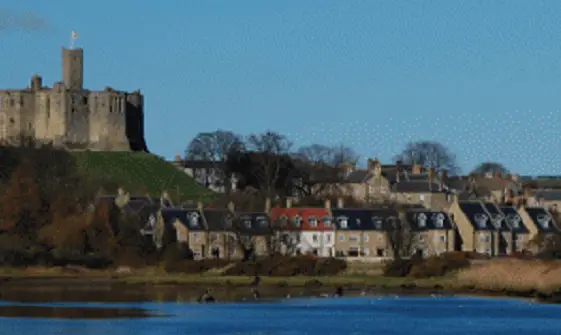 After twenty years of holidaying abroad, travel writer and photographer Angie Aspinall and husband, underwater photographer, Richard Aspinall have declared that 2011 is, "The year of the UK holiday."
Various websites and advertising literature about Northumberland promise an Area of Outstanding Natural Beauty. They boast about a cornucopia of delights including "dramatic views, sandy beaches and iconic castles." In fact, the North East of England has more castles than in any other English region. It also has fabulous gardens, including the award-winning Alnwick Garden and mile upon mile of glorious unspoiled sandy beaches.
Expectations are high for our visit and, thankfully, I am not to be disappointed. Although I have quite a reputation for finding amazing holiday accommodation (achieved by spending hour after hour researching on the internet), even I have to admit that this time, I excel myself!
The Loft in Warkworth is the most lavish accommodation we have stayed in here in the UK. From the moment we step out of the car, our host, Maria, makes us feel welcome, greeting us like long lost friends.
"Simultaneously spacious and cosy"
Part of The Loft (a former hay loft) dates back to the time of Warkworth Castle but its more recent renovations have transformed it into deluxe accommodation perfect for a romantic getaway. The thick, honey-colour stone walls are complemented by the Scandinavian-style pine roof and solid beams and the most amazing solid wood floor. Taking centre stage is a kitchen island which is extremely well-equipped. It allows guests to put all their culinary skills to good use whilst on vacation. As well as every chef's gadget you can think of (including a garlic press and a cake slice), there is also all the necessities such as tea towels, washing up liquid and a microwave oven.
Maria's attention to detail is the key to making The Loft a sought after destination for discerning travellers. It is enough to turn the head of the most ardent devotee of boutique hotels. It will them in to instant self-catering enthusiasts. The owner's thoughtfulness does not end in the kitchen. There's a ready supply of Mason & Miller toiletries in the bathroom, spare toothbrushes, tissues and even cotton wool pads for makeup removal. The Loft somehow manages to be simultaneously spacious and cosy. The open plan aspect and high beamed ceiling gives the feeling of space. The cosiness is achieved by the plush interior: huge designer sofas and a plethora of luxury throws, rugs, cushions and lamps.
"Warm and welcoming"
There are beautiful objets d'art tastefully placed throughout the living space. It is easy to feel as though you have just stepped on to the set of a photo shoot of one of the many trendy lifestyle magazines that are scattered on the coffee tables in the upstairs and downstairs lounges. That's not to say that the accommodation is at all 'standoffish'. On the contrary, like its owner, The Loft is warm and welcoming and immediately makes you feel at home.
Maria originates from Madeira and her effusive greeting when we arrive late at night make us pinch ourselves to check that we haven't taken a foreign holiday after all. She and her family live next door in a substantial Victorian farmhouse, Albion House. This means she is conveniently situated to be able to help guests settle in. Her generosity knows no bounds. Not only are we treated to a welcome pack of fresh flowers, wine and chocolates, but my husband also receives handmade chocolates from the local chocolaterie, Cabosse, as a birthday present from Maria later in the week.
"Unspoiled sandy beaches"
Despite the foggy weather, which stays with us for the first couple of days, we manage to acquaint with the local area. Warkworth is a charming village with a castle, an array of independent shops, cafés and pubs. There's a gentle riverside walk to enjoy where, on a good day, visitors may spot the occasional seal or otter. Unfortunately for us we are not so lucky; however, on our return from the beach, past the golf course, we do see a young stag grazing on the local football pitch. The mists eventually roll away to reveal the most amazing unspoiled sandy beaches. We visit Druridge Bay, Beadnell Beach and the very picturesque village of Alnmouth and each has its own charm.
However, Annstead Dunes Nature Reserve is our favourite. It is easily accessible over low sand dunes between Beadnell and Seahouses. There we spot many wading birds, including redshank, ringed plover, curlew and sanderling. Exmoor ponies have also been introduced to the reserve to help control the growth of coarse grasses and allow a wider variety of plants to grow, including bloody cranesbill and restharrow.
"A reverential hush"
Miles of beaches are accessed over sand dunes perfect for getting away from it all. There is space to fly a kite, walk for miles or sit and read a book. Sadly for us, we do not discover Northumberland's best 'bad weather' destination on one of our foggy days but, once discovered, even the unseasonably warm sunshine fails to tempt us back outside, for the lure of Barter Books was simply too strong.
Barter Books is not just a second hand book shop: it's a phenomenon. An Aladdin's cave of books of all genre. As big as a municipal library but with all the charm of the Natural History Museum. The impressive building, which is home to the book store, is part of a former Victorian railway station which was designed by William Bell in 1887.
It retains many of its original features, including the waiting rooms with working open fireplaces. Here visitors could while away a whole day sipping coffee and reading anything from paperback fiction to art history. This is not a place to merely 'buy books': Barter Books is about loving books. There's a reverential hush about the place (no need for 'quiet please' signs here). Often the only sounds to be heard are the over-eager turning of pages or the rattle of the model train working its way over the tops of the book shelves linking the classics to history via women's studies and philosophy.
"The place feels magical"
Barter Books is a Mecca for book lovers. One couple we speak to have travelled from Manchester just to visit the shop. Another tell us they live locally and call regularly on days out. This is not surprising given the relaxing atmosphere which envelops you as you snuggle down into a cosy chair beside one of the real fires or take a seat in the Old Waiting Room with a pot of tea and a slice of cake.
If you can bear to tear yourself away, you would be well advised to make your next stop the award-winning Alnwick Garden and the famous Treehouse Restaurant. From the outside, the treehouse resembles something from a Tim Burton film (improbable and a little nightmarish). But inside is like stepping into a fairytale. The interior boasts overly large chairs (very 'Alice in Wonderland'). Even on a bright sunny day there is only a little diffuse light inside. On the tables there are charming white lanterns. Then there are the fairylights, which adorn the space, making the place feel magical. It is a unique dining experience. While the lunchtime menu cannot be called 'extensive', it is a truly exceptional place to dine. Where else can you dine with trees growing through the floor?
"Pretty market town"
The Alnwick Garden is contemporary in design but there are nods to garden designs from past eras. There is more than a hint of the Arabic about the gardens around the Grand Cascade. The rills and the geometrically aligned garden 'rooms' have a touch of the Generalife at the Alhambra in Granada. Whereas the Grand Cascade itself bears a passing resemblance to the famous Chatsworth Cascade.
Designed by celebrated international garden designers Jacques and Peter Wirtz, the garden offers something to visitors all year round. Even in spring, when entry is free, there are carpets of snowdrops beneath the trees in the woodland walk. Plus, you'll find scillas, grape hyacinths and miniature irises in the formal gardens. With 3,000 David Austin roses, there are 3,000 reasons to return in summer.
Another reason to return is to visit the castle itself and to fully explore the magnificent grounds. Also worth a visit is Alnwick itself. It's a pretty market town with some of the same charm that makes Ludlow a popular destination. It may have taken me this long to visit, but I swear I'll be back before the year is out.
pictures © Richard Aspinall