The Colloquy, Herefordshire – Review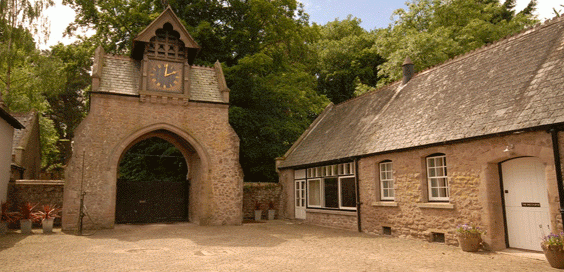 By Matt Callard
Just before you reach The Colloquy, a grand and luxurious escape on the Wales-Herefordshire border, you sweep up a beautifully-kept tree-lined driveway. It's the sort of entrance royalty might expect as they ready for a weekend of upper crust debauchery at some hidden country retreat.
And The Colloquy really is hidden, nestling on an unnamed road (slaves to the sat-nav watch out) and deep in rich countryside. But once you arrive, despite the grandiosity of the location, there's never a question that this huge eight-bedroom property is best-suited to stiff upper lips and starchy tweed. This is a perfect place for a relaxed family getaway and somewhere you can really let your hair down.
"Characterful and subtly unique"
The much-needed guided tour will be informal and friendly, but you'll still need a few hours on your own to find your bearings and to become ingratiated with The Colloquy's many features. There's a heated outdoor pool, hot tub, sauna, big screen projector, video games, squash court, internet access.
The u-shaped building's origins as a Victorian stable block are still present if you care to search. but the interior has been intelligently and beautifully re-imagined by the venue's owners. It retains old charms and quirks but is packed with modern luxuries and conveniences. The bathrooms and kitchens are immaculate and each of the bedrooms characterful and subtly unique, with art for sale adorning almost every wall.
"So much in the lap of all-inclusive luxury"
The real star of The Colloquy experience, however, might just be its biggest luxury of all – an on-site chef. It's an optional extra when booking, but for these holidaymakers anyway, it is a rare treat to be able to switch off entirely and not have to bother with affiliating oneself to the vagaries of a brand new kitchen.
For some, this could be an indulgence too far (I'm led to believe some people actually enjoy cooking!). But if you don't book a chef for at least one evening, you're missing out on something special. The food comes mostly prepared and with instructions for final preparation. Locally-sourced and professionally made, it is a fabulous experience – especially with your family sat around the vast circular dining table.
There's a genuine away-from-it-all feeling at The Colloquy. The acres of pristine countryside that surround you might tempt the energetic away for a few hours exploration. But really, you're so much in the lap of all-inclusive luxury, is there any need to venture beyond the venue's old walls?
For that extra special, cross-generational (once in a lifetime?) get together – The Colloquy has everything you'll need.
The Colloquy, Lyonshall, Herefordshire, HR5 3JA. 01544 340241.
Weekends at The Colloquy start from £1800 for 16 people.
Full rates can be found at www.thecolloquy.com