Teaching while Travelling: One Year in Thailand
by Grace & Robert Palin
A time had come where we had decided to leave the UK. We left in search of a new life full of adventure and mystery. Soon we found ourselves motor biking around, eating durian (the most pungent fruit known to man) and teaching English in the Land of Smiles, Thailand. All the while we found ourselves dealing with mutual mis-translations, a whole load of sweat and numerous mosquitoes.
Chanthaburi town, just five hours East of Bangkok (that's if your driver doesn't go for head-banging-on-the-minibus-roof speed, in which case it is more like half that time) is where we lived and taught for a year. Here we fell in love with the real Thailand. We were far from the tourists and guide book recommendations. Chanthaburi is a wonderful juxtaposition of the old south East Asian world and a modern up-and-coming scene of fashion, art and modern dining. Traditional Buddhist festivals come alive among the temples that lie between the French and Chinese-inspired waterfront. This town is known as the gem capital of Thailand. This is proved by the hordes of people that come from across the world to find, buy and sell these precious stones. Chanthaburi, however, is a hidden gem in more ways than one.
"Water gushes dramatically through gaps in the mountainside"
Chanthaburi boasts some astonishing nature. Just half an hour's drive outside of the centre leads to a long stretch of golden sand and invitingly warm turquoise sea water. It looked as if the surrounding mountains had been carefully constructed by the most nature-loving and attentive architect. Although it was hard to keep focus on the road as our gaze was distracted by the luscious green palm trees, dramatic emerald mountains and glimmers of water from rice paddies that would catch the corners of our eyes.
It would not be unusual for rogue snakes to slither across our path when on the road. We would gasp in fear each time, but much to our relief there was never an unfortunate incident. Driving half an hour in the opposite direction brought us to a place where water gushed dramatically through gaps in the mountainside. It came crashing onto the rocks below, creating waterfalls and natural pools where fish gathered around and swam amongst squeamish revellers. If feeling really adventurous, we would take a weekend away to the nearby islands of Kho Chang and Kho Samet. Here we found ourselves back in the world of westerners, drinking beer on the beach, watching the sunset on the horizon and listening to the distant rumbling of basslines from the nearby bars.
As we travelled north out of Chanthaburi we spent a few days in Chiang Mai – one of the most charming and unique parts of Thailand. By day we wandered amongst the endless streets, delectable restaurants and delightful art galleries of the trendy Nimmanhaemin neighbourhood. By night we were entwined within the bars and bazaars of the old town.
"A place to cherish"
As we became enveloped by the hustle and bustle of the Sunday walking street we found ourselves trying on unusual traveller garments. We were bedazzled by the beautiful Thai jewellery. Later, we treated our taste buds as we sipped on exotic cocktails and local fruit wines.
We were told that the local cuisine of Thailand varies between provinces. But for us Chiang Mai held bragging rights over the rest of Thailand. Catering for every diet possible and always tasting fresh and made to order. Our favourite dish was Khao Soi, a sweet, rich coconut milk-based curry with rice noodles, delicately topped with crispy noodles. 'Aroy mak mak' as the locals would say!
Heading back down south, one place in which we spent a lot of time throughout the year was Bangkok. To try and describe Bangkok in a couple of paragraphs is like trying to cram an elephant into a suitcase – there is just too much to squeeze in. Thailand's capital can have a bit of a reputation (both good and bad) but once you really get to know the city it is truly a place to cherish.
"Bargains"
Should you take a chance on Khao San road then there is no doubt that it will be unforgettable. There's the memorable sound of 'pop pop' as men selling ping pong shows smack their lips together. They will follow you down the street (and into your nightmares). Loud dance music will blare into your ears. Friendly dreadlocked travellers swish their baggy harem pants in time to the beat. Whilst here, sweat will drip down your face as you find yourself sandwiched between locals selling scorpions on sticks and people making friends, having the time of their lives. No matter the opinion, the notorious Khao San road is worth a visit, even if just for the experience.
When you get past all of that, Bangkok is its own fantastical world. There are huge markets, ancient temples, themed cafes, roof top bars, glamourous shopping and a world of culture and tourist attractions. One of our favourite places to visit on a weekend was Jatujak market. Situated right in the heart of Mo Chit it is a mini world of its own. You can find everything from spices and shoes to sunglasses and skunks.
This area really came alive at dusk. This time is when the night market really excels. Youths made valiant attempts at selling their own fashion and handicrafts. As we wandered slightly further down the stalls we would find ourselves gazing at the vintage cars and antique oddities. Talad Rod Fai is another excellent night market. Here, hours can be spent on the old train tracks parting with small sums of money for exciting bargains.
"Everlasting smile"
Thailand is steeped in rich and interesting history. One place that draws in a lot of attention is Kanchanaburi. This is mainly due to the haunting atmosphere of the infamous death railway and the bridge over the River Kwai. Walking in the footsteps of those who built the railway many years ago you can see what was once a place filled with hardship and pain. Now it holds a majestic tapestry of mountains and temples. We spent a weekend here delving into Thailand's past and exploring the seven-layered Erawan waterfall.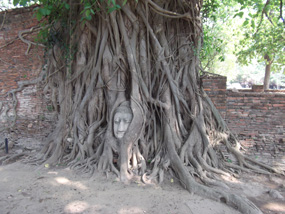 Ayutthaya is another popular destination for tourists. Its history is plain to see. Ruins are evident across the ancient city as a reminder of the many historic battles that were fought and how Ayutthaya fell from grace as the old capital of Thailand. A new city has literally grown around the old one. A Buddha head has even found a cosy home nestled amongst the trees that have grown around it.
Thailand has left us with rich and never-ending memories and provided us with stories for years to come. We departed the Land of Smiles with an everlasting smile of our own.