Marrakech, Morocco – Travel Review
With a tradition of enticing travellers that dates back to the 11th century, Morocco has all the appeal of an exotic long-haul destination without the investment in either time or money. And with flights from East Midlands, it could be the perfect setting for your next break. David Leck discovers more…
There is a reason Marrakech has – since the arrival of trader caravans in the 11th century – provided an enigmatic and captivating draw for artists, musicians, writers and the 'in crowd' of their day.
From Yves Saint Lauren to The Beatles, Led Zeppelin to William S Burroughs, the Moroccan city attracts the rich, the bohemian, the creative and the curious to its mix of tradition, history and culture. Nestling in the shadow of the High Atlas Mountains, Marrakech meshes with rose-colour city walls, lush green gardens and olive groves.
The city is little over a three-hour flight away. Its climate, at worst, requires the packing of a sweater for after dinner strolls. Marrakech discards its easy-access-from-the UK tag to offer a world that is exotic, strange and fascinating.
So, for anyone eyeing the British autumn or winter with a sense of impending doom, then Marrakech – and the country generally – has much to offer. You are drawn to the Medina. This is the ancient part of the city. You go there as a visitor to South Africa would go to safari. Or one to New York to all that soars skywards.
"Tempt the taste buds"
Modern Marrakech preens and struts its stuff as a defiant symbol of a past Morocco. But it is within the walls of the medina that the country seems truly stationary in time. It is a UNESCO World Heritage Site since 1985. It is here pungent spices permeate the air. Where snake charmers enthral the crowds. Where a culinary playground will tempt the taste buds of even the most discerning foodie.
Another delight of Marrakech – and Morocco generally – is accommodation offering a perfect antidote to anyone tired of anodyne, soulless hotel chains. From humble yet comfortable to truly opulent, riads (the Arabian term for "garden") occupy courtyard settings and offer the traveller a base that is almost always touched by history. They are often rich in tradition and – refreshingly – mainly owner- or family-run.
Once synonymous with vendor hassle, visitors to Marrakech today find it much less of an 'in your face' experience. Certainly, the bustle and frenetic pace of the medina remains. But as tourism expands – and delights away from the city provide a contrasting allure – Marrakech combines an atmosphere little different from medieval times.
In fact, the city's appeal is such that it can prove hard to drag yourself away. But that would be at the expense of a number of day trips out of Marrakech. These offer access to stunning scenery and an introduction to a part of the world that was once an important crossroads for Arabic, Berber and black African civilisations.
"Mule tracks and shanty towns"
The Asni Valley – explore it in four-wheel drive vehicles – sits at the foot of some of the highest points of the Atlas Mountains. It is a haven of unspoilt natural beauty. A place where you are immediately taken down a gear or two. Where mule tracks and shanty towns pepper the landscape, and where the experience of lunch in a Berber village defies the fact you are little over an hour from the 'red town'.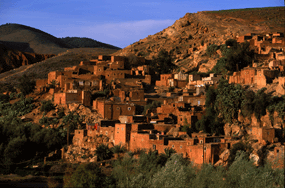 Essaouira should also figure on your list. Once Jewish traders, the fortified harbour town on Morocco's Atlantic coast is worthy of any visitor's time.
With its purple ramparts and whitewash medina walls, this is the place where Orson Wells filmed large chunks of his Othello. It is where, today, artisans work in marquetry and sculpt local wood. The architecture is a confection of Portuguese, French and Berber influences. It's a charming spot in which to wander cobble streets, shop in jewellery souks and enjoy a lunch of locally caught barbecue fish.
'Deeply traditional but excitingly young' is a term that is used to describe Essaouira. In fact, it applies to much of Morocco today. It confirms its burgeoning place as a short-haul destination with long-haul appeal.
Silk Steps (01278 722460; silksteps.co.uk) has an eight-day trip to Morocco with departures from East Midlands.