Florida Keys, USA – Travel Review
To The End of The Road
The Florida Keys, a chain of islands off Florida's south coast, have long held allure for the artistic and the entrepreneurial – as well as the disaffected. Matt Callard visits the USA's southernmost point to see if the island's unique character survives…
It starts, appropriately enough, on U.S Route One.
Then, about 20-miles south of Miami's glinting, billion dollar skyline the traffic begins to thin. The choking four-lane highway halves and flecks of greenery start to appear on the dry, concrete roadsides. 15-miles later, sub-tropical turns tropical and there is no more concrete. Just acres of Everglades mangroves and the occasional, casually circling, bald eagle.
One thing's for sure about the Florida Keys: if you drive there, you guarantee to arrive in style. The Overseas Highway – all 127.5-miles of it – that connects the U.S mainland with the chain of islands that makes up the Keys is one of the world's great cruise drives. You won't mind the strict 45/55km limit – in fact, you'll be thankful for it.
It allows you the time to take in, firstly, Key Largo's Bogart and Bacall-affiliated romance, all sorts of classic roadside Americana, then the lush plethora of other laid back lesser keys. Plus, you'll journey over a jaw dropping seven-mile bridge that offers your peripheral vision nothing but blue-green water (the Gulf of Mexico to your right, the south Atlantic to your left) until, eventually, you arrive in Key West. The furthest out – both geographically and philosophically – of the Florida Keys.
"Unspoiled havens and hidden enclaves"
Home to artists, dropouts, entrepreneurs, madmen, fishermen, retirees, millionaires and bums – as well as the United States' southernmost point, just 94-miles from Cuba. Yes, you can say someone shook America and all the nuts fell to the bottom if you like, but you'd be missing the key to the Florida Keys – a freewheeling-anything-goes American spirit re-branded as a new age tourist haven.
Course, it wasn't always thus. Ernest Hemingway brawled his way through Key West's wild saloons in the thirties. Here, so legend has it, they'd ask you if you were armed before you entered – and if you weren't, they'd make sure that you were. By the seventies it was still pretty untamed – albeit with a transient Laurel Canyon vibe. But it was the unwelcome arrival of the bikers and cocaine cowboys in the eighties that ultimately led to Key West's tourist gentrification. A process that, some travel-hardened purists say, has been the ruination of the locale's artistic character. But at least it means that we un-hardened tourists can now walk the streets without fear of colliding with a saloon chair via a bar window.
The modern Key West might be the most tourist-hungry of any of the Florida Keys, but that's not to say there aren't still unspoiled havens and hidden enclaves among the 50 or so other named Keys. Each one seems to have its own sweet, individual identity. Key Largo (at 33-miles long, the largest Key of all) is the closest major Key to the U.S mainland, and the most commercial.
"An activity seeker's paradise"
The big hitters of American retail line the roads luring in fat-walletted tourists. There's a string of classic-looking American eateries among an abundance of fish restaurants (yes, fish are everywhere and the fish is good). But Key Largo is, Bogart film noir aside, famous for one thing: diving. The island itself is a fossilised remnant of a coral reef. There are some dreamlike snorkelling and dive locations a few miles off the coast. Water this clear can still surprise us cloudy Europeans – and that's before you even see a hammerhead shark.
For the less intrepid or athletic, fear not: the wonders of the deep are not beyond your reach. Nearby John Pennekamp Coral Reef State Park hosts a glorious glass bottom boat ride. It allows sedentary day trippers a long, intimate and mesmerising view of the deep, plus an underwater thrill-a-minute.
Key Largo isn't pretty. At least, not at first glance. Such is the streamlined nature of the island (and, in fact, most of the Keys) that the Overseas Highway is your first impression, closely followed by the blocky roadside eateries and billboards. Much of the beauty lies hidden from view, down discreet side roads or behind plantation-style restaurants or saved for the private pleasure of the residents of the numerous mini resorts. Or, indeed, it lies about two-miles offshore. Underneath the waves in that teeming coral reef. All of which makes Key Largo an activity seeker's paradise.
"Let the kids run free"
Duck Key
About midway through the Keys, 50-minutes down the road from Key Largo (and just before the famous mini-city of Marathon) is Duck Key. The huge 60-acre Hawk's Cay dominates it. An all-inclusive, activity-focused resort that caters for just about everything an ocean-thirsty family might want to try – fishing, water sports, kiteboarding, diving – you name it. If switching off and letting the kids run free is your thing, well, here's the place – and the food is good too.
Plus, if that most famous new age animal encounter of all, swimming with dolphins, is still on your bucket list, but you've previously been unsure of the conservation credentials of the activity and wary of the animal's well-being, well, here's the place to put those concerns to the side and dive in. Conservation and education are at the activity's heart here. But you still get to splash around with the creatures in the water. And those of you rolling your eyes at the tourist trap cliché of the experience, just try stroking a dolphin's side until its dark eyes start to grow heavy and try telling me you've not just had an animal encounter you'll be telling your friends about for years to come…
"Sunset celebration is a daily event"
Key West
All roads will, eventually, lead to Key West. But not before you've crossed Seven Mile Bridge. Still a masterpiece of engineering ingenuity, it's a drive you will never forget. Just the road out front and endless blue water either side. It'll take ten minutes to cross. And yes, it's perfectly understandable if you want to immediately u-turn and try it again from the opposite direction.
When you do eventually get round to exploring the Florida Keys' westernmost point, you'll find it to be a curious hybrid and an island of contradictions. Part lurid tourist tack, part art deco beauty, the Caribbean-style streets are laid back and easy. They still retain much of the area's famed artistic character, despite what some might say.
The main thoroughfare, Duvall Street, packs in delis and designer stores next to rough-and-tumble bars and gaudy tourist trinket hotspots. Down the front you'll find Mallory Square – Key West's main tourist-luring location. Here you'll find plenty of street entertainers, food stalls and arts and crafts activities – especially around sunset time. Indeed, Key West's sunset celebration is a daily event, where you're generally rewarded with spectacular multi-coloured skies as the sun sinks into the Gulf of Mexico.
"A mini food tour to heaven and back"
Food is a curious mish-mash of big-portioned, deep-fried bar food through to elegant, but pricey, fine dining. You've probably heard of Key Lime pie, but the Keys are also known for another culinary quirk – the conch (those wary of a tourist faux-pas, look out, it's pronounced 'conk'). It's an inelegant looking giant sea snail that comes served in just about any way you can imagine: Fried, frittered, burgered, buttered, chowdered, chopped, steamed, stir-fried. Yet it remained (to this palette anyway) virtually inedible regardless. Still, troopers for trying and all that, eh? Rather incongruously, we still find two terrific off-piste eateries – Kojin, a noodle bar – and Better Than Sex, a dessert-only concept restaurant serving dreamlike puds and sweets. Combining the two in one trip is pretty much a mini food tour to heaven and back.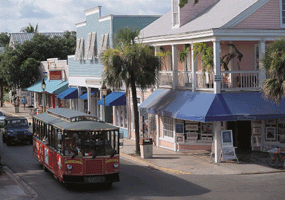 There's a handy train (Key West Conch Tour) that trundles around the island. It is, in fact, a rather neat way to familiarise yourself with the locale. Throw in the odd boutique aquarium, a lovely butterfly house and a tour round Ernest Hemingway's old home and you'll probably grasp that Key West is unashamedly the sum of its disparate parts. Where old world Caribbean charm meets new world Americana. Where artistic character converges with the relentless plod of commercialism. A place where the American dream came for a hard-won vacation, but is now hard, and fast, at work.
"A phenomenal whiskey sour"
Places to Stay:

Chances are you'll fly into Miami before driving down to the Keys. You'll need somewhere fresh, accessible and friendly to stay, at a good price. Red South Beach Hotel lies just off Miami's main strip and is just 20 minutes from the airport. Staff are wonderful, the rooms are pristine and the whole hotel is decked out in a unique vibrant red and white colour scheme. Plus, they do a phenomenal whiskey sour! Perfect for blowing those flight cobwebs away and readying for the journey south.
Lead in price for a room at Red South Beach Hotel is an average of $139.
redsouthbeach.com
Hawks Cay Resort, located on Duck Key in the middle of the Florida Keys, is the premier destination in all of the Florida Keys for outdoor fun. Alongside the emerald water of the Atlantic Ocean, guests enjoy offshore, flats and backcountry fishing, diving, kayaking, kiteboarding and stand-up paddle boarding programs. There's a Cliff Drysdale tennis program, Segway tours and the only resort-based Dolphin Connection program in the continental U.S. The 60-acre resort boasts 177 guestrooms and 160-plus two and three-bedroom villas. There's a full-service marina, five signature restaurants, saltwater lagoon, five swimming pools, kid and teen clubs and the award-winning Calm Waters Spa.
A member of Preferred Hotels & Resorts and a AAA Four-Diamond Award recipient, the resort is owned and operated by Northview Hotel Group, which completed a $35 million resort renovation in 2008.
hawkscay.com
"Resident ethno-biologist"
Kona Kai is Key Largo's mini resort paradise. Enveloped within a beautiful botanical garden (anybody else think pineapples grow on trees? – they don't) it hosts a secluded private beach equipped with hammocks swinging from palm trees, white sand and pedalos. The pool is cool, the Jacuzzi is hot and the rooms are immaculate. An attached gallery adds character and there are fascinating grounds tours from a resident ethno-biologist.
Kona Kai Resort, Gallery and Botanic Gardens room rates based on double occupancy range from $199to $489per night from May 1, 2012, through December 20, 2012, and from $269.00 to $610.00 per night from December 21, 2012, through April 30, 2013.
konakairesort.com
Staying in one of the island's great historic homes – and inside one of its main architectural triumphs – is a privilege. If you want character, The Artist House is the place. Its verandas and columns host palatial rooms, exquisitely decked-out, with huge (sometimes four-postered) beds. It's in a perfect spot for exploring Key West and the staff are happy to recommend attractions and places to eat. They even hire out bikes – the perfect way to get around Key West's sea level streets. Oh – and during happy hour, the drinks are free!
Artist House rates start at $135 for a queen size in the off season and continue up to $295 for the 2-bedroom suite in high season.
Reservations can be made on-line or by calling 305.296.3977. The Artist House, 534 Eaton Street, Key West, FL 33040.
artisthousekeywest.com
for more info: fla-keys.co.uk