Swinton Park – Hotel Review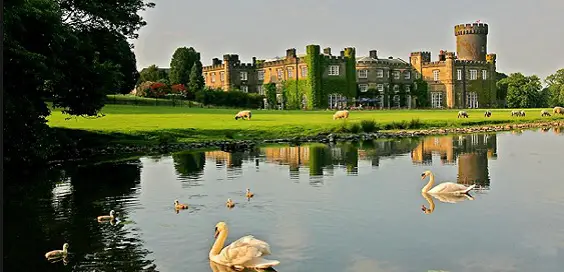 By Paul Howard
North Yorkshire possesses a wealth of quintessential English countryside, from high heather-clad moors to rich rolling farmland interspersed with hedgerows, woods and picture book villages. One of the jewels in this landscape is Swinton Park, found a mile or so outside Masham, gateway to Wensleydale.
Set in its 20,000 acre Estate, the first glimpse of Swinton Park on entering the grounds through the gatehouse is breathtaking. This magnificent ancestral castle with ivy-clad turrets, castellations and 200 acres of manicured parkland suggests the grandeur of a stately family home rather than a mere hotel.
Swinton Park was started by the Danby family in the late 1600s and building continued during the Georgian period. During this time the parkland is first laid out, including five man-made lakes. The photogenic stable block is built with a fine clock tower and this is now home to a renowned cookery school. Such is the wealth of William Danby in Regency times that that he commissions Gothic turrets and battlements as he extends the house. He turns the exterior into an impressive castle while creating sumptuous interiors of marble, wood and glass.
"Stupendous three-floored suite"
Samuel Cunliffe-Lister, the Bradford textile magnate, MP and first Baron of Masham buys Swinton Park in 1882. He adds to it, including a magnificent dining room. It then remains in the family until it is sold in the seventies. After thirty years of neglect, the estate is bought back into family ownership by Mark and Felicity Cunliffe-Lister. They embark on a complete refurbishment of the castle and the grounds, opening Swinton Park as a luxury hotel in 2001. In little over a decade since they create a multi-award winning hotel that retains all the timeless style of an English country house. They combine it with ecological awareness and their family values. We are here to find out what a good job they have done.
After a warm welcome we are led, via grand corridors, to our room on the second floor. This is one of just thirty-one individually designed and named rooms. They include a stupendous three-floored suite in the main turret. Our room is called Fountains Abbey and we discover that this is often abbreviated to FAB. Which proves to be an accurate description. This spacious and immaculate room has views across the park, where a herd of wild fallow deer graze.
"Friendly yet discreet"
A masterpiece of luxurious and peaceful understatement, it is decorated with cool tranquil tones and antique furniture. The vast bed is possibly the most comfortable that I've ever spent the night. A large en-suite bathroom has all the mod-cons and is an oasis of pampered calm. During our stay we gradually notice the attention to detail that fully justifies the hotel's four red stars rating. Whether this is the toiletries provided (Anne Semonin and Molton Brown), the decanters of whisky and gin on the sideboard, or the quality of the fabrics employed. A special mention too for high quality service; always friendly yet discreet and understated.
Indeed, it would have been easy to lock the door, call room service and never reappear again until checkout. A tempting thought, but that would be to miss out on the various activities and events that Swinton Park can offer. Few hotel destinations can have so much to experience and enjoy. Of the indoor pursuits, fine dining is but one. Samuel's restaurant has a three rosette rating, with sumptuous décor to match Simon Crannage's fine Modern British cuisine and an excellent wine list. It is an essential part of any visit and more details can be found in a companion review.
For relaxation there is also a spa in the conservatory, with Jacuzzi, sauna and treatment rooms. It is easy to simply relax in the bar or take afternoon tea in the drawing room. Lovers of fine Georgian architecture cannot fail to be wowed by the finery, with its large bay windows opening out onto the patio and airy views over the deer park.
"Idyllic setting"
Those wanting to hone their culinary skills can take courses at the highly regarded cookery school. It is led by Rosemary Shrager and John Rogers. The school is inside the impressive stable block set beside the main house. It enjoys an enviable reputation.
As befits a 20,000 acre estate, country pursuits are legion and to suit every taste, age and ability. This area of outstanding natural beauty has a diversity of valleys, woodlands and moors. So there's golf, archery, fly fishing, shooting, horse riding and pony trekking. If you'd like to try off-road driving, cricket, croquet or quoits then go right ahead. The hotel hosts many different themed breaks throughout the year. It's no surprise that it also makes a superb venue for weddings and civil ceremonies.
We choose gentler but no less enjoyable activities that suit the autumnal season. We explore the parkland and the walled garden then try our hands at falconry. Within the idyllic setting of a restored 200-acre park a pre-dinner ramble past content deer up to the summerhouse, lakes and waterfalls is an excellent way to work up an appetite. The walled kitchen garden is worth a special mention. About four acres are restored by Susan Cunliffe-Lister, herself an award-winning gardener. She turned a Christmas tree plantation into a working fruit and vegetable garden that provides much of the produce for the restaurant and the cookery school. There are no food miles here. Part of this garden is also given over to flowers, cut fresh for the hotel. A natural riot of colour, this is a brilliant place to explore, full of butterflies, bees and birdsong.
"Life-affirming"
Falconry was a particularly memorable highlight of our visit. At the back of the castle next to the walled garden, a gothic-styled orangery had fallen into disuse and ruin. This is imaginatively turned into a centre for birds of prey in 2008. Falconer Sophie Abbott introduced us to the birds, which include Eagle, Snowy and Tawny owls.
She has managed a successful breeding season this year, including rearing two Barn owl chicks called Wensley and Dale. Now young partly-trained adults, it was an honour to witness Wensley's first untethered flight. Sophie then showed us how to fly Wensley from a gloved hand. The experience of being with these creatures is a life-affirming one that is not to be missed.
"Outstanding luxury"
Swinton Park's dedication to the environment is impressive. As well as the excellent stewardship of the Estate, which is expected, the restaurant has won awards for recycling and sourcing alongside those given for its culinary excellence. The hotel has reduced carbon emissions and power consumption with energy efficient equipment. This means that it now has the highest sustainability ratings of any hotel in the UK. Proof that luxury can be compatible with green credentials.
Swinton Park is a singular combination of ancestral family home and outstanding luxury hotel. It is ideal for a memorable experience or a romantic break. This is England at its very best. We're saving up for that turret room suite!
Swinton Park Hotel, Masham, Ripon, North Yorkshire, HG4 4JH
www.swintonpark.com