Krakow – A Top Destination for a Weekend City Break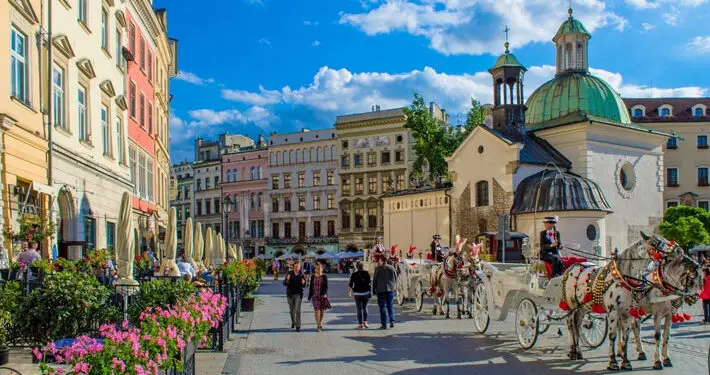 Have you ever heard the buzz about Poland? Are you ready to visit the country, but do not know where to visit on your journey? Why not start with one of the most beautiful cities in the world – Krakow. This charming municipality is the ideal destination to start your Polish holiday. You'll find dozens of museums, historic monuments, castles, alluring landscapes and delectable food – and the city caters well for tourists with plenty of restaurants, pubs, local tour providers, hotels and accommodation across the price range… All of these factors contribute to make Krakow one of the jewels of  Poland and well worth visiting!
Krakow Airport
Krakow is very well connected with the United Kingdom – there are plenty of direct flight from almost every bigger city, including London, Bristol, Birmingham, Edinburgh, East Midlands, Liverpool and Leeds. What's is more – all of them are very affordable in price.
After a two-hour flight, you will get off at the airport in Balice – 20 kilometers from Krakow. You can reach the city centre by bus, train, taxi or by Krakow airport transfer service. Bus or train tickets can be bought at the ticket machine, which is located at the bus stop and in the arrival hall, or taxis are waiting directly in front of the entrance. In the case of private airport transport, it is important to book it before arrival, so you can be safely delivered from the airport to the doors of your accommodation.
Accommodation
There are plenty of possibilities to find the right room or apartment in Krakow. You can easily find a hotel or Airbnb provider, but there are also cheaper options like hostels, or even Couchsurfing.
Events
Have you heard that Brits are going to Krakow for their bachelor's party? That's nothing special as Krakow is called the city of parties. Besides clubs and pubs with fancy drinks and great, crafted beer, there are plenty of concerts and special events organised.
Regardless of which season you visit in there is always something special happening in Krakow. Ice swimming, plant fairs, vegan festivals, international congresses, top star concerts… to be up to date just follow the Krakow informative page on Facebook. There is not only information about upcoming events, but you can also find useful tips and actual updates about tram suspensions or road accidents. You'll easily find something interesting for you.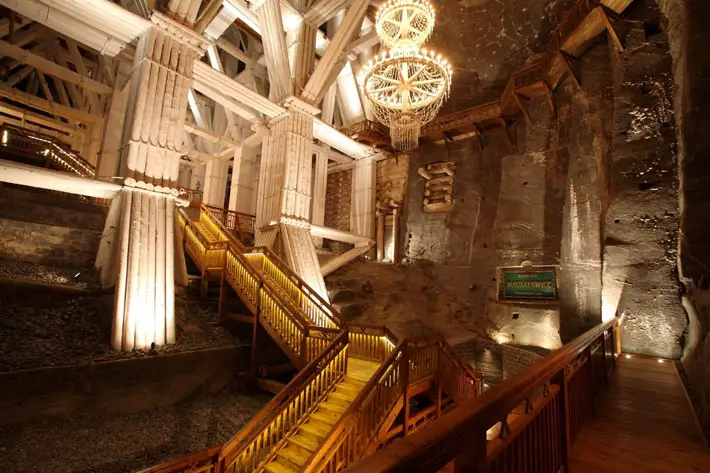 Wieliczka Salt Mine
This exceptionally well-reserved Salt Mine is a rare find and it deserves highlighting here. The extraordinary museum is somewhat hidden from the world, but is full of legends and secrets. The Mine is located in Wieliczka, 15km from Krakow city centre. It can be reached with a direct train from Main Train Station, on bus from various bus stops, taxi (however it is the most expensive way) and with a local tour provider in an organised service. For more information about getting around the city by public transport, check this site.
The history of the Salt Mine goes back to the 11th century when people started to first dredge the brine. Among underground corridors, salt sculptures and various exhibitions you can find the  unique St. Kinga's Chapel – it's a remarkable place that will stay in your memory  long time after the visit. You'll see glowing crystal chandeliers, detailed salt floors and sculptures, each of which is a piece of art. During the walk among the almost endless corridors, you will also have a see Crystal Caves, saline lakes and multiple chambers. It is definitely worth visiting!
Besides, Wieliczka's Salt Mine has been honoured by UNESCO, which listed this monument on its World Heritage List. Maybe that is enough to convince you to visit?
A quick look at Krakow from the sky
In Krakow, there is an alluring adventure you must take. It is not a usual way of spending time and don't be fooled into thinking it's ridiculously expensive. Take a balloon ride and, from a platform, fly up to 150 metres above the ground. From this height, you can admire an outstanding view of Krakow. Every tourist deserves to see this breathtaking view of the historic architectural plan of the city and its unique monuments. It is worth every penny.
Unknown Sukiennice
Somewhere else special in Karakow is the Sukiennice (Cloth Hall). A monumental place off the central part of Main Square. Once it was the main point of international trade and it has retained a unique appearance in a renaissance style.
The Sukiennice hides many interesting places, including on the top of the Hall a cafeteria called Cafe Szał where there is great cakes and hot coffee to be found. From there you can can delight in a beautiful view of the city's colourful townhouses.