Yorkshire Books for Christmas 2017
Yorkshire Books for Christmas 2017
Julia Paddon selects books with a Yorkshire connection to help you fill those stockings this Christmas…
Arts
Along The Yorkshire Coast: From the Tees to The Humber – David Brandon
Part travelogue, part social history, this fascinating journey along the Yorkshire coast records the industry, settlements, resorts and resources that have helped define the dramatic landscape we all know and love.
The Valley Press Anthology of Yorkshire Poetry
Capturing Yorkshire from all sides, this collection of verse brings together Yorkshire poets, or those inspired to write about Yorkshire, into one memorable tome.
The Yorkshire Artist
A lifetime's work spent capturing the Yorkshire landscape compiled into one book, with the stories behind each picture.
Sport
Above Head Height – James Brown
Leeds lad's paean to the simple joys of 5-a-side football, the heart and soul of amateur soccer and the bonding joy that it brings.
Marching on Together – PJ Whiteley
With love for a football club as background, six supporters travel to Bruges – but other obsessions soon arise.
A Clear Blue Sky – Jonny Bairstow & Duncan Hamilton
Compulsive autobiography from one of Yorkshire's most fascinating and complex sportsmen.
Folklore
A Grim Almanac of York – Alan Sharp
The gruesome side of York's historic past, from battles, executions, religious martyrs, horrible accidents and lots more.
South Yorkshire Folk Tales – Simon Heywood
Enchanting tales of lost wisdom and eccentricities from South Yorkshire, including the stories of Robin Hood and the Dragon of Wantley.
North Yorkshire Folk Tales – Ingrid Barton
North Yorkshire loves a good folk tale. This compendium is a tribute to the witches, giants and boggarts that stride through our midst.
Yorkshire Writers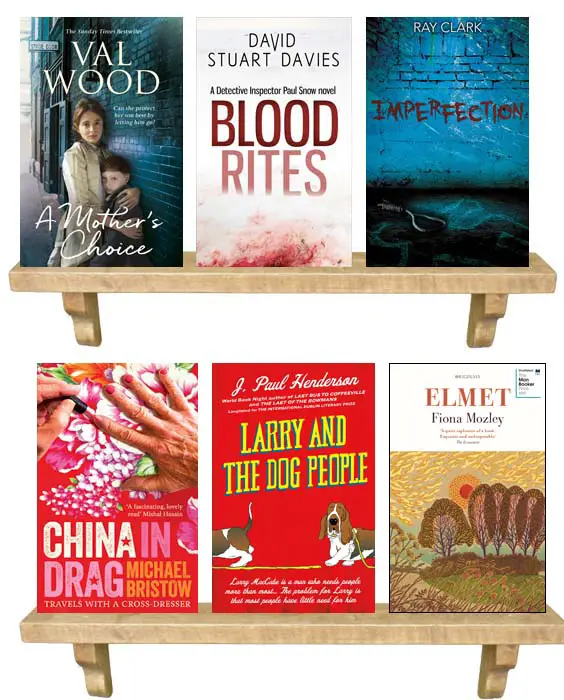 A Mother's Choice – Val Wood
Born in Castleford, raised in Hull and now living in Beverley, the "Yorkshire Catherine Cookson" has over 20 novels to her name, with this new one as compelling and heartwarming as any.
Blood Rites – David Stuart Davies
The third in a series of gritty crime novels set in 80s Yorkshire sees a gay detective battling intolerance in the force and his own personal demons on the hunt for a serial killer.
Imperfection – Ray Clark
Set on the mean streets of Leeds, this compulsive thriller will appeal even more to those familiar with its West Yorkshire settings.
China in Drag – Michael Bristow
A travelogue with a difference as Yorkshireman Michael Bristow, the BBC's Asia/Pacific Editor, travels China with a friend who happens to be a cross-dressing Chinese teacher.
Larry and the Dog People – J. Paul Henderson
Bradford-born author with an original story full of twists and turns and plenty of bad luck – as well as a charming Basset Hound.
Elmet – Fiona Mozley
Extraordinary debut from York author set in the Yorkshire wilds has already been shortlisted for the 2017 Man Booker Prize.
Yorkshire Connections
The Railway Girls – Leah Fleming
Lancashire born, but writing from an old Yorkshire farmhouse, Leah Fleming's latest is a Dales-set drama about family, betrayal and redemption.
The Single Soldier – George Costigan
Debut novel from the male lead of Yorkshire classic Rita, Sue and Bob Too is s weighty and original tome set in war torn rural France.
After I've Gone – Linda Green
Living in West Yorkshire, Linda Green's latest offers up the ultimate dilemma: Would you sacrifice your own life for the life of your child?
If the Cap Fits: My Rocky Road to Emmerdale – by Steve Halliwell
As Emmerdale's Zac Dingle he's one of the UK's most easily recognised soap stars – but his life story is as remarkable as any TV storyline.
The Zealot's Bones – DM Mark
Hull's own master of crime noir takes his detective out of the county for his latest riveting novel.
It Shouldn't Happen to a Vat – James Herriot
A Yorkshire classic beautifully repackaged as part of the MacMillan Collector's Library.
3 More?
15 Minute Vegan – Katy Beskow
Living in rural Yorkshire, Katy Beskow offers up a host of vegan delights that might not only change the way you cook, but the way you look at food.
Long Road from Jarrow – Stuart Maconie
80-years on from the Jarrow March, Stuart Maconie retreads the path and revisits the places and people that were involved, including the route through Yorkshire.
Brighouse at Work – Chris Helme
How a small Calderdale Hamlet with a bridge grew into a mini industrial hot spot.