New Leeds Sculpture Unveiled – 'Large Walking Figure'
Major artwork by Thomas Houseago launches in Leeds centre
The Yorkshire Sculpture Triangle, a partnership of Yorkshire's four leading sculpture organisations, have unveiled a new commission by Leeds-born artist Thomas Houseago for the Yorkshire Festival 2014 outside Leeds Art Gallery. This is the first new work that the internationally-renowned sculptor has shown in Yorkshire. It takes inspiration directly from his home city.
Famous for his monumental and diverse works, Houseago's sculptures resonate with children and adults alike. A learning and engagement programme, overseen by The Hepworth Wakefield, plays a major part within the commission.
Now based in Los Angeles, Thomas Houseago's visit to Joseph Beuys' exhibition in 1983 at Leeds Art Gallery as a 12-year-old was a catalyst in his development as an artist. Drawing on references ranging from Darth Vader, The Incredible Hulk, Greek mythology and stop-motion animator Ray Harryhausen, to Henry Moore and Jacob Epstein, Houseago's giant figures have volume, gravity and scale.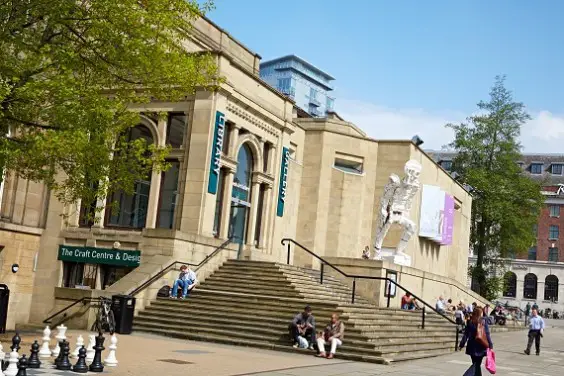 "Celebrate Yorkshire's creativity"
The new sculpture 'Yet to be titled (Large Walking Figure)' depicts a gargantuan, striding figure made from tufcal plaster and iron. It reflects the frenetic bustle of the city's urban landscape. This five metre tall sculpture is situated outside Leeds Art Gallery. It is on the plinth formerly occupied by Henry Moore's 'Reclining Woman: Elbow'. The sculpture looks on to the city's busiest thoroughfare, The Headrow. This is also the location of the start of the Grand Départ on 5 July.
A second Houseago sculpture, 'Large Owl (For B)', comprising a bronze owl's head on a redwood plinth will be on view at Yorkshire Sculpture Park. There, it will look over the landscape of the historic Bretton Estate. The positioning of the sculptures in two of the YST sites provides an opportunity to celebrate Yorkshire's creativity. It is also a platform for one of the nation's finest contemporary sculptors to exhibit alongside the major names of modern and contemporary sculpture.
Led by the Henry Moore Institute, the four partners of the YST won a bid to bring two Thomas Houseago sculptures to Yorkshire as part of Yorkshire Festival 2014. This is the first ever cultural festival to precede the Tour de France. Houseago's studio fully supports the production of both sculptures, including the new commission . This will grow the legacy for sculpture in Yorkshire in the future, building on the powerful history of Henry Moore and Barbara Hepworth.
The Yorkshire Festival 2014 runs for 100 days from 27 March to 6 July 2014. It has been established to position Yorkshire in the cultural heartland of the UK.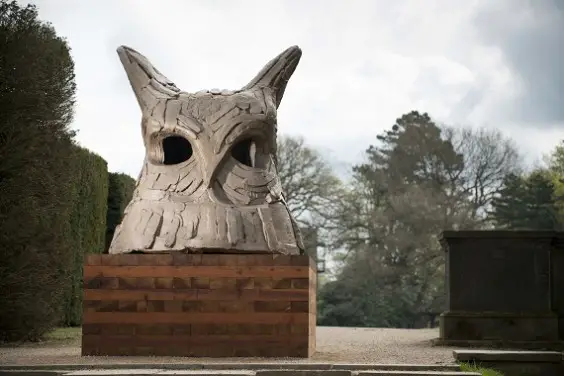 "Millions will see the work on TV"
Councillor Lucinda Yeadon, executive member for leisure and skills at Leeds City Council says: "It's just brilliant that an artist brought up, trained and inspired by Leeds is now able to show his work in his home town. His international success is such an inspiration to all our other creative talent in the city. Hundreds of thousands of visitors will see the work in the coming weeks. Then millions more from all over the world watching on television on Saturday 5 July. So it's very exciting to have it here as part of such an incredible event for Leeds."
Henrietta Duckworth, Executive Producer of Yorkshire Festival 2014, adds: "This project featuring world-class work from a Yorkshire artist, freely available to the public and with an educational engagement programme, is exactly what the Yorkshire Festival is all aboutt. Getting artists and audiences to be part of a new, large-scale, multi-art form, county-wide arts festival. It's a fantastic investment into the arts and culture sector of Yorkshire. This unveiling increases the momentum building up to the Grand Départ. Yorkshire Festival receives imaginative support from Welcome to Yorkshire, Local Authorities, ACE and Yorkshire Water. With Leeds and Wakefield Council's additional support for YST's commission of Thomas Houseago, we are able to be even more ambitious in our projects. We aim to create a 100 day festival. This will help us achieve our goal of making Yorkshire the cultural heartland of the UK ."
"Our collective aim is to inspire and showcase the world's best sculpture"
Lisa Le Feuvre, Head of Sculpture Studies at the Henry Moore Institute, speaking on behalf of the Yorkshire Sculpture Triangle says: "Thomas Houseago said in 2013, 'Yorkshire is the root of my creativity', an assertion this commission celebrates and shares with the region. Our collective aim as partners in the YST is to inspire and showcase the world's best sculpture. Being part of this 100 day festival is our opportunity to celebrate sculpture and share the riches of Yorkshire with new people. The Grand Départ taking place in Yorkshire underlines Yorkshire a world-class destination."