New Album and Leeds Live Date for Feeder
by Victoria Holdsworth
Like many a 90s band Feeder are enjoying somewhat of a re-birth. With consecutive Top 10 albums with 2016's All Bright Electric and the 2017 'Best Of', their renewed power continues with tenth studio album Tallulah. Released on August 9th via BELIEVE, it will be followed by a nationwide tour later in the year, including a date at Leeds, Beckett University in November.
Tallulah was created during a particularly busy and productive period in the Feeder camp, with a new generation of fans emerging at shows and festivals in support of the Best Of album. Its songs evolved very organically, with frontman Grant Nicholas writing on acoustic guitar and playing to his song writing strengths. Producing with regular collaborator Tim Roe, Nicholas recorded the bulk of the material at his home studio in London.
Opening track 'Youth', erupts into life with a flood of melody reflecting the band's live performances as Nicholas's lyrics conjure images of a classic road trip. The album as a whole reflects Feeder's pan-Atlantic influences, which meld the power of American alt-rock with the song craft of the British indie scene.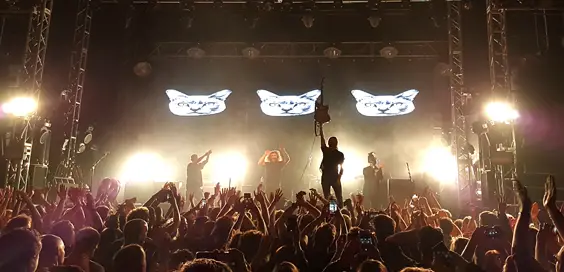 "Honest and buoyantly optimistic"
"It's a classic Feeder record," says Nicholas. "I just write the songs which feel natural to me, and I have a vision of each of them in my mind like a short film. I wanted to make a lot of the songs really adaptable. I didn't want them to have be massively produced, I wanted them to also work in a stripped-back way."
"Everybody in music who has some success has a fear of the bubble bursting," explains Nicholas. "A lot of things that come with success aren't always positive. I wrote it with a female rock star in mind, but it was based upon my own experiences of being in a band, and what you see when you're hanging out with other bands. It also touches on being a band in the social media age. It's not just about being reviewed by a certain magazine anymore, it's about being reviewed by virtually anyone who wants to do so. It's a whole different world out there for everyone, of any age."
Other highlights include the strident 'Blue Sky Blue', both openly honest and buoyantly optimistic, the Pavement-esque day-in-a-life tale of 'Daily Habit' and the corrosive metallic attack of 'Kyoto'. The album closes in intimate fashion with 'Lonely Hollow Days', which feels close to Nicholas's solo album 'Yorktown Heights' and 'Black Clouds' with a nod to his love of Nick Drake.
Feeder play Leeds, Beckett University on November 7th 2019