Foxglove Cottage, Hutton Buscel
Foxglove Cottage, Hutton Buscel
The Ugly Duckling Becomes the Village Swan
How an unloved and sad little house in Hutton Buscel was transformed into a beautiful holiday cottage…
When interior designer Lynn de Bruyn first purchased Foxglove Cottage it was against the advice of everyone in the village, including the Estate Agent who sold the property. 'It's charmless, completely bereft of character, the ugliest house in the village'. Fast forward six years and Foxglove Cottage is completely transformed into an exquisite country retreat.
Deep breaths, keep believing
Going back to the 1800s, Foxglove Cottage is originally an animal shelter. Later in life it is converted into an uninspiring two-bedroom rental property. The cottage is within the North York Moors National Park and so subject to rigid building requirements. Bracing herself for battles over planning with the local authority Lynn sets about creating something magical from something entirely ordinary. At times, all hope is lost. "The further my builders took it apart, the more we could see how little we were left to work with. The timbers were  so rotten I was surprised the roof hadn't collapsed upon us, they were probably only being held together with cobwebs! One evening I stood in the middle of the dark room and thought, what have I done?"
"Completely transformed"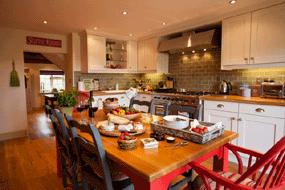 The duckling becomes a swan
During those dark days Lynn remains resolutely focused on her vision of creating a beautiful holiday home. Local, sustainable and quality materials are used throughout during the refurbishment. The exterior is a honey-colour sandstone, similar that of the Cotswolds but sourced locally.
Bespoke hand-made wooden windows are installed and painted in a soothing Farrow & Ball National Trust green. And to the rear the gardens are completely transformed into a magical place to retreat. Inside original terracotta floor tiles sit beside reclaimed oak from a reclamation yard in the North York Moors. A John Lewis of Hungerford kitchen features a large Falcon Range cooker. The bedrooms are complete in White Company linen and bedspreads.
Each room has an inherent character and vibrancy thanks to Lynn's love of colour and travel. Blood red walls in the dining room, pieces keepsakes across the world thoughtfully placed in the sitting room, a library of travel books on the stairs. At every turn the house tells a story of both its location and its owner.
"For the interior I gave in to my passion for colour and texture. I love to travel and rarely, if ever, return without plundering the local markets and shops for design ideas and treasures."
"Tick all the boxes"
This could be the perfect holiday cottage
Foxglove Cottage is now available to reserve for holidays and short breaks exclusively with Gorgeous Cottages. It is set in an idyllic North York Moors village just a few miles from the Yorkshire Coast. "Having stayed at Foxglove Cottage myself recently I am well-placed to gush about it. It's rare for a holiday cottage to tick all of the boxes; interiors, gardens, character and location but Foxglove has it all. And with Lynn's warm welcome and passion for the area, it's the perfect holiday experience."
Location: Hutton Buscel – North York Moors (close to Yorkshire Coast)
Bedrooms: 3 – two double and one twin
Sleeps: 6 Rate from: £400 per week for 2 people