5 Design Tips for a Busy Family Kitchen
Family life can be very hectic at times, with the kids constantly coming and going and parents juggling an extensive list of daily tasks. And, with a busy life typically comes an even busier house. It's likely that the kitchen is the beating heart of your home — it's where you serve, cook and host. Sometimes all at the same time! The perfect kitchen will combine both practicality and style, as well as catering for everybody's individual needs. With this in mind, here are our top five design tips for a busy family kitchen.
Choose the right layout
Whether you're looking to remodel your existing kitchen space or are still on the hunt for your perfect property, having the right kitchen layout should be a top priority. It needs to strike the right balance of having enough cooking and preparation space, while also giving you the room you need to entertain.
Having extra worktop space like an island can combat any space issues you have. Taking small measures like switching up the dining table position or re-arranging the worktop appliances can also create more room for you to play with.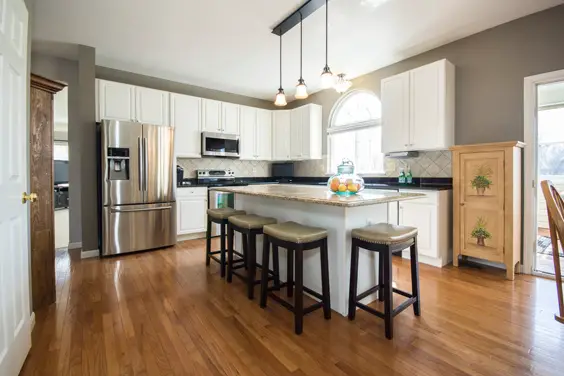 Use the best appliances
Having such a busy household means you need reliable appliances that are up to the job of feeding lots of hungry mouths. Choose cookers that have a good energy rating, like these range cookers from Belling, as these will cost you less to run. They also have a number of different compartments, including ones with grilling, defrost and slow cook functions, meaning you can deal with lots of elements of the same meal at once — saving you some extra time on hectic days!
Think about investing in some multi-purpose tools as well, like a Salter 4-in-1 food prep set that combines a juicer, grater, herb stripper, and egg separator, to help contain mess and minimise the washing-up load — it's a win-win!
Create plenty of storage space
It's not unusual for busy households to look a little messy from time to time, but you can combat this. Keep everything neat and tidy in your cupboards and fridges by establishing a certain way of doing things with your family. Designating certain shelves for particular foods in the fridge or stacking your cupboards in a specific order can be a quick fix to a cluttered kitchen.
Creating storage doesn't have to mean spending lots of money on redesigning your kitchen. Use current spaces like the utility room to create a pantry, where you can store any canned or dried foods, as well as dangerous kitchen tools that you want to keep out of the reach of your kids. Save a bit of money by dusting off the toolbox and installing your own kitchen storage shelves to house jars of dried pasta and rice, or some pots and pans. This will free up more space than you can imagine, as well as giving you an opportunity to have your favourite kitchen items on show.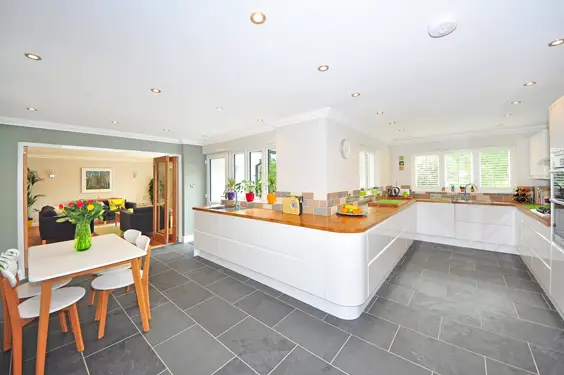 Get some fuss-free surfaces
If your kitchen is particularly busy, you'll want to invest in durable surfaces that are easy to maintain. Materials like solid wood or quartz tend to be stain-resistant and are extremely hard-wearing. If you've got young children, you might want to opt for a bacteriostatic quartz worktop, like the ones from Silestone, to reduce their contact with food bacteria and germs as much as possible.
Similarly, consider investing in flooring that can resist the heavy footfall. Tiles are especially good for this, as they can simply be mopped clean, making the maintenance process nice and simple.
Manage your kitchen waste properly
The busier your kitchen is, the more waste you'll create, so make sure you include sufficient bin space within your kitchen design. Keep it contained with concealed pull-out bin storage in your cupboards, which will help to give your kitchen that organised and streamline look. Additionally, if you're looking to teach your kids about recycling, having a bin system that divides food waste and packaging to be recycled will certainly help. Investing in a 2-in-1 recycling bin, like this one from VonHaus, will help to manage the waste load and reduce your household's negative environmental impact.
When you're creating a kitchen that suits your family's needs, you'll have to consider your lifestyle carefully. Choosing the right layout and organising your cupboards in a way that makes life easier for you will make all the difference. Take our tips on board and you'll soon have everything under control!