Moondance Restaurant, Hull Bonus Arena – Review
By @Roger Crow
"Well, it's a marvellous night for a moondance…". For some that will be inextricably linked with Van Morrison, the first act at Hull's Bonus Arena in the summer of 2018. For me it's synonymous with one of my favourite films, An American Werewolf in London. But after one of those days where there's barely five minutes for a break at work, and it seems to have been raining for 48 hours straight, I'm more than ready to try out the menu at their recently opened Moondance restaurant.
We're first to arrive at 6:30, and after being shown to said eatery, I'm impressed by the cool lighting, framed photos of recent acts (complete with tickets), and that opening sentence adorning one wall. It's simple, elegant and very inviting.
The fact the table numbers are displayed at the centre of vinyl singles is a great idea, and perfect for selfies, especially for those of us who are happy to hide behind such props.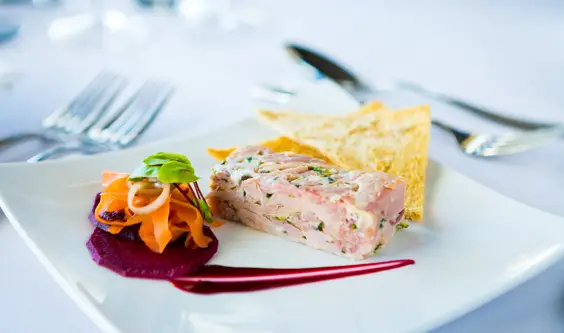 "Ticks the boxes immediately"
But what of the food? Well, as it's one of those wet, bleak nights, steak and ale pie is a perfect choice on the set menu. Comfort food, with mash and vegetables. Simple and heartwarming. The shortcrust pastry is delicious, there's no gristle in the chunks of steak and the gravy is excellent. No problems with the mash either. Creamy and moreish, while a superb counterpoint are the al dente carrots and broccoli. Gary, the head chef, really knows his stuff, and it's not long before I've cleared my plate. Don't get me wrong. I love a fancy dish with all the trimmings that pushes the culinary envelope. But sometimes you just want the old classics, and this ticks the boxes admirably.
My partner Rachel's vegetarian dish is a little more controversial, for her at least. When I cook I like to try different flavours, juxtaposing one with another to hopefully come up with something different. So she's used to occasionally unusual dishes. I like her portobello mushrooms served with linguine and avocado pesto. It's an interesting mix of flavours, and though pickled walnuts are a bold move which I like, Rachel's not 100 per cent. It needs a little seasoning. Then again no two palates are the same, as the Marmite effect has proved. She admits she has meal envy, and I'm guessing if there was a veggie version of the pie, she'd have wolfed it. Personally I'd have been happy with hers, even though my dish was to die for.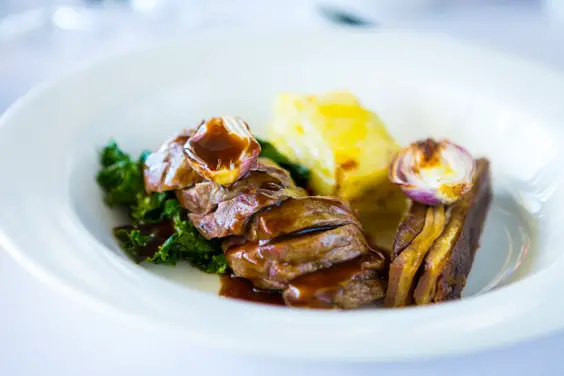 "Portion control is spot on"
Dessert is homemade brownie and vanilla ice cream, and as someone who takes their chocolate-based puddings pretty seriously, I'm happy to say that's a triumph also. Judging by Rachel's empty plate, she agrees. The dessert is perfectly balanced with the brownie having just the right consistency, and the ice cream a great palate-cleanser in between mouthfuls.
With a much needed cuppa, for me it's the perfect meal. Portion control is spot on, the ambience is excellent, and the waitresses do a terrific job.
As we head downstairs for our gig, I have that warm and fuzzy feeling which should pre-empt any show rather than the post-stress of queuing and security checks. If you like to make a night of it at any venue, then a meal beforehand on site is a great touch, and Moondance is a terrific place to experience. The fact we'd quite happily come back before the next gig speaks volumes.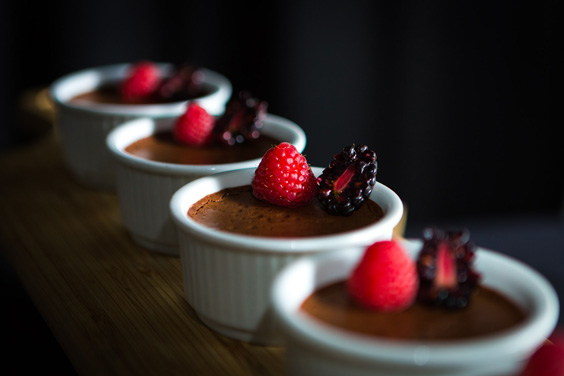 "Engaging"
Obviously the menu varies throughout the week, and if you are vegetarian like Rachel, then the dishes need to be pre-ordered in advance, like the tables themselves.
It's one of the most engaging dining experiences of the year, and all the more welcome after days of rain. The legend on the wall was right. Regardless of the weather, it was a marvellous night for a Moondance.
Moondance Restaurant, Hull Bonus Arena, Myton Street, Hull, HU1 2PS
The restaurant generally opens one hour before show times. Booking is advised.
01482 456220
bonusarenahull.com