Knave's Kitchen at Oporto – Restaurant Review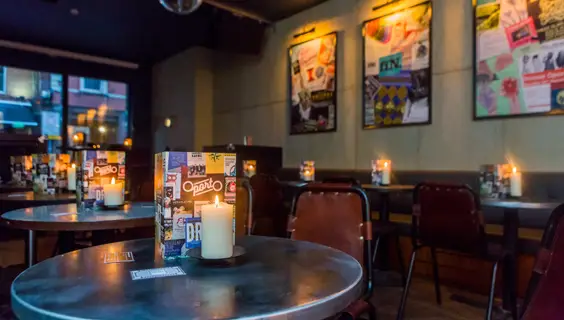 By Michael Davidson
Knave's Kitchen is a new 'pop-up' taking-up residence in established Leeds dive bar, Oporto. As I entered and looked up at the menu, I had a bit of a light bulb moment. This was down to a combination of both the ambitious selection of vegan dishes on display and the fact that I'm 6 feet, 3 inches tall and happened to be standing directly beneath one of the many low hanging, exposed and very literal light bulbs that were filling the restaurant with an ambient and industrial atmosphere. As I stood there like a Hanna-Barbera cartoon, I had the revelation that Knave's Kitchen aims to pull the metaphorical rug of expectation from beneath its clientele's feet – and it does this in a number of ways.
First up is location. Whilst there are a growing number of exclusively vegetarian/vegan options to choose from in town, the enduringly popular Call Lane has the headroom to add an evening eatery, with Humpit closing early doors. Second on the list is variety. For a menu that, at present, includes only five main dishes, the range of options is quite impressive. I'll get into that later but for now I would just say that it's one of the few veggie-friendly places I've been to where more than one culinary locality is catered for. Thirdly and finally, I'd suggest that it's transcending pre-conceived, health-driven notions of veganism to create an inclusive common ground that can be appreciated by anyone, regardless of their dietary preference. It does this, with junk food.
"Delicious little bites"
The evening began with a Rhubarbra Streisand, a gin cocktail that was as sweet as it was dense. On the food side was an actual side of off-menu 'Buffalo Chicken Wings'. With Knave's Kitchen being new to the scene, and with an even newer head chef, they're still trialling things, so this one isn't on the official menu yet. I loved them, and although it's pretty pernickety, to me these delicious little bites were much closer to pork than chicken. A simple name change would sort that out though (Pork Wings? Pigs can fly, right?) and with a big, gluttonous tub of sauce rather than a polite coating, I'd recommend them regardless.
Next up on the menu was vegan 'Fish' fingers in a faux tartare sauce bundled up with lettuce in a tortilla wrap, competitively priced at £5.50. While the fingers were nice, the real success story of this dish was the sauce which, to my mind, would pass any dressing based equivalent to the Pepsi challenge.
"Unexpected twist"
Round 3 was an O.B.B (Onion Bhahji Burger, £5.95). A great option for those unsure of what they're getting themselves in for, this beauty is burnt and crunchy on the outside, soft and sweet on the inside. Like a reverse Daim Bar or ironic armadillo. The cucumber ketchup was an unexpected twist.
While I waited for the next course, I took a moment to observe my surroundings. The décor is an interesting mix of New York pizzeria, nautical lighting, log cabin furnishings and exposed walls. Kind of like several Crystal Maze zones moulded into one. The tables are mostly two-seaters, so great for couples but it seems almost counter-intuitive to the street food vibe that places such as Bundobust embrace with communal seating. With the main bar area not even a curtain away, I do wonder how loud things might get on a Saturday evening. Even on an early bird Thursday it was impossible to speak across the table at a normal volume.
"Personal favourite"
The food kept coming, and next up was my personal favourite – The Mill Hill Special. The description 'Grilled Seitan, hummus, lettuce, pickles & extra chilli sauce bro', doesn't quite do the artistry justice as it effortlessly recreates the desire to binge down on a mass of edible content with a faithful recreation of that most junkiest of junk foods – the 3am, end of night, kebab. Being an unhealthy vegan is relatively easy (eat crisps all day), but this required thought and skill to create, and I applaud that.
Some of the tofu based dishes had great elements but fell slightly short overall: the satay with crispy tofu had a peanut sauce which was superb but lacking in quantity. Similarly, the tofu katsu chicken lacked the same impact earlier dishes had provided.
"Something new"
Another off menu meal book ended the night, Peanut Butter Cookie Balls served with a light blueberry vegan yoghurt. Delicious, but these hot and salty balls would benefit more from an all-out avalanche of cool vegan ice cream. They were nice though and honestly, I celebrate the idea of trying something new. The new head chef seems to have some great ideas and if these don't make it onto the main menu, I hope they are occasionally available on the specials board. The accompanying drink – Riot Juice – was the first time I've drunk Buckfast in a bar south of Sauchiehall Street though so I tip my cap to whoever thought up that wee gem.
On the whole I'd say that Knave's Kitchen is worth a visit. If veganism / vegetarianism / pescetarianism / omnivorism is one big Wheel of Fortune with everyone having their own, personally journeyed spoke, then Knave's Kitchen does a good job at spinning it. As a veggie myself, I don't crave a meat substitute but it's nice to have somewhere to go with people who do eat meat but won't feel alienated by the lack of it on the menu.
P.S. The chairs are fake leather – I checked.
Knave's Kitchen's residency at Oporto is open daily between 12pm and 10pm.
Follow Knave's Kitchen at facebook.com/KnavesKitchen
For more information email info@oporto.co.uk or call 0113 245 4444.