Jamie's Italian, Leeds – Restaurant Review
Jamie's Italian, Leeds
Restaurant Review
by Rebecca Tredget
Situated at the top of Park Row, the Leeds branch of Jamie Oliver's Italian restaurant chain is in a prime location in the city centre, just a stone's throw from the train station and housed in a beautiful old bank building.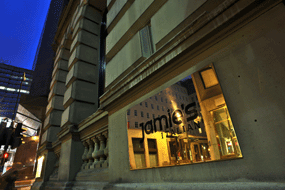 The restaurant stays true to the building's history with exposed brickwork and a majestic staircase dominating the space, there are even bank table lamps in the booths which raised a few smiles. The first thing to note is that it is big – very big – I dread to think how many covers. We booked for 7pm, so it was nice to watch the transition of families with young children to couples and groups of friends. It's a very casual operation and there's a pleasant buzz of chitter-chatter. There are open kitchens, so you can watch the staff work, and massive legs of ham are hung from the ceiling.
The wine and cocktail list is very varied; all the wines (aside from champagne) are Italian and there's some nice twists on traditional cocktails like Jamie's Italian Mojito (£6.75) which is topped up with prosseco. Sadly for me, though, I was off the alcohol for the evening, so opted for a non-alcoholic cocktail. The Ginger Mojito (£3.25) was zingy and refreshing, with the perfect balance of lime and sugar – so good, I had two. My date went for a bottle of Moretti beer (£4.10), I'm a tad beer ignorant but was reliably informed it was a nice, malty one.
"Refreshing addition"
For starters me and my date both decided on the plank selections (it would have been rude not to as we were seated near what appeared to be the 'official' plank assembly open kitchen). Now, here comes the Jamie touch … it's served on a wooden plank held up by two authentic tins of Italian tomatoes. You're either going to love it or hate it…
I went for The Meat Plank (£6.85) and my date went for The Fish Plank (£7.50). The Meat Plank was a varied combination of different cold meats, some cheeses, pickles and a mini salad. All the meats were delicious and authentic, my personal favourite being the fennel salami, the aniseed-y taste really sung through. The grated carrot and beetroot salad's earthy flavour really complimented the salty meat, and it was a refreshing addition. My heroes were the cheese, though, a slice of pecorino with chilli jam was such a tasty tease and the mini ball of mozzarella was creamy and soft beyond belief, bursting in your mouth.
"Planks"
I also managed to nab a few scraps of my partners Fish Plank. Along with the pecorino, pickles and grated salad he had some beetroot cured smoked salmon on ice, smoked mackerel pate on bread, a selection of mussels and clams along with some lemon mayonnaise and deep-fried whiting & sardine. I wasn't privy to the pate or smoked salmon, although they were gratefully received by my date, although I did try some of the shellfish, which were delicious. A nibble of the deep-fried fish worked perfectly with the mayonnaise. We also choose to have the Bread Selection (£3.75) to go with it – you really don't need it though (unless you're greedy … like us) as the planks are a perfect whet-your-appetite-portion on their own. We had a selection of 4 breads which all tasted freshly baked and were smattered with olive oil (Jamie Oliver style) and herbs.
Our waiter was fantastic, talking us through exactly what was on the planks in minute detail and, before you get suspicious, we checked and EVERYONE really was getting the same treatment. As soon as I read the menu I knew exactly what I was having for my main course, Jamie's Italian Burger (£10.95).
"Money-maker"
Now, I've become a bit of a burger fiend of recent so it's given me a good basis to compare establishments (despite making me a little predictable). My dining partner decided on the meat-tastic Jamie's Italian Mixed Grill (£17.75), we also ordered a portion of Posh Chips (£3.25) and one of Polenta Chips (£3.45) to share. None of the mains come with sides, which you can take two ways – on one hand it means you're less likely to overeat and you have a huge choice of sides rather than being stuck with whatever comes. But on the other hand, it does feel a bit stingy, and a bit of an unnecessary money-maker. I can confirm sides are not essential though – portions are Italian mama portions: big.
My burger came with the obligatory salad, a slice of smoked mozzarella, pickles, caramelised balsamic onions and some crispy mortadella (it was sort of like wafer-thin crispy bacon). I can genuinely say that the beef patty was one of the best burgers I've ever had; meaty and juicy with a delicious smoky, char-grilled flavour which was perfect with the sweet onions and creamy mozzarella.
"Sweet tooth"
I'm from the deconstructive burger eating school. I'm not really sure if you could fit this whole burger in your mouth anyway. So I'm a bit saddened that the solitary top bun is left dry. I probably could ask for some mayonnaise but I decide to forfeit it in favour of more chips! And those Posh Chips are beyond moreish. Steaming hot and crispy, sprinkled with grated parmesan and truffle oil to give them a decadent edge. The Polenta Chips are even better. Fluffy on the inside and crispy on the outside. Again with a sprinkle of grated parmesan and some rosemary. You know what I said about big portions? I advise you to make room for Polenta Chips!
My partner's Mixed Grill is epic. A mix of guinea fowl, a beef feather kebab, devilled kidney, lamb and sausage all sitting on a red pepper sauce. He particularly enjoys the kebab and kidney, though isn't fussed about the sausage. He says everything is well cooked with lots of flavour. I think the concept of it is pretty brave for a chain restaurant. My date is visibly excited about trying lots of new meats. Now I have a sweet tooth and never really feel like I've done dinner until I've demolished a pudding. So, despite being full to the brim, I didn't hesitate at the dessert menu.
"Squidgy"
I ordered the Sour Cherry Bakewell (£4.95) and my partner went for the JI Warm Brownie (£4.95). Having never had a Bakewell tart before (I know, strange right?) I don't really have a comparison, but I do know I finished it all off. The pastry is sweet and crispy, the almond filling dense with a slight chew. All is offset brilliantly by the sour cherries.
It comes with a sour cream which, although unusual, is my favourite component of the meal. It is a nice change from the usual ice cream. My only criticism is it is slightly overdone at the edges. This meant I had to use the spoon in a similar way to a spade. But it didn't taste burnt. I admit, I did have pudding envy over my partners brownie, though. Gooey and squidgy, with tart raspberries and amaretti biscuit crumbles. It is a great way to finish dinner.
"Superior in quality"
I'm sure people might criticise Jamie's Italian for being "too" Jamie Oliver. There are lots of little touches everywhere, from the menu ("Jool's Favourite…") to the plank on tinned tomatoes. I mean, his name's even on the napkins. But if you don't mind all that, or can see past it, Jamie's really succeeds as a chain restaurant. It's not a gastronomic explosion and, yes, because of it's sheer size it might not get it 100% perfect every serving. But the food is a darn sight better than a lot of chains I've eaten in. Superior in taste, quality and choice and the staff much more knowledgeable than we have any right to expect. Yes, it seems I'm developing a bit of a soft spot for Mr Oliver…
3 course meal for 2 with 2 bottles of beer and 2 non-alcoholic cocktails cost roughly £80.
Jamie's Italian, 35 Park Row, Leeds, LS1 5JL
0113 225 400
Monday-Saturday 12 noon-11pm Sunday 12 noon-10.30pm