Il Paradiso del Cibo, York – Restaurant Review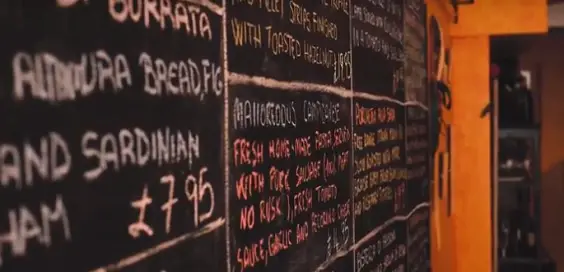 By Roger Crow
"Hi, do you have a table for Roger Crow?" It's 5pm, and Paolo, the owner of Il Paradiso del Cibo, looks at me blankly for a moment. A second later he realises I hadn't said "Russell Crowe", greets my wife Rachel and I warmly and shows us to our table.
The last time we visited one of Paolo's restaurants was in the summer of 2018, and staggered out a few hours later fit to bursting. For the past few months I've been keen to see how Il Paradiso on the Forest compares to this original restaurant on Walmgate, and judging by the fact it's heaving at 5pm, it looks like business isn't bad at all.
Rachel and I are in town for our wedding anniversary, and we want something special, even if it's just a glass of plonk and a small bite to eat. It's not long before we're relaxed and taking in a terrific bottle of red. (Sella & Mosca Terre Rare Riserva Carignano del Sulcis 2014 – highly recommended for its mix of black plum, Mediterranean herbs, and mocha with notes of black cherry, blackberry, cinnamon and white pepper).
"Sardinian roots"
I'm impressed with Paolo's wine knowledge. Obviously you expect restaurant-owners to know their stuff, but our host could give any sommelier a run for their money.
While we nibble on bread and olive oil, Paolo asks what we fancy. I'm always happy with lasagne, but I'm keen to sample a little more, using the well-worn term "research" as an excuse for over indulgence.
The decor is warm and welcoming. Nice to see vintage black and white photos of Italian farmers harvesting the staples for some of the world's best loved dishes. It's that through-line that links this little part of York with Paolo's Sardinian roots. All great restaurants have their own story, and those involving families are the most compelling of all.
"The dishes keep coming"
We start with a garlic bread and mozzarella big enough to feed a family of four; a bowl of Funghi al Gorgonzola (cheesy mushrooms); Melanzane al forno (oven-baked baked layers of grilled aubergine, with tomato, parmesan, mozzarella and garlic); giant king prawns with delicious bacon, and buffalo mozzarella on bruschetta with Parma ham. The dishes complement one another beautifully.
We have a good go at demolishing what we can, but the dishes keep coming. Lorighittas – Sardinian pasta which is utterly delicious, and another bowl of moreish pasta. This is not helping my addiction to Italian dining. The wine is so good, I'm just glad I hadn't booked anything for the rest of the night.
Our waitresses, Monica and Elisa, make us feel like part of the extended family as we try and figure out how to fit around 10 plates of food on a table that can cope with five. I pop the bottles of wine and water on the floor and with a spot of careful manipulation, we manage to carry on.
"Riot of flavours"
About 45 minutes into service, my lasagne arrives, and it is to die for. Layers of fresh pasta with rich Bolognese sauce, besciamella, parmesan and mozzarella cheese. The pasta is perfectly al dente; there's no gristle in the meat and the sauce is perfectly seasoned.
Following a riot of flavours, Rachel's vegetarian cannelloni is something of a palate cleanser. It's "lacking a tiny bit of depth after such strong flavours. But it's not a bad dish at all. I love it."
It takes minutes for me to realise why the place is so popular. Given the size of the exterior, I thought the restaurant would fit around 10 people, but it has Tardis-like qualities, a little like our table.
Great food should be about the atmosphere and the feeling of being part of a community rather than just sitting in hushed tones and working our way through so-so dishes from generic chains.
"Prepare to be amazed"
As usual we leave just enough room for dessert and coffee. As with its sister restaurant at Sutton on the Forest, the tiramisu and cappuccinos are terrific.
As we finish around 7.30pm, we've had exactly the anniversary meal we wanted, and so much more. We take the remains of the huge garlic bread and pasta, and have enough food for our Sunday lunch. (It re-heats incredibly well).
If you could bottle that Saturday night atmosphere and sell it, you'd be a millionaire. And if you've never been to Il Paradiso del Cibo, my one piece of advice is this: go hungry, and prepare to be amazed. Even Russell Crowe would be impressed.
Il Paradiso Del Cibo, 40 Walmgate, York YO1 9TJ
Opening Times:
Mon-Thu: 12pm-2:30pm / 6pm-10pm
Fri – Sun: 12pm-10pm
01904 611444
ilparadisodelciboyork.com